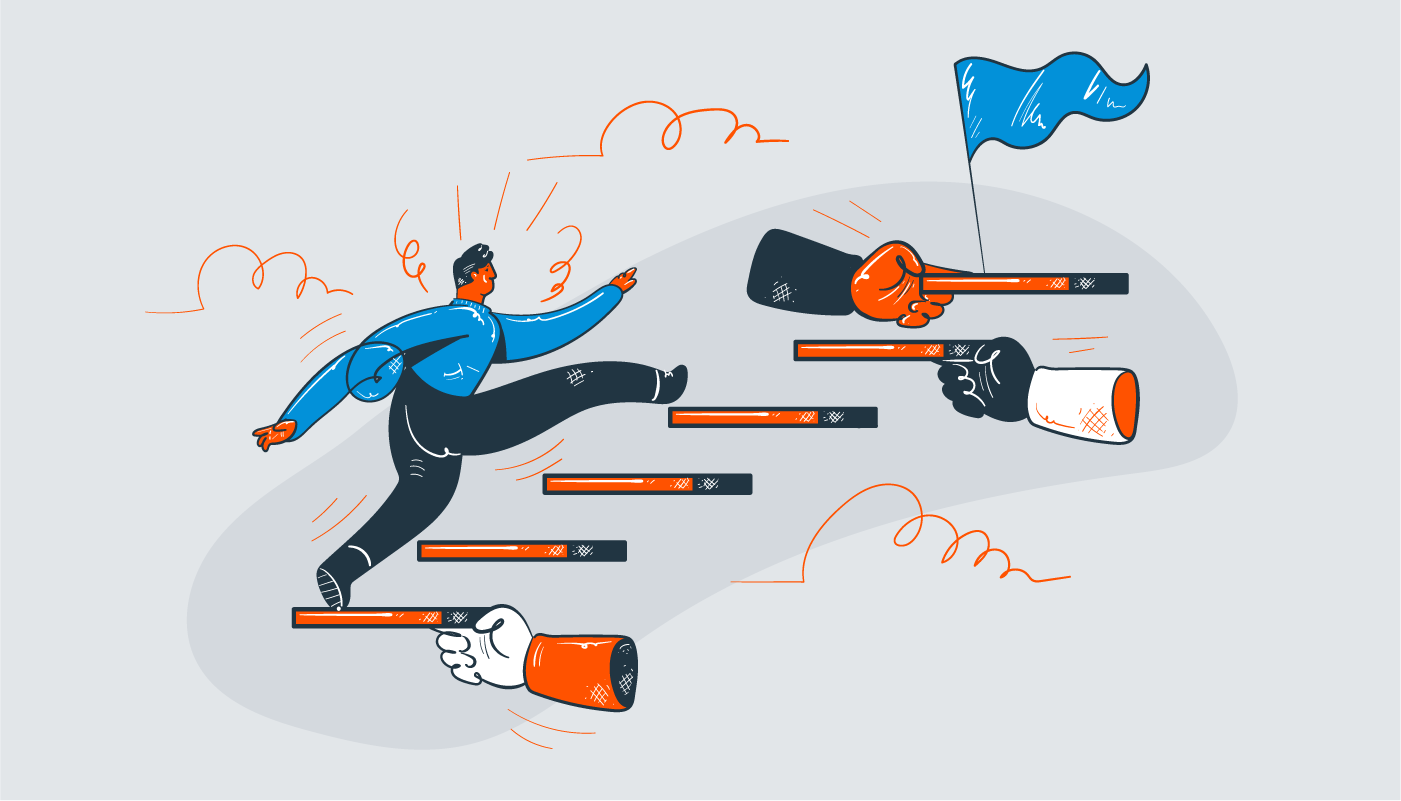 If you've been on the internet at all in the last few years, you've definitely heard about goal setting. And with good reason! Goal setting is a powerful tool.
Think of it this way. If you wanted to do the classic Route 66 road trip, you wouldn't set out without a plan, right? You'd decide on rest stops. Must-see tourist attractions.
It's the same in business (and the rest of life.) When you set a goal, you give yourself a roadmap. Goal setting:
Boosts motivation
Brings clarity
Improves decision making
Why setting customer service goals is important
Setting customer service goals makes it easier for your team to achieve results for your business.
When everyone has a common goal, they can align their actions to meet that goal. Customer service goals help you measure your team's results. You know the goal, so you know if your team reached it. And if not, you can analyze why, and course-correct.
Don't stop at team goals though. Individual goals are a vital part of the process. Reaching personal goals gives agents a sense of satisfaction, which motivates them for their next step. And as agents achieve their goals, they grow their skills. That means continuous improvements in customer experience, and the ability to meet growing customer expectations.
How to set effective customer service goals
Not all goals are created equal. If you tell your team "we need to improve customer service", that could mean anything. Shorter wait times? A better knowledge base? Sending each customer a hand baked muffin?
To be effective a goal needs to be achievable. If a goal is unattainable or far fetched, your team is going to feel like they failed before they even start. For example, don't set a goal of "achieve 100% customer happiness." No company can do that.
So how do you set specific, achievable goals? It's easy when you remember to keep them SMART: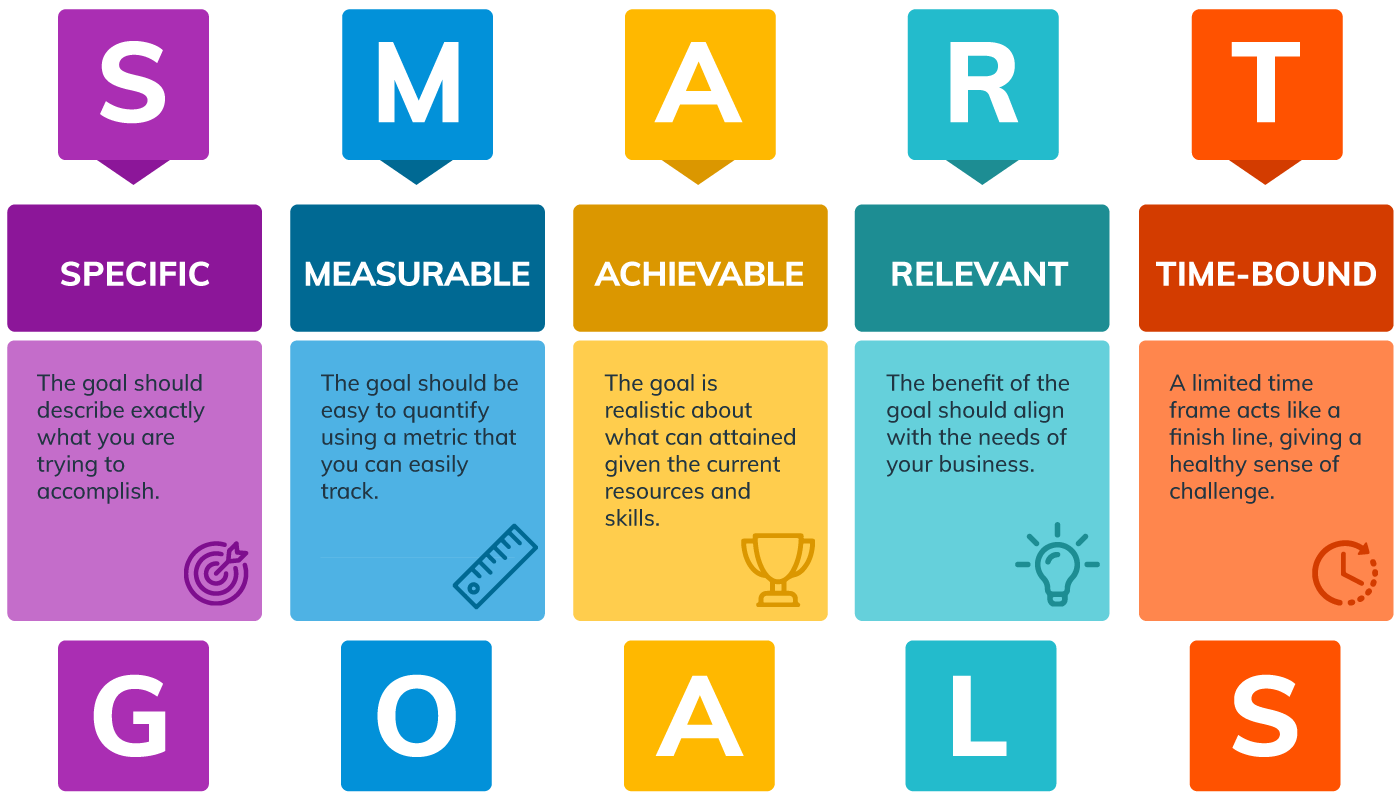 Specific. Improve customer satisfaction is not specific. Increase CSAT scores is.
Measurable: Increasing CSAT scores is a specific goal, that's a great start. Specifying that you want to increase CSAT scores by 3% makes it measurable.
Achievable. Set your team up for success by choosing goals that they can achieve with their current resources and skills.
Relevant. Effective goals need a clearly defined benefit. Why do we want to increase CSAT scores? Because we want to increase customer happiness, to help us reduce customer churn.
Time bound. A good goal needs to be time bound. A time limit acts like a finish line, letting agents know how long they have to plan and meet their aims. A time limit also gives some extra motivation and a healthy sense of meeting a challenge. When do you want to achieve this goal? This month? This quarter? This year?
Knowing your why is important. According to Chris Goossens, SVP of Customer Experience at FedEx Europe, great customer service starts with understanding your purpose. Understanding the positive impacts your team can make with their actions can inspire them to take pride in their work. It makes them more likely to put forth their best efforts and find fulfillment from their jobs.
Happy employees are more likely to provide high-quality customer service, leading to satisfied customers who are more likely to return and recommend the company to others. This can create a positive cycle where happy employees and satisfied customers both contribute to the success and profitability of the company.
Being customer centric isn't just believing that delivering great service leads to profitability but to really understand the true purpose of your company and feel passionate about the role it plays in the real world.
Once you've set goals, don't just release your team into the wild to achieve them. Arrange regular meetings to discuss progress. Studies show that writing goals down helps you reach them and so does sharing them with others. Have your team write their goals and share them with each other.
Goals help your team build the habit of succeeding. Every milestone reached is another success - and that's great for morale.
15 Examples of SMART Customer Service Goals for Your Team
Here are some examples of specific, measurable goals to set for your team.
1. Improve customer service quality
Customer service quality is a finely balanced mix of:
Speed. Customers left waiting for a resolution are not happy customers.
Consistency. Agents should do what they say they will. If support says expect an email within six hours, customers should receive an email within six hours.
Correct information. Every message to a customer should agree with other messages they've received. No confusion, and no conflicting information.
You can define quality customer service like this: The customer feels fully satisfied that their issue has been resolved, and resolved well.
Quality customer service means the customer feels fully satisfied that their issue has been resolved, and resolved well.
Define what quality means for your team. For example, resolving issues in less than three responses. Or you might have something industry specific, such as making it easy for customers to print return labels via a tool on your website. Once you've chosen your goal, set up a QA framework to help you measure it.
Sample action goal: Resolve 90% of the support tickets in less than 3 responses by the end of a 3 month period.
2. Improve customer satisfaction
Customer satisfaction measures how customers feel about the service you gave them. Happy customers are more likely to stay loyal to your brand, and buy again.
Use customer surveys to gather ratings from customers. You can use surveys to ask:
How satisfied were you with the service you received?
How would you rate the speed of our response?
How would you rate our agent's knowledge?
How easy was it for you to get your issue resolved?
Pick a specific area where you want to measure customer satisfaction, and create a survey for it. When designing your survey, consider the type of questions you will ask and the best channel to use for distribution.
Additionally, consider targeting a specific segment of customers who are likely to provide valuable feedback. By understanding what your customers think, you can set meaningful goals that will lead to happier customers.
Sample action goal: Improve CSAT scores for response times by 5% in the next quarter.
3. Reduce customer wait time
Customers want their issues resolved quickly. Long wait times can be extremely frustrating for customers, causing them to abandon the process and take their business elsewhere.
Reducing wait time is a team effort. Your team needs to be focused on swift resolution. And they need to be good at prioritizing requests. Make sure your agents have the right tools to prioritize incoming questions, such as a robust helpdesk tool.
"Wait time" is still a little fuzzy. We recommend setting a separate goal for each channel. Reduce hold times for phone calls, and first response time (FRT) for social comments or email.
Sample action goal: Reduce average first response time for email by one hour within the next two months.
4. Reduce customer churn
Customer churn is a drain on time, money, and people power. When customers leave, you need to find new ones to replace them. That means more marketing, and more onboarding.
It's more efficient to keep the customers you already have. Reducing customer churn can help improve customer loyalty and satisfaction, leading to higher revenue and stronger business growth in the long run.
And repeat customers are simply worth more. A study by Bain found that customers spend 67% more in the third year of their relationship with a company, than in the first six months.
Customers spend 67% more in the third year of their relationship with a company, than in the first six months.
To reduce customer churn, you need to know why your customers are leaving. Possible causes of customer churn can include a lack of communication, poor customer service, and not meeting customer needs or expectations. Use surveys to ask why they're leaving and what would have made them stay.
Sample action goal: Reduce customer churn by 10% by the end of the next financial year.
5. Make sure you offer a true omni channel experience
Every customer has a preferred way of getting in touch. Some want to talk to a human being straight away. Others would rather look for the answers themselves. And some would much rather email, than talk to someone.
You'll endear your customers to you if you make it easy for them to reach out in their favorite way. Have an easy to find "contact us" section on your site or in your app. Make sure they can call, email, or reach you on social media with just a couple of clicks.
Connect channels together to give your customers a seamless experience even if they have to move between channels.
Sample action goal: If you get a lot of support queries on Twitter or Facebook, set a goal to add that integration to your help desk or migrate to a help desk with built-in integration, by the end of Q3.
6. Respond to all customer feedback, good and bad
Customers reach out because they want a solution, and a response. When you ignore feedback, you risk leaving customers feeling unheard, and uncared for.
Customers want to feel that their feedback matters. That when they reach out to you, you'll take what they say into account. Maybe even use it to effect change.. When you respond to feedback, good and bad, you let your customers know that you care about them, and want to make things right.
Responding to negative feedback also gives you the chance to turn a negative to a positive. If you take responsibility, make things right, and maybe offer a goodwill gesture, your customer leaves with a positive impression of your company. And hopefully, this makes the customer come back to do more business with you.
Run analysis on your CSAT surveys and your communication channels to see how much customer feedback your team receives per week and calculate the time that you would need to actively respond to all of them. Use this data to set extra time aside for the team so that responding to feedback becomes a natural part of their everyday work.
Sample action goal: Implement 5% additional time for agents per week to respond to 100% of customer feedback by the end of that week.
7. Improve customer service skills
The quality of your customer service depends on the quality of your customer service team. You need a team that's got fantastic troubleshooting and problem solving skills.
The quality of your customer service depends on the quality of your customer service team.
Thankfully, problem solving and troubleshooting are skills that you can build, just like any other.
Strengthen those skills, and your team will get better at solving customer problems. That means shorter response times, higher customer satisfaction, and agents who can handle a higher number of tickets.
Set up monthly meetings with team members to look at their customer satisfaction ratings and discuss how to improve resolution abilities. These goals can be set differently for each individual based on where there's room for improvement. Other goals could be more generic to improve collaboration such as the handover process or to facilitate sharing subject matter expertise.
Sample action goal: Implement a monthly schedule for 2 training sessions for all agents to enable knowledge sharing by the end of the current month.
8. Improve team happiness
Customer service begins with your team. And that means team happiness should be a priority.
Happy agents are more motivated, more loyal to your company, and better at resolving problems. They bring their positivity and can-do attitude into every interaction, and customers benefit from that.
Happier agents also means less employee churn. You save money on recruiting and training. And you also build a team that has experience and knowledge in the role.
If you want to take your customer service to the next level, you need to build the right team. For example, 20% of respondents to one study said that staffing is one of the biggest challenges when building loyalty programs.
20% of companies say that staffing is one of the biggest challenges when building loyalty programs.
Keep your agents happy with on-going training and providing the resources they need to do their jobs well:
Guidelines for common issues
Cut and paste responses for customer queries so they're never stuck on what to say
Empowering them to know when to offer sweeteners, and what they're authorized to offer.
Celebrate your agents! Praise them for a job well done, and give bonuses or achievement awards to thank them.
Survey employees monthly on how likely they are to recommend you as a place to work (Employee NPS.) Keep this score steady or improving throughout the next quarter.
Sample action goal: Increase employee satisfaction score by 5% by the end of next quarter.
9. Increase operational efficiency
A more efficient customer support process means less mistakes and fewer hold-ups. That makes for happier customers and happier agents, which is a win-win for your company.
More efficiency means:
Less risk of doubling up on replies
Shorter wait times
Less confusion on how to handle queries.
Reduce time wasted in logging into multiple systems to get customer data
Streamline your process, and you could see your customer happiness ratings go up.
Examine QA data to figure out where bottlenecks are happening. Is there a specific type of query that takes longer to solve? Are certain agents lagging in response time? Pinpoint the issues, and put a plan in place to resolve them by the end of the next quarter.
Sample action goal: Add integrations with primary CRM and order management software to pull customer data into the support help desk in 60 days.
10. Embrace automation
Automation helps you cut down the amount of time your agents spend repeating processes or entering information manually.
Automation doesn't have to be complex. Yes, sometimes you need a better CRM or help desk. But you can start simpler, by writing plug and play responses for agents. With nearly half of all service agents struggling to manage difficult conversations, having a collection of response templates is a great place to start.
Nearly half of all service agents struggle to manage difficult conversations.
Automation makes your agents more efficient which can have a positive affect on both employee and customer happiness. You could add rules to implement workflows to route certain requests to the right agents or automatically label your support tickets based on the text. Add auto-responders to make customers aware of any changes or current incidents so they know what to expect.
Sample action goal: Identify at least 5 common workflows/categories and implement automated routing/categorization in your help desk by the end of the month.
11. Focus on customer onboarding
We've all been there. You subscribe to a new service or app, but trying to figure out how to get anything done is next to impossible. Don't let that happen to your customers. Design an onboarding process they'll love.
A smooth onboarding process makes it easy for customers to get started. They can get more done without having to search a knowledge base, or contact support.
Great onboarding is like giving each new customer an agent in their pocket, ready to help them. By providing guidance and support during the onboarding, businesses can help customers learn how to use their product or service effectively and efficiently.
Sample action goal: Map out personalized onboarding journeys for your main customer groups (for example, individuals, enterprise, tech savvy and tech terrified) within the next six months.
12. Show appreciation for your customers
We all like feeling appreciated. A simple thank you, a thoughtful gift, or even "I saw this silly meme and thought of you" feels great.
Your customers are no different. When customers feel appreciated by a business, they are more likely to have positive feelings about the company and be more likely to continue doing business with them. This can help your brand foster strong, long-lasting relationships with them.
You can use discounts, loyalty rewards, and free gifts to show your customers you appreciate them. A special offer on their birthday or even some personal snail mail correspondence will make you stand out even more.
Sample action goal: Plan out how to celebrate customer birthdays and automate it so it gets done without agent input. Do this by the end of the year.
13. Enable customer self-service
Customers like self service. In one survey, 47% of respondents said self service usage has increased. For common queries, self service is a way to get quick answers without having to wait for an agent.
47% of companies have reported seeing an increase in self-service usage by their customers.
Make sure you offer self service channels for your customers. An FAQ and decent knowledge base are a great start. Already got both of those? Check they're up to date, and add extra pictures and videos to guide your customers.
Chatbots can tackle common queries so customers can get instant help. But make it obvious to customers how to switch to talking to a real human as soon as they want to.
Sample action goal: Create knowledge base articles for the twenty most common queries within the next two months.
14. Provide more personalized service
Customers want to feel like more than just a number. Jenn Lim, who co-founded Delivering Happiness with the late CEO of Zappos, Tony Hsieh, says "it's few and far between where you see a company that's really driven by this whole notion of how you make people feel."
It's few and far between where you see a company that's really driven by this whole notion of how you make people feel.
Personalized service makes you stand out as a company who cares about how their customers feel.
Set up your support desk so agents always have customer data to hand, and customers don't have to repeat key information.
You can train your agents to do warm phone transfers so the next person knows the situation. And you can use help desk software to bring all support channels into one central help desk.
Got customers around the world? Offer your service in different languages so customers can use it in their native tongue.
Sample action goal: Research the cost and process of adding agents fluent in two more languages, by the end of the quarter.
15. Make your customer service mobile-friendly
Make sure your customers can get the service they need, even from their phone. Set up your website or app to offer live chat from phones and tablets. Make sure contact or email forms work across devices.
Don't forget self service! Improve your FAQ and knowledge base so they load quickly and are easy to read on mobile.
Using screenshots in your FAQ or knowledge base? Swift from PNG to SVG. SVG screenshots are scalable and look good on all screen sizes. Plus they're more screen reader friendly, too.
Sample action goal: Make sure all web pages are readable and usable on mobile by the end of the month.
Conclusion
Excellent customer service is a critical component of creating a positive brand experience. The Bond Loyalty Report, in partnership with Visa, found that brand experience is responsible for 76% of a customer's engagement levels. By giving your customers a more engaging experience, you can create a positive and lasting impression of your brand on your customers.
76% of a customer engagement comes from the brand experiences provided by the company.
Set SMART customer service goals to increase customer happiness and ensure their experience of your brand is one that has them eager to come back.