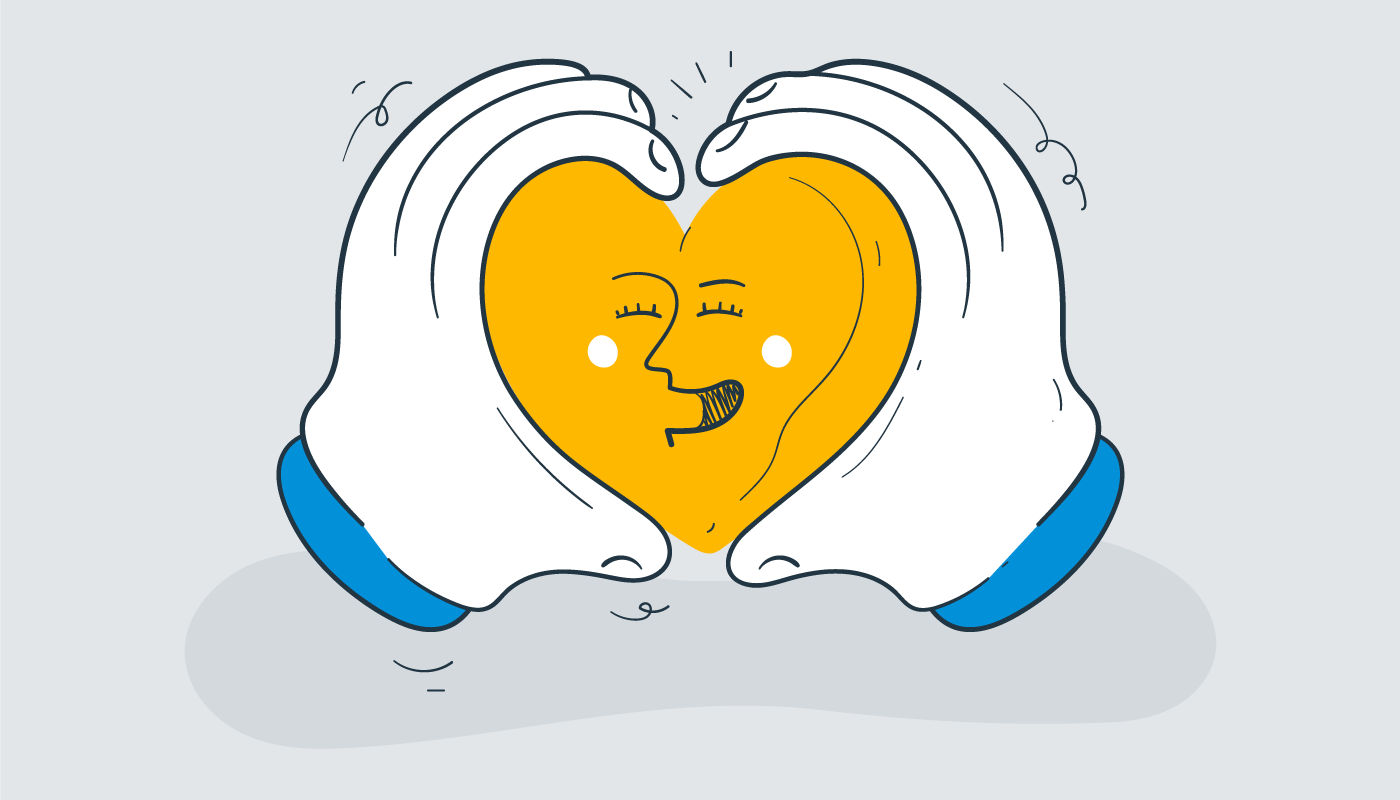 We're Enchant and we provide a suite of customer communication products for companies that love their customers. Since you're reading this, you're one of those companies!
It all starts with that very first customer or client who puts trust in your newly launched business. While it can give a much-needed start to your business, we all know that building and scaling a successful business is not a walk in the park by any means.
Whether you're a new business or already an established one, there are always going to be two crucial as well as challenging aspects:
To acquire new customers
Bring in repeat business from the existing customers
If you compare the cost for both of these options, you may be amazed to know that acquiring a new customer costs 5-12 times more than retaining your existing customer.
Also, according to the study published in the book - Marketing Metrics, the probability of selling something to a prospect is only about 5-20%, whereas the probability of selling something to an existing customer is a staggering 60-70%.
The probability of selling something to a prospect is low (5-20%) when compared to a 60-70% chance of selling to an existing customer.
On top of all these, your existing customers are also more likely to refer your brand to new customers.
So, you're getting the best of both worlds with your existing customer, if you catch my drift. It is impossible to ignore the importance of building customer loyalty for achieving business growth over a long period.
In this blog post, I will go over the importance of customer loyalty in detail, and help you with some of the practical and actionable techniques that you can implement into your business to build customer loyalty.
First off, let's understand –
What is customer loyalty?
In simple terms, customer loyalty is creating an emotional connection with your customers and earning their trust which eventually results in them giving repeated business to your company over your competitors.
Building and maintaining customer loyalty is an ongoing process. And if you really want to achieve excellence at it, you can't just sell your product or service and call it a day!
You need to go above and beyond to earn their loyalty.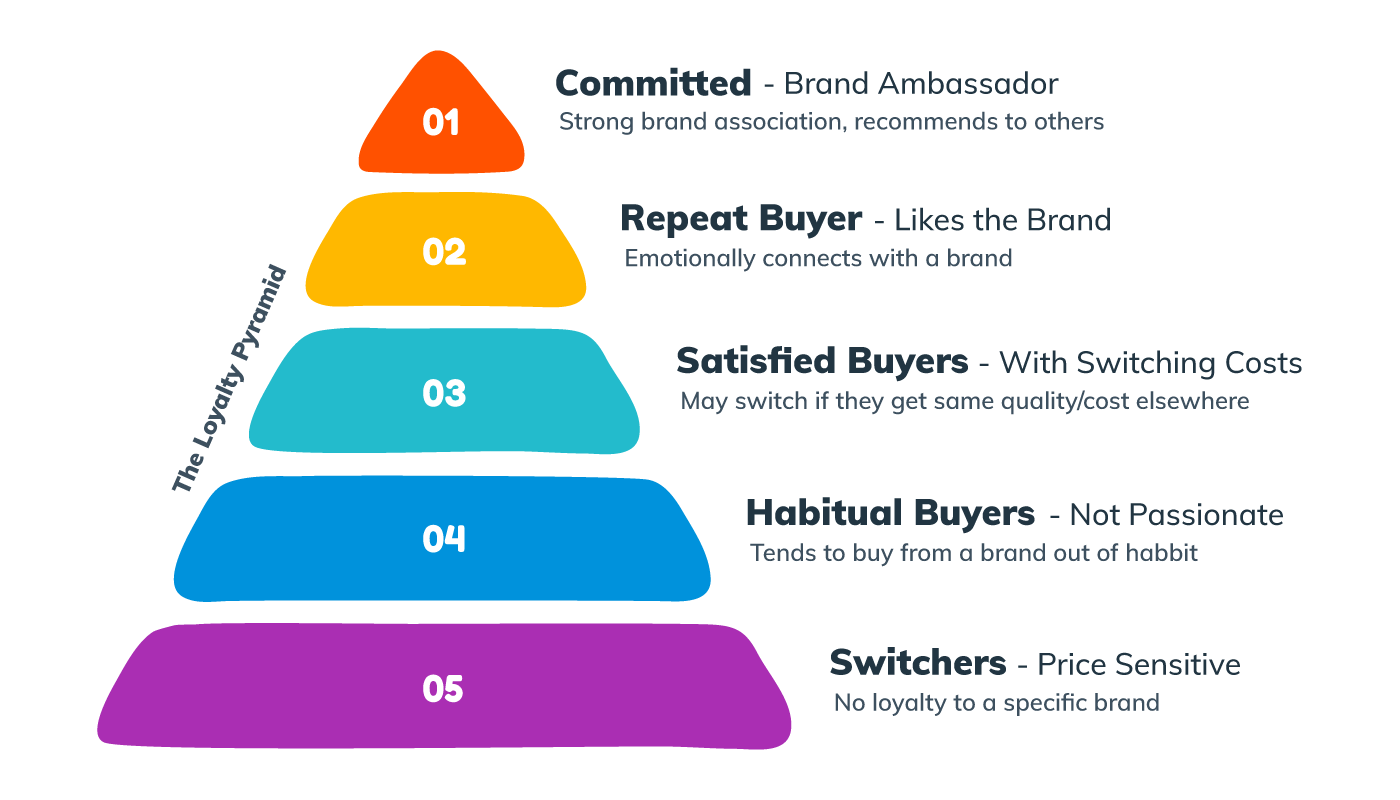 So, this brings us to our next question –
Why is customer loyalty so important?
Here are some of the key benefits of building customer loyalty:
Better Customer Retention: Customer retention is measuring a company's ability to retain customers and prevent them from switching to another company within a specified timeline. For example, let's say your business has 100 existing customers at the beginning of the year. By the end of the year, you were able to keep only 80 customers and 20 of them switched to a competitor. Your customer retention rate would be 80%.

Research has found that a small 5% increase in your customer retention rate could increase your profit from 25% to up to 95%. That's the power of customer loyalty!

High Customer Lifetime Value (CLV): Customer Lifetime Value (CLV) is the total revenue your business can generate from a particular customer during the entire business relationship – from their first order to the last one. Since loyal customers give you more repeat business, it increases the average customer lifetime value. 57% of customers spend more money on the brands or companies to which they are loyal.

57% of customers spend more money on the brands or companies to which they are loyal.

Loyal customers are your brand ambassadors: When you have a customer base that is loyal to your company, they turn into your brand ambassadors. They will help you with word-of-mouth marketing by referring your products or services to their family and friends. With time, these referrals can have a snowball effect on your revenue and profits as it expands your customer outreach.

Also, word-of-mouth marketing is one of the most cost-effective marketing methods that your business can benefit from. For example, the customers who purchased apparel products from an online store, on average, referred 3 people each after their first purchase.

Collect and utilize valuable data: This is probably one of the less known benefits of building customer loyalty. Loyal customers are more comfortable sharing their personal information with your company as they trust your company/brand values.

Thus, you can collect valuable data from customers through a loyalty program and provide a more personalized experience to your customers. In fact, 87% of American customers say they are okay with allowing various details of their activity to be monitored to get more personalized rewards and brand experiences. You can use this data to align your marketing efforts to efficiently target the right type of customers.

87% of American customers say they are okay with allowing various details of their activity to be monitored to get more personalized experiences.

Honest and quality feedback: For any business, receiving honest feedback is an important aspect to grow in the long-run as it helps to identify the issues and fix them to prevent any adverse impact on your business.

One of the great benefits of loyal customers is that you can expect valuable feedback from them as they are more engaged with your company or brand. They genuinely care about your brand and can be a valuable source of interesting ideas. They can even help you track down tricky bugs or identify issues that you may not be aware of.

More upselling opportunities: Repeat customers spend 67% more than first-time buyers. With loyal customers, you have a great potential to cross-sell or upsell your products because they already trust your brand or company, and wouldn't mind purchasing other products from you. This will eventually increase your sales and profit by increasing your average order value.
9 effective ways to build customer loyalty
Your business, big or small, can also reap the benefits of customer loyalty. Follow these simple yet effective strategies to turn your customers into loyal fans of your brand:
1. Express your brand story and values
Connecting with customers through your core beliefs and values is the most powerful way to build loyalty with your customers.
By expressing your brand story and values, you can build an emotional connection with your customers. If they choose you over your competitors due to the values or the story behind your brand, chances are they would stay loyal to you even if your competitors would offer a slightly better deal.
Research conducted about consumer engagement found that 82% of consumers with high emotional engagement indicated that they always buy from the brand they are loyal to, whereas only 38% of consumers with low emotional engagement said the same. And that's a huge difference!
82% of consumers with high emotional engagement indicated that they always buy from the brand they are loyal to.
When it comes to sharing your brand story and values, your website's "About Us" page plays a huge role. Here are some of the important sections to be included in your brand identity:
Your mission statement and goals you aspire to achieve
A brief story about why and how you started your company
Values that you believe in and what you stand for
Team behind your business to humanize your brand
Yellow Leaf Hammocks is a great example to take some inspiration from. They have beautifully portrayed their story about how they started their business, and more importantly, how their business is helping to empower women and transform the community of Mlabri Tribe.
2. Deliver top-notch customer service – consistently
The quality of your customer service is as important as the quality of your product or service itself. Make exceptional customer service your company's culture and not just another requirement. And most importantly, treat their complaints as your topmost priority.
Developing an omnichannel approach can expand the horizons of your customer service. It will help assure your customers that you're leaving no stone unturned when it comes to taking care of them. When your customers will see that you genuinely care about their queries or concerns, they will feel valued, and you'll earn their love and respect for your company.
According to a survey conducted by American Express, 72% of customers are willing to spend 16% more, on average, based on their excellent customer service experience.
72% of customers are willing to spend 16% more when they've received an excellent customer service experience.
To improve customer service, your team needs to achieve excellence in the key areas of customer service such as quick resolutions, personalized conversations and sound product knowledge. Also, keep your FAQs (Frequently Asked Questions) and knowledge base up-to-date and searchable so that customers can easily find instant help when they visit your website.
3. Give power to your customer service team
So, we talked about delivering top-notch customer service to build customer loyalty. But, in order to provide such high-quality service, you also need to ensure that you are providing the right tools to your support team.
You might be tempted to cut corners when it comes to business activities that may not generate direct revenue, and unfortunately, customer service may be 'perceived' as one of them. However, if you're serious about your brand and your loyal customers, don't get into that temptation.
As you grow, your team needs tools for collaboration and productivity to efficiently work together and manage customer expectations. With highly vocal customers of the social era, better customer service can give you a significant advantage over your competitors.
91% of customer service agents agree that using a help desk system increases their productivity.
Customer service tools such as CRM, Knowledge Base, Shared Inboxes, Social Media Communications Tool, Automated Reports, etc. can enhance the efficiency and effectiveness of your customer service team. A survey found that 91% of customer service agents agree that using a help desk system increases their productivity.
4. Create an engaging customer loyalty program
Creating a customer loyalty program is one of the best ways to build customer loyalty. According to Accenture, the members of loyalty programs generate 12-18% incremental revenue growth per year than non-members.
However, launching a loyalty program alone may not be enough to gain true loyalty from all those who join the program. You need to ensure that the customers who sign up for your loyalty program are actually interacting and engaging with your program.
Loyalty programs that produce the best results are the ones that actually engage the customers by being truly interactive.
There are multiple ways through which you can entice your customers to actively interact with your loyalty program. Here are some tips that you can use for your loyalty program:
Create multiple tiers where members can earn more benefits as they move up to the next tier
Use Creative Names for tiers so that members would feel like achieving higher status at each level
Incorporate gamification to attract more participation in the program
Sephora's Beauty Insider Program, Starbucks Rewards, and TOMS Rewards are some of the great examples of successful loyalty programs.
Pro Tip: You can use your loyalty program not just to reward your loyal customers but also to win back unhappy customers. Allow your support team to give away loyalty points as compensation to customers that have any negative experiences or complaints.
5. Build a community of like-minded customers
People love to interact with their like-minded counterparts because they understand each other's interests, emotions, and struggles. When you build a community around your brand, it gives your customers opportunities to interact with your brand as well as other community members.
In addition to your customer service team, your customers can also receive help from the community members. One such great example of a business community is one of the fastest growing ecommerce platforms – Shopify. Shopify has created a huge community of over 900,000 Shopify Merchants and Partners around their entire ecosystem which makes their presence even stronger all over the world.
Happy customers are your biggest advocates and can become your most successful sales team.
One more benefit of building a community is that it gives a sense of belonging. Keep in mind that loyal customers are there with you because of their emotions and not just for rational reasons. Community also gives a chance to your die-hard fans to share their personal experiences about how they use your product to solve their unique problems. This can work as your social proof which is one of the best ways to increase your credibility in the market.
To build your community, you can create a Facebook group where community members can ask and answer questions, help each other, share their experiences, share their success stories, and so on. To encourage active participation of the community members, you can also recognize them with badges such as "Star Ambassador", "Valued Responder", "Group Expert", etc. This will make them feel appreciated and motivate them to keep contributing to the community.
6. Regularly seek customer feedback and act on it
Customer feedback is very crucial for any business that wants to achieve sustainable growth. Collecting and reviewing your customer feedback will not only help you to improve your product or service but also help you align your roadmap with the future needs of the customers.
It's vital to focus on getting the real picture of customer satisfaction (CSAT), especially when it comes to your customer service operations. Some customers may avoid giving negative feedback if the survey is about a specific agent, but they might express their dissatisfaction if you conduct a separate NPS (Net Promoter Score) survey for the company.
However, asking for customer feedback merely as a part of formality won't be much helpful. The important thing is what you do with that feedback. When seeking their feedback, your end goal should be to eliminate any reasons behind their negative feedback.
It's crucial to not only listen to customers but also to understand the motivation for their feedback.
The way you respond to their reviews is also very important, regardless of whether the feedback is positive or negative. In fact, when a customer posts a negative review publicly, you should make it a point to reply to it with a polite and thoughtful response. Every complaint you receive is an opportunity to turn a dissatisfied customer into a more loyal one.
7. Set precise and clear expectations
Setting expectations is usually one of the most underrated aspects of customer interactions. Businesses often make the mistake of not paying enough attention to it. Missing out on setting the right expectations can have adverse consequences in terms of customer satisfaction and loyalty.
Just to give you an example, let's say you're running a clothing and apparel brand in North America. Depending upon the location of your fulfillment center, you must set the right expectations regarding the delivery times.If it takes you 5 business days to deliver a product to the US but 7-10 days to deliver it to Canada, be explicit about it in your FAQ and checkout pages.
Setting the right expectations with your customers about the response times will reduce the points of friction during their interactions.
For your customer service team, it's common to see fluctuations in customer inquiries or complaints. Managing the different communication channels such as phone call, chat and email can become a challenge at times. But if you set the right expectations with your customers about the response times, it will surely reduce the points of friction during their interactions.
When this approach is used at every touch point throughout the customer's journey, it'll help you gain mutual understanding, and long lasting loyalty from your customers.
8. Take initiatives for Corporate Social Responsibility
Corporate social responsibility (CSR) is a business approach where companies are considerate about their responsibilities toward society and environment rather than just focusing on their own profits and benefits.
Now, let's see how it can have an impact on customer loyalty as well.
Ina study conducted for Vodacom, a whopping 59.7% of customers indicated that social responsibility initiatives of the company contribute to their loyalty to the brand.
60% of customers indicated that social responsibility initiatives of a company contribute to their loyalty to the brand.
Keep in mind that you don't need to have plenty of capital resources to take such initiatives. It's mainly about your intent and willingness. Your efforts toward reducing carbon footprints, taking care of diversity and inclusion in your company's work environment, and implementing fair labor policies are also considered your efforts toward corporate social responsibility.
Patagonia's firm determination and statements about their Climate Goals expresses their stand for nature in a bold manner. Their 1% for the Planet initiative sets a precedent for other companies to contribute toward preservation and restoration of the natural environment. Patagonia has been true to their cause since 1985 and have been encouraging other businesses to be part of this alliance.
9. Utilize social media platforms to the fullest
In this digital age, the power of social media is not unknown to any brand or marketer. However, social media platforms shouldn't be limited to your marketing efforts only. In fact, this is one of the most powerful tools to build customer loyalty if used in the right manner.
Here are some of the important tips that you can implement to earn loyalty from your followers:
Stay consistent: To keep your followers engaged with your brand, it's important for you to stay consistent with your social media strategy. You can create a social media content planner in advance so that you never run out of content ideas.
Know your audience: Posting any random content may not help you to connect with your audience. Identify what your audience wants and then create your social media posts or content accordingly.
Create interactions: Take every opportunity to engage with your followers and try to respond to their posts, tweets, comments etc. - as often as possible.
Also, if you think of the different ways that we discussed for building loyalty, you'll realize that social media can play a significant role in many ways. To express your values, you may voice your opinions on the hashtags for movements your company believes in. To deliver top-notch customer service, you can create a separate account dedicated to providing support.
Social Media will help you build up loyalty of your current customers to the point that they will willingly, and for free, tell others about you.
Ask questions, conduct polls, open suggestions boxes, and collect feedback on specific topics or products, and appreciate those who respond to them. It is also a good idea to share general updates about outages or upcoming features on social media to keep them informed.
Conclusion
Building customer loyalty has a profound impact on the longevity of your brand. It is one of the most essential elements for the long-term success of your business, and thus, investing in your customer loyalty is worth the effort.
After all, your loyal customers are the ones who will support you through thick and thin. Because let's face the reality, and we all know that businesses have to go through ups and downs.
If you become successful at building and earning the loyalty of your customers, they will help keep your business going even during a recession. And they will be the ones who will help you stand out in the increasing competition.
If you genuinely take care of your customers, they will stand by your business!