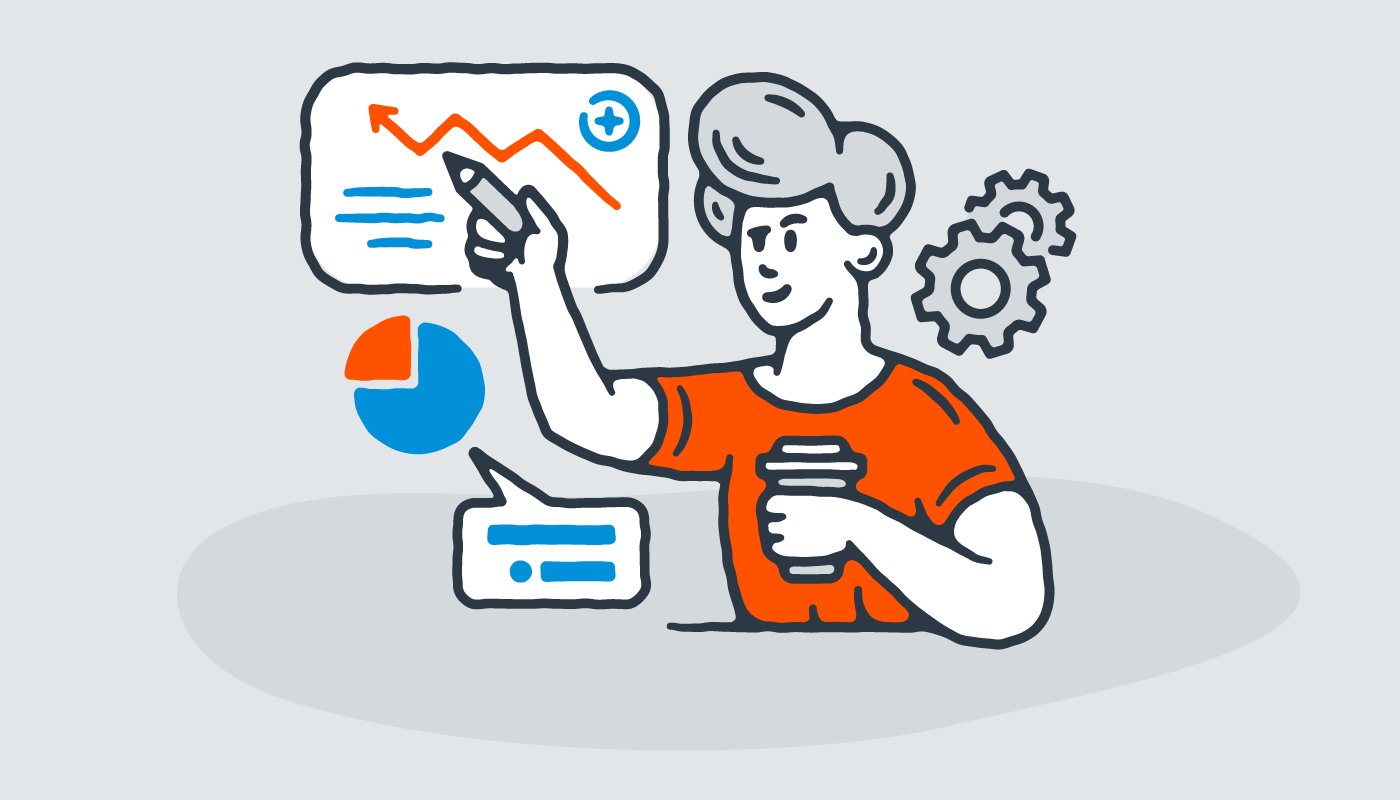 When your company is young, you just need a simple customer support email account. But once the company grows and you start stepping on each others toes, you'll want to upgrade to a help desk solution. We're Enchant, and we help companies of all sizes manage their customer communications efficiently.
Does juggling customer support requests leave you feeling like there just aren't enough hours in the day to keep every customer happy? Handling increasing volumes of customer support requests can put added strain on your support team.
Perhaps you've been able to manage your customer service with just one support agent so far, but are feeling the need to add more.
Or maybe you already have a small team that has been using a shared inbox, but now that's falling apart. You've had incidents where you've missed an email or sent duplicate replies.
What your team needs is a tool that enables them to process your support requests more easily and efficiently.
This is where a help desk comes in.
What Is A Help Desk?
A help desk is software product that makes it easy to respond to customer service requests in an organized and timely way.
It is an essential customer communication tool that:
Lets you organize all requests in one place for easy handling.
Comes packed with productivity and collaboration features that empower your team to provide excellent customer service.
Includes reporting tools so you can track customer happiness and team performance.
A help desk enables your team to handle increasing numbers of requests, without compromising on quality. Did you know that 66% of customers would rather spend money with a company that provides better customer service?
66% of customers would rather spend money with a company that provides better customer service.
Customers want and expect excellent service. A help desk allows you to provide that.
But what exactly does a help desk do, and how does it work?
How Does Customer Service Software Boost Team Productivity
What kinds of tasks can a helpdesk be used for? And how does it impact your team's productivity and effectiveness? Let's take a look.
Centralized system
Agents login to one place to manage multiple customer service channels such as email, chat, and social media. They can also manage different email addresses (sales@, support@, info@, etc).
Training staff is much easier when they only have to learn one system.
Supervisors can check responses written by trainees before hitting "reply".
Gather relevant data from external systems and put them into context. If a customer gets in touch to ask when is my product arriving??!?, the agent can find the shipment tracking number, and answer their question immediately. No more logging into a bunch of systems to chase answers.
Organize and Prioritize service requests
Labels can be added to requests, so agents can track their status, prioritize the requests and stay organized.
You can quickly see what's being dealt with, what's on hold, and what's resolved.
Agents can search, filter and sort through requests on the fly.
Collaborate and share accountability
Agents can add internal notes. If the request gets passed to another agent, they can get up to speed quickly.
Notes also act as internal messages and can be used to collaborate with your team. If an agent needs to double check with a supervisor before offering a discount, they can ask for approval through the note. This avoids time wasted in logging into a different software for such internal communications. It also leaves a useful paper trail right where the request is.
It's easy to assign requests to specific team members. Is Jane the go-to person for requests related to a particular feature? Colleagues can simply assign the request to Jane and send it her way. The customer gets served by the right person, the first time.
Because the whole team can see requests, everyone benefits from colleagues' expertise and shared knowledge.
Being able to divide up requests between team members helps everyone in balancing their workload.
Canned Responses
Respond to queries faster with canned responses to common questions.
Answers can be saved and shared quickly so agents don't waste time inputting the same information.
Contextual customer profiles
Keep all customer contact details in one place. Put their email and twitter on their profile, and add custom notes (are they a VIP customer? A socially active customer? Or have been a customer for 5+ years).
View recent interactions and communication history.
Add any other relevant info, such as their order history, or an internal customer identifier (e.g. Shopify customer ID).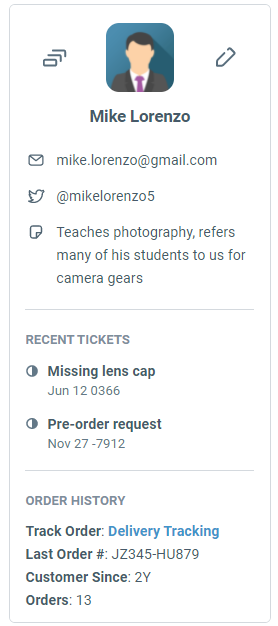 Work on requests in bulk
Group similar requests so agents can act on them in bulk. Got several questions about the same issue? Agents can group them and then use canned responses to deal with them quickly.
Combine multiple actions in a single click. When a customer reports a tricky issue, agents can run a predefined macro that adds a special label, adds an internal note, and assigns the request to a senior agent in one click.
Collision detection
Team members get notified if a colleague is replying to the same question, so no more duplicate responses.
Agents can see when other agents are adding an internal note with further information. This lets them know that they should wait before responding to the request.
Tools to automate and streamline your team's processes
Escalate requests that need extra attention. Got a request that is still unresolved after a long thread of back and forth? The system can automatically escalate it to a senior agent. This can be used to implement Service Level Agreements (SLA) or help you meet your target response times.
Use the snooze feature to add due dates to requests, or automatically remind agents to follow up.
Triage incoming tickets. If a request comes in with the subject "refund", label it as "returns" and send it to the returns team.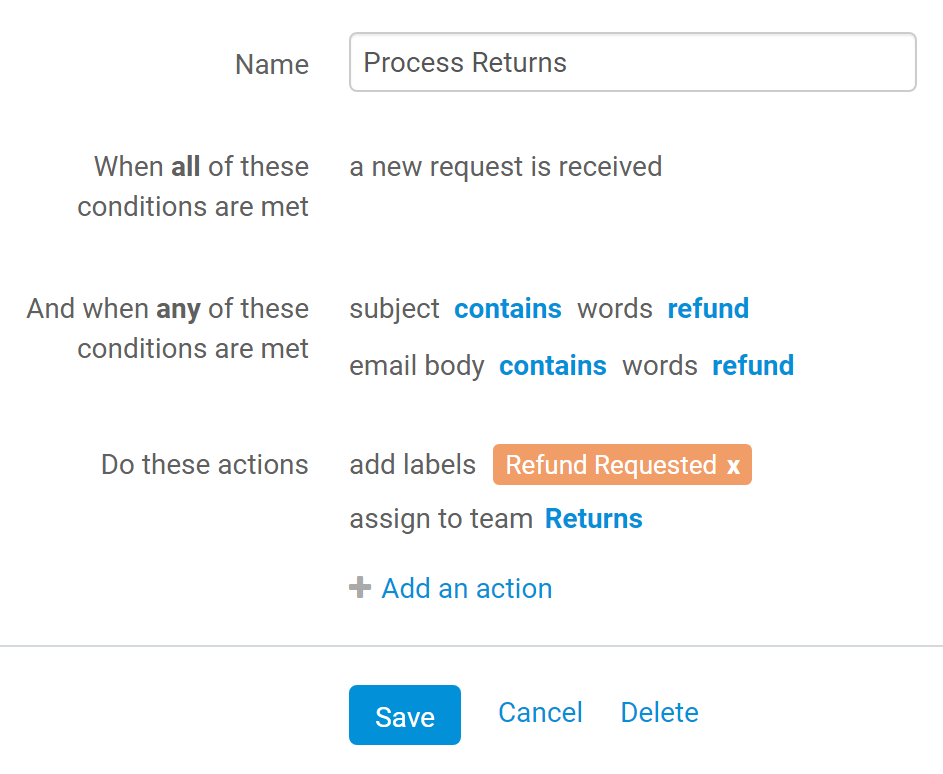 Why Use A Help Desk?
Now you know what a help desk does, and how much easier it makes things for your team.
But you might still be wondering if customer service software can truly affect your bottom line. Is it really worth the investment?
Our answer is a resounding yes – but don't just take our word for it! Here are some compelling reasons to use a help desk:
Growth without pain
People are the heart of customer support – and you need enough of them. But spending time to hire and train more people without optimizing current processes might not be the smartest thing to do for a business.
Customer support software helps your existing agents handle repeatable tasks, so they're more efficient. This reduces premature spending to grow your team.
Automated workflows free up enough time for agents to support your growing customer base. More free time also means your team can focus on building even stronger customer relationships, and honing their customer service skills.
Assigning requests to specific agents means nothing gets missed, and everyone is clear on their responsibilities.
Business continuity
When all communication flows through one system, there's less risk to the business if an agent is unavailable for any reason.
If Dave always handles requests for "returns", and he's off sick, it's possible for this request to get missed by the rest of the team. If Dave leaves his job, the rest of the team scrambles to cover his requests.
With a help desk, the request status would let colleagues know to take over Dave's pending requests when he isn't there. Team members can also share their knowledge, through collaboration or by looking at the handling of a past request.
66% of customers were frustrated when they had to repeat information to multiple employees.
Customer support software helps you create a seamless customer experience. Customers don't see their request being passed between people, and they don't have to provide their information again. All they see are the answers they need. This matters - 66% of customers were frustrated when they had to repeat information to multiple employees.
Customer satisfaction
No customer wants to be treated like just another ticket. Customer profiles let agents add notes, contact details, VIP status and more, so every interaction has the human touch. Customers who feel valued are more loyal.
Integrated CSAT ratings and comments give you valuable feedback on the effectiveness of your support operations.
93% of customers are more likely to be repeat customers at companies with excellent customer service.
When customers are happy, they buy more. Satisfied customers make recurring purchases. 93% of customers are more likely to be repeat customers at companies with excellent customer service.
Improved product quality and vision
Being able to see common questions and problems can highlight core issues in the product. Your product and development teams can use these insights to improve the product.
Look at past conversations to see what customers love about your product, or what new features they'd like to see. Are people raving about how well it integrates with their favorite software? Do they wish it was easier to view their invoice history?
Use this feedback to build more useful features, and your product will be even more attractive to new customers.
Improving the quality of your product means more delighted customers, and ultimately fewer support requests.
Customer self-support 24/7
Did you know 91% of customers say they would use an online knowledge base if it were available?
Customers want to help themselves.
Use your help desk to identify common questions and problems, and build a public knowledge base with the answers. You can set up your knowledge base to suggest relevant articles as customers search, making it even easier for them to find what they need.
A knowledge base is there 24/7. That means no more lost sales because a customer couldn't resolve an issue. If a customer gets stuck right before checkout, they might abandon their cart and head off to a competitor. But if they can get instant answers from a knowledge base, they're more likely to stay and buy.
Reduce the load on your team. Self help options can reduce request volumes by as much as 42%.
Self help options can reduce request volumes by as much as 42%.
Personalized customer experience
Integrating your customer support software with other tools gives your team fuller context for each customer.
An overview of the customer's communication history enables agents to provide a more personalized experience.
Got a customer whose last experience was less than stellar? Agents can offer extra TLC.
Or maybe you have a VIP customer with an issue. They can be prioritized.
A personalized experience is good news for your bottom line - 44% of consumers are likely to become repeat buyers after a personalized experience with a company.
44% of consumers are likely to become repeat buyers after a personalized experience with a company.
Valuable insights
Use actionable reports to get an overview of request volumes and typical resolution times. Use labels to track request type distribution and see historical trends.
View customer happiness reports based on CSAT surveys, and break results down by agent or department to see how they are performing.
Make decisions based on real data. If you see the same questions coming up, you can add new canned responses and knowledge base articles for them.
Use insights to make constant improvements in company training. If you notice certain types of queries are getting bounced from agent to agent, add advice on handling them to your training materials.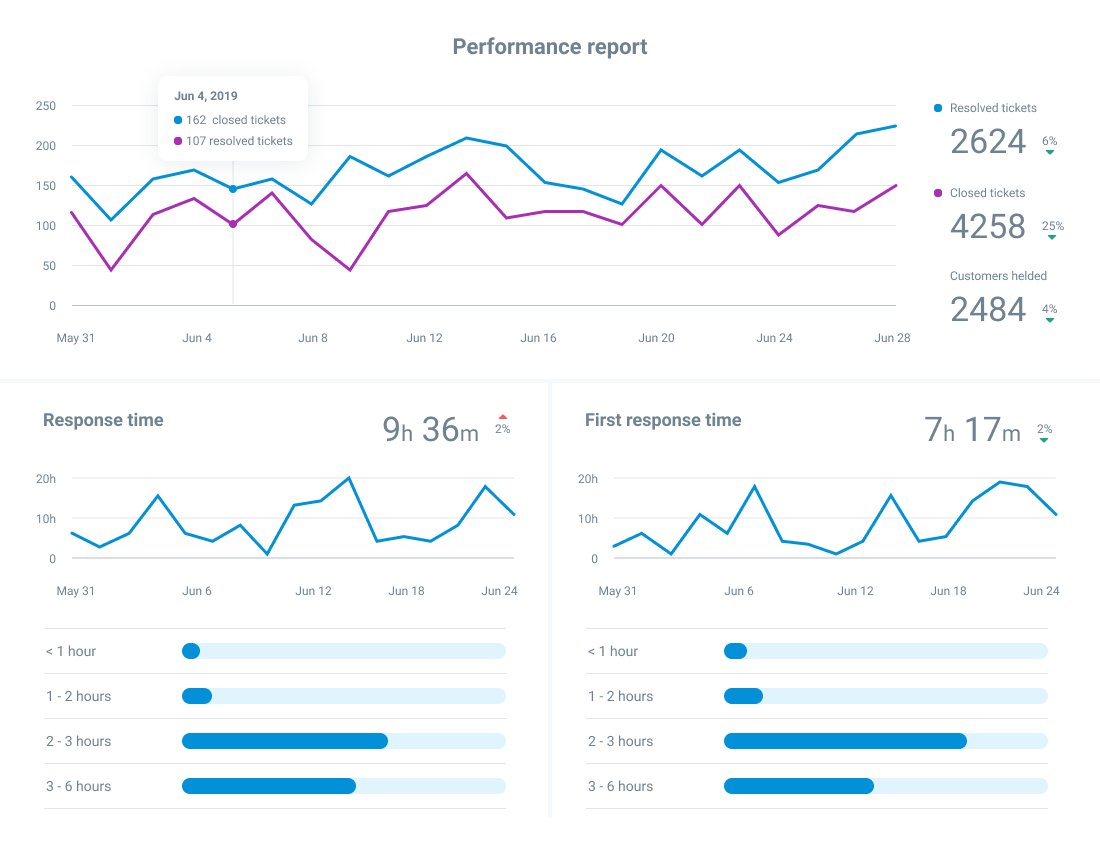 Managers can adjust customer service processes based on what works and what doesn't. Too many customers talking to the wrong agent? Adjust the way requests get routed.
Who Can Benefit From A Help Desk?
No matter if you're selling software or bakeware, customers expect great customer service.
You could have the best product in your industry today, but bad customer service can put a damper on the whole operation. Research shows that 89% of consumers began doing business with a competitor following a poor customer experience.
89% of consumers began doing business with a competitor following a poor customer experience.
If you receive customer requests by email, contact forms, social media, chat, or any other online channel, you need an effective way to manage them.
Whether your customers are individual consumers or you sell directly to other companies, you need an effective way to manage them.
If you deal with vendors or trading partners, you need an effective way to manage those, too!
Support was traditionally considered cost-center - something that costs the company money, but doesn't add profit. But modern customer-centric companies know great support helps them stay competitive. More than two thirds of companies compete primarily on customer experience. Excellent customer support means more repeat customers, more referrals, and ultimately more sales.
Enchant help desk makes it easy for businesses like yours to manage queries across a wide variety of segments, from e-commerce to subscription services. Our software works for small-medium companies of 3 – 40 people, and it works for enormous enterprises with support teams of 100+ agents.
75% of the companies compete primarily on customer experience.
How much does a help desk cost and what features should you look for?
Cloud-based help desks typically come with monthly subscriptions:
Most are priced by the number of agents logging in
Some charge by the number of customers contacted each month
Some even charge by the number of conversations per month
The price range can vary significantly and can be anywhere from a limited free plan, to thousands of dollars per month for an enterprise level solution.
You can also choose a self-hosted or open source customer support software, but there you run into the problem of the amount of resources it takes to set it up, maintain it, and manage integrations.
Here are the main help desk features to look for:
Productivity and collaboration
A help desk should include request assignment, labels, canned responses, the ability to add private notes, and request states. Your team should be able to search and group similar conversations.
Look for the ability to view activity history and previous requests.
Aim to find a solution that cuts down time spent on administrative tasks, so your team can focus on creating better customer experiences.
Workflow automation and customization
Help desks need to be flexible so you can customize it to suit your business.
The software shouldn't impose certain ways of running your company. You should be able to choose which features to enable, such as auto-reply, auto-assign requests to agents, etc.
There should be an easy way to perform bulk actions on similar tickets.
You'll need the ability to define custom rules so you can set up a workflow that suits your team's operations style.
AI and bots are becoming increasingly popular for proactively gathering details about a customer's request, before passing them on to an agent. These are great features to have.
Satisfaction surveys
Built-in satisfaction surveys means you can reach out to your customers when you already have their attention. Some help desks let you embed the surveys right inside your app or in an email. You'll get more and better quality responses through these, than through sending third party surveys later.
Ability to optionally add a comment with their feedback, would allow your customers to express why they feel the way they do.
Use the feedback to make improvements and keep customers happy.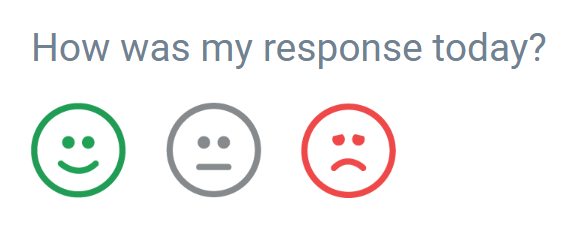 %}
Knowledge base
Some customers prefer to help themselves, and get frustrated when they're forced to reach out to a support team. Those customers might go elsewhere if they have to talk to a real live person every time they have an issue!
A robust self-help solution would divert some of the requests. This would free up time so the team can focus on customers that want and need their attention.
Be sure your knowledge base software includes the option to send a support request if a customer can't find the answers they need.
Surveys show 70% of customers expect companies to include a self-service help option.
70% customers expect the company website to include self-service option.
Multi-channel communication
Look for an integrated solution that lets you bring in conversations from chat or twitter. You want to keep the conversation going seamlessly as it moves across channels. For example, when the chat ends the system can send a transcript via email so the customer can reply to the transcript with followup questions.
A help desk should also automatically connect conversations to a customer profile using their contact information so you have a complete history of interactions across all channels.
Integrations
The more sophisticated help desks provide built-in integration with common business tools such as CRM, marketing tools, project management, e-commerce, bug/task management etc.
A help desk should offer an API option so you can build custom integrations with other internal systems or software. For example, the ability to quickly send a note to the bug tracking system when a customer reports an issue.
Reporting
Built-in reports save you the headache of exporting data to another system for analysis.
Any good help desk will include reports such as ticket volumes divided by categories / labels, team and agent performance, and customer happiness scores.
It should also let you filter by department and brand, and in custom date ranges, for maximum flexibility.
The option to export as a CSV / Excel file for sharing with other departments or upper management is a must.
Reports should give you business intelligence about how customers use the product, and what new features would provide most value.
They should also show you where the product or the team needs improvement, and how satisfied customers are with the service.
How To Choose The Right Help Desk For Your Team
As you can see, help desks have multiple features and can take care of a lot of tasks. Trying to choose one can feel like a daunting task. You want to avoid:
Picking a customer support software solution that fails to meet your growing needs in few years.
Getting stuck with a can-do-everything solution that's too complicated and slows your team down.
The key is finding a balance of features that are relevant to your business and still leave room to grow.
Companies that have a multi-channel engagement strategy enjoy 10% year-on-year growth.
See our detailed guide on how to choose the right help desk that covers all the nitty-gritty details. Here's a quick guide to help you get started:
Features – make a list of the features you know you'll use. Highlight which ones are must-haves vs nice-to-haves. Does your team collaborate remotely? Do you serve customers in different languages? What metrics are most important for your reports? Use this list to eliminate options that don't fit.
Channels – What additional channels do you want to support? Are your customers more comfortable on social platforms like Twitter? Would chat provide a massive value add to the shared inbox? Tip: Solutions that provide built-in support for additional channels tend to work more smoothly. Plus, companies that have a multi-channel engagement strategy enjoy 10% year-on-year growth.
Integrations – which other tools do you already use? Narrow down your choices based on which solutions play best with your existing tools. Remember, sometimes you'll need to use an API to build a custom integration if your favorite tool is internal software, or something industry specific and less widely known.
Budget – get clear on what you can afford, and what each solution costs. Check out different plans to see if adding more agents will push you to a more expensive plan. Pick a solution that will let you grow your team without blowing your budget.
Plan ahead – chat with the decision makers in your company and ask about upcoming changes or additions. Take these into account when listing your must-have features. Look for a flexible solution that can grow with your company.
Trial run – narrow your list to a handful of providers, and take advantage of their free trials (most help desks offer one.) Try them out with a few team members. You'll be using this tool every day, so pay attention to the little details. Is it user friendly? Reliable? Most importantly, will it help your team deliver the best customer service?
Take Aways
At the end of the day, a help desk can't replace the human touch that your team brings to your customer relations. Your help desk shouldn't become a wall between you and your customers, but rather should break down barriers.
The most vital thing a help desk should do, however, is become the backbone of your team.
Companies that provide a personalized customer experience can increase revenues by 19%.
Help desk software frees up resources so your team can do what they're meant to do: Deliver personalized service, even with a high volume of requests. Customer support software helps maintain meaningful relationships with your customers. This is great for customer loyalty – companies that provide a personalized customer experience can increase revenues by 19%.
Ultimately, investment in a help desk pays off many times over by keeping your existing customers happy, and making a powerful first impression on new ones.