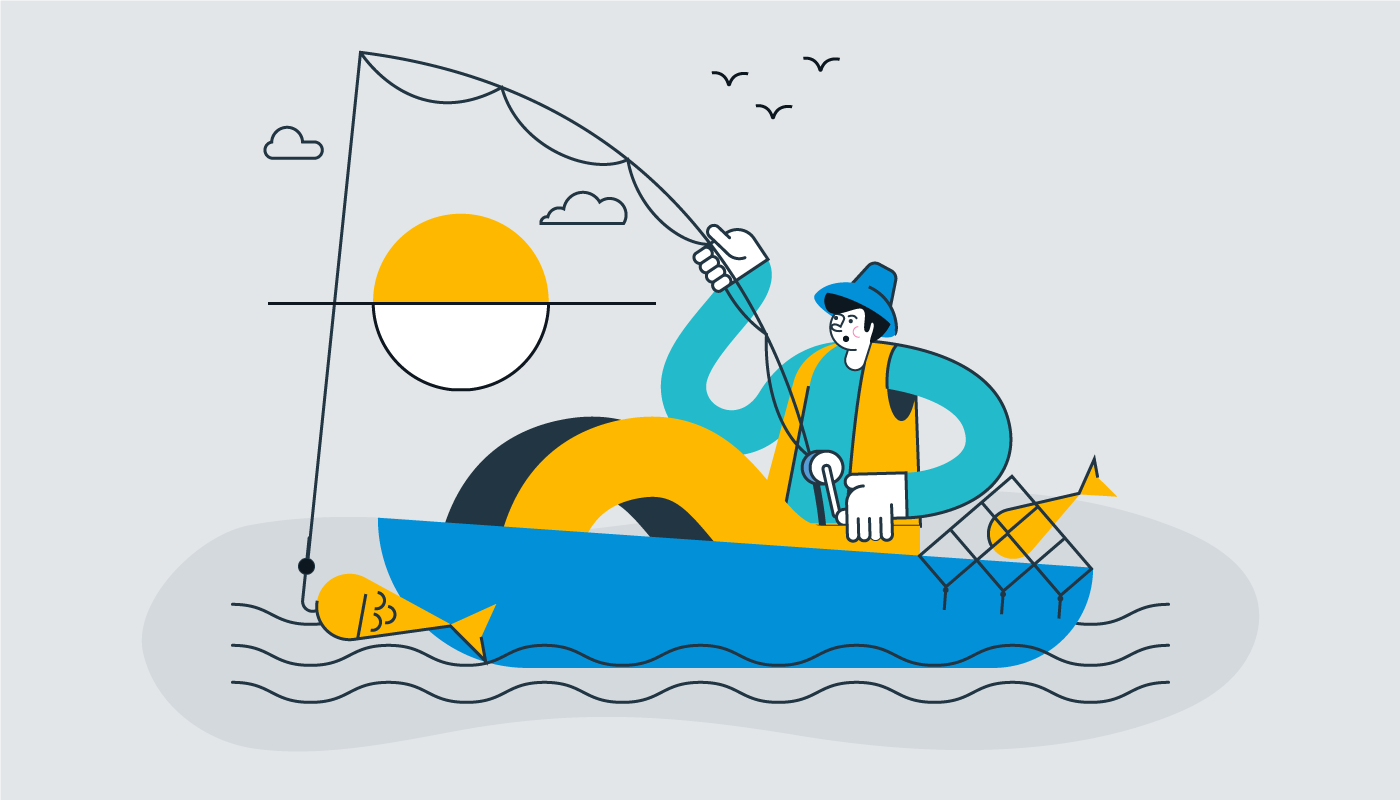 From your personal or business bank account, you regularly make transactions, like paying bills, making an e-transfer to a friend or a vendor, or withdrawing funds. You can do this whenever you choose to and without needing the help of a bank teller. Just imagine - what if there were no online banking services, mobile payment apps, or even ATM machines with any of the banks that you have an account with?
Hard to even imagine, right?
It's because we are so used to all these self-service tools that banks have provided to us and they have pretty much become a part of our lives. But in this digital age, self-service is not limited to just the banking sector.
Self-service is making rapid strides toward becoming a key customer service component in almost every sector. 81% of customers across different industries try to resolve the matter by themselves prior to reaching a live representative.
Now, let's see this trend from a business owner's perspective. According to a Microsoft report, 90% of respondents expect companies to provide self-service through an online portal.
90% of customers expect companies to provide self-service through an online portal.
The truth is, customers want instant solutions. So, if you want to help your customers attain what they desire and have a competitive edge in the market, you don't want to miss out on leveraging the self-service tools.
This blog post will take you through the benefits of customer self-service, essential tools to provide self-service, and how to utilize them in the best possible manner.
What is customer self-service?
Customer self-service is a technology-based approach that enables customers to resolve their queries and concerns or perform specific actions that fulfill their needs - without seeking assistance from a live support representative.
For example, if a customer wants to purchase an item from an online store but isn't sure of the shipping charges, a self-service tool like a "FAQ page" can help the customer to get this information without reaching out to the customer service team.
Companies are able to offer self-service using various tools such as a knowledge base, chatbots, community forum, and other tools that we're going to cover in this blog.
Benefits of providing self-service to customers
By implementing customer self-service, your company can reap the benefits in multiple aspects. And what makes it more valuable is that customers prefer it, too. All in all, it's a win-win for both parties.
Here are some of the key benefits:
Deliver faster resolutions
Ever been in a situation where you tried reaching customer service only to find out that you were 5th or 7th in the queue? Now, think of those customers who have to wait for a long time to get an answer that takes less than a minute.
According to HubSpot research, 90% of consumers consider "an immediate response" as an 'important' or 'very important' factor when they need help regarding a customer service question. Self-service tools help customers get information quicker and on their own.
90% of consumers consider an immediate response as an important or very important factor.
Higher customer satisfaction
Self-service tools help you resolve less complicated or repetitive queries without human effort. This gives your support staff more time to address critical concerns, time-sensitive issues, or solve more complex bugs.
All these factors can help you provide customer service with a more personalized and focused approach to win your customers' hearts. The 2021 Customer Expectations Report from Gladly shows that 63% of customers fall in love with brands due to the great service experience.
63% of customers fall in love with brands due to the great service experience.
Provide 24/7 help
Providing 24/7 live support to your customers may not be feasible if you have a small team working during limited hours. But with self-service tools, customers can get the information at their fingertips, whenever they want.
This way, you can offer support round the clock - even when your support agents are not around. This can step up your game in customer service, especially if you have customers across the globe or from different time zones.
Increase upsell opportunities and revenue
Helping your customers with self-service can pay you off in more than one way. When you're providing customers with helpful content and resources, you can also take that opportunity to upsell your products.
On the flip side, if you don't have proper self-self tools, you may be at risk of losing some business. Research by Forrester found that 53% of US adult customers are likely to abandon their online shopping if they're unable to find an instant answer to their question. Self-service can help you convert those potential sales into actual ones.
53% of US adult customers are likely to abandon their online shopping if they're unable to find an instant answer to their question.
Minimize cost and resources
Self-service tools enable you to serve a larger customer base with limited staff. This not only helps you to reduce your staffing cost but also the training cost. With these savings, you can direct more funds towards software to make support operations more scalable.
According to Harvard Business Review, the average cost of a self-service transaction is so nominal that it can be measured in pennies. But the average cost of a live service transaction is more than $7 for a B2C company and more than $13 for a B2B company.
Gain insights on customers' needs
When your customers search for any information on your website, it's a vital opportunity for you to get to know them better. Chances are they are looking for things they need in the near future.
So, the data from the search can give you some great insights into what new features your team could build next and stay ahead of the competition.
Higher job satisfaction for employees
4 out of 5 customer service leaders report that 20% or more of the tickets are repetitive and easy to resolve. Since self-service tools help reduce such repetitive queries, customer support representatives spend less time on mundane tasks. 
80% of customer service leaders agree that 20% or more of the tickets are repetitive and simple to resolve.
On the positive side, they can be more involved in complex matters that require problem-solving abilities. This gives them the opportunity to showcase their skills and it makes their job more satisfying as they are able to resolve customer issues using their skills and expertise.
What makes good self-service support? And what to avoid.
Using self-service tools can definitely help your business by reducing the cost of customer service. But keep in mind that it shouldn't be achieved at the cost of good customer experience. 
You might have dealt with a chatbot that keeps repeating the same answer again and again - without giving you the option to chat with a live representative. As a customer, it could be an extremely frustrating experience.
Here are some of the important DOs and DONTs that you should take care of while offering self-service to your customers:
Discoverability
DO:
Tools and resources should be easy to find
Keep a 'Help Center' button on the website homepage and/or software dashboard
Include the link in your 'Welcome Email Series' for new customers
Keep the content SEO-friendly (Search engine optimization)
DON'T:
Don't use self-service to gate access to a human agent. For example: don't force customers to search your knowledge base before showing them the button to chat with an agent.
Quick availability
DO:
Keep information searchable with keywords
Check and ensure it works on all types of devices including tablet and mobile layouts
DON'T:
Don't make the customers waste time browsing or hunting for the right category
Accessibility
DO:
Try to provide content in different formats (text, video, audio) to make it accessible for everyone.
For example: Audio content would be helpful to people with visual impairment and text content would be helpful to deaf people.
DON'T:
Don't miss out on adding precise and relevant image alt texts
Simplicity:
DO:
Keep terminology non-technical and user-friendly - so they can easily understand the instructions
DON'T:
Don't use too many abbreviations or technical jargon
Don't utilize self-service to make customers perform tasks that can be accomplished by adding a feature
Flexibility
DO:
Provide them an option to escalate to a live representative whenever needed
Keep an eye on how automation tools and content resources are working for customers
DON'T:
Don't make them feel stuck in annoying chatbot loops
Don't make it hard for your customers to reach out to a live person
Top 7 ways to provide self-service customer support
There are many tools to offer self-service but it's important that you use them in a mindful and effective way. Here are some of the most effective tools along with helpful tips and examples to help you get it right:
1. Create and maintain FAQs
Frequently Asked Questions (FAQs) is one of the most popular self-service tools. In fact, 46% of global customers say that they use an FAQ page as a customer service channel. Customers love it because it swiftly addresses specific and commonly asked questions with brief answers that are to the point.
46% of global customers say that they use an FAQ page as a customer service channel.
To create an FAQs page, you should consider multiple sources to figure out what to include in it. Initially, you can start with the basic Q&As from your policies and procedures. Then, review the customer service reports and take inputs from your customer service team as well.
Helpful Tips:
Keep it easy to browse
Use the terms that customers are familiar with 
Organize your questions in categories that are not confusing to navigate through. You can do this in different ways based on what makes sense for your business:
A) Based on the customer journey: Getting started, Set up queries, managing the product/service, renewal, deactivation
B) Product or feature wise: a category per product or feature if there are multiple of them
C) Topic-wise categories: new subscription, discount codes, loyalty program, membership levels, etc.
Keep updating the FAQs based on the customer service reports
Adobe Creative Cloud FAQ is one of the best examples to see how the questions can be categorized to make it easy to navigate. Adobe has classified the FAQs into three major categories: General FAQ, FAQ by plan, and Other. Within those categories, they have further divided the content into subcategories to make it easy for its customers to quickly find the exact topic that they need to know about.
2. Build a rich but digestible Knowledge Base
A knowledge base, also known as a "Help Center", is a sort of more descriptive version of the FAQs. It's a self-service tool that is best suited for providing customers with product guidance and troubleshooting.
The knowledge base usually consists of educational content such as how-to articles and step-by-step guides to help customers with complete instructions.
If your product or service is complicated, make sure to use terms that your customers can easily understand. Travelocity reduced calls by 5% simply by improving the layout and readability of its help section. It goes to show that knowledge base can only be effective if the layout is user-friendly and content is readable.
A knowledge base can only be effective if the layout is user-friendly and content is readable.
If you're wondering how to create one for your business, Enchant provides a fully hosted knowledge base that can be customized to your own branding. It comes with a powerful drag-n-drop style article builder that makes it easy for your support team to create and manage rich content. All without needing the help of a webmaster.
Helpful Tips:
Create rich content that covers all aspects in a precise manner. Use pictures and videos to guide them through the complicated parts
Keep it easy to understand and navigate for customers
Have a search function to find relevant content quickly and easily. Show a list of related articles to guide the customers
Ask for feedback on how useful an article was to make sure that customers are able to solve their problems
Keep it up to date based on changes and new updates
With Enchant, you can offer help to your customers in multiple languages
Asana - Help Guide is very well-organized and full of detailed articles that include screenshot images. This is a great way to provide easy-to-understand information. Also, some of the articles have YouTube video links embedded in the content.
3. Blend automation with human touch
There are a few different automation tools that you can use to provide self-service to your customers. Depending on your business requirement, you may use any one of them or a combination of multiple tools.
Whichever option you choose, you need to ensure that it's actually helping your customers. 40% of customers aren't concerned if they get support from a human agent or an AI tool, provided their question is answered.
40% of customers aren't concerned if they get support from a human agent or an AI tool, provided their question is answered.
Let's briefly review some of the popular options:
A) Using chatbots, you can ensure smarter query handling. A chatbot tool can interact with customers to answer simple questions using artificial intelligence and machine learning. Chatbots can be quite effective in collecting initial information before routing the request to a human agent.
B) If your customers prefer phone calls, you can use an automated IVR system and prepare the IVR flows to provide pre-recorded instructions on most common questions or scenarios.
Note: Both of the above options have some limitations when it comes to handling complex or not-so-common queries. And that's why you should combine automation with human intervention.
C) You can use a conversation pop-up on your website like Enchant Messenger to provide the flexibility of browsing knowledge base articles along with a live chat option. And if needed, customers can send you an email from the built-in contact form as well. Thus, you can give multiple options to your customers from a single tool.
Helpful Tips:
Review and analyze the data to enhance automation and improve customer experience
Keep the most common options on top so that customers can access them quickly
4. Build and manage a community
In the business world, community building is the practice of bringing together your customers and providing them with a platform to interact with each other. You can let your customers post their questions and community members (other customers as well as your team members) can answer them.
Overall, it has a vast scope and benefits. By building a community, a company can provide an engaging platform to its customers and build customer loyalty. Research shows that 45% of active participants in online communities tend to be the customers of the service.
45% of active participants in online communities tend to be the customers of the service.
There are a couple of different ways to achieve this:
Create a Facebook group or Discord community - This is very easy to set up and has almost no cost to run the community. While the downside of this option is that you won't be able to organize all posts the way you want, it's still a good option to attract new members because of the popularity of these platforms.
Create a community forum page/website - With this option, you can ensure that all posts are well organized and easy to navigate for customers. To create a community forum page/website, you need to choose a location (URL) where you can host your forum page(s) and use a content management software to build it. While this is a more organized way to manage the content, it can be a bit time-consuming and relatively more complex.
Helpful Tips:
Create community guidelines for 'professional and respectful behavior' of all members
Community should be managed/moderated to ensure healthy discussions are happening
Appreciate and encourage contributions from members by assigning badges and/or other similar gestures
Assign at least 1-2 product experts from your team to chime in into conversations whenever needed
When it comes to community building, Shopify definitely deserves one of the top spots. One of the best things about this community is that it covers the entire ecosystem of Shopify. When a customer posts any questions in the community, those questions are answered not only by other customers but also by Shopify Partners, Experts, and staff members. Also, the community members are recognized with badges for their contributions/answers.
5. Create educational blog content
Blog content can be a great source of information for your customers. You can create articles around topics related to your product or service and share valuable content to help your customers.
Most helpful topics tend to revolve around how customers can use your product or service to solve a problem they have. If done right, a good blog can also lead potential customers to discover and learn about your service. McKinsey & Company has found that 61% of customers are more likely to purchase from companies that give them unique content.
61% of customers are more likely to purchase from companies that give them unique content.
Helpful Tips:
Make sure that the blog content is highly relevant to your customers
Create scannable content to ensure that pro readers can find the information they need quickly. For example, include a TLDR or a list of links to various sections at the top of the blog.
Add images and screenshots as necessary
Show how customers can use your product for different situations using case studies
Follow the SEO best practices but don't stuff keywords
The popular email and SMS marketing automation platform - Klaviyo - is a fitting example of this tool. Klaviyo's blog is categorized based on its key features. For example, Email marketing best practices, Email automation tips, and SMS marketing deep dives. It also features a section of "Customer stories" that covers case studies of how Klaviyo customers have achieved success using their platform.
6. In-app product tutorials
According to a Wyzowl report, 86% of customers are more likely to stay loyal when a business invests in creating welcoming and educational onboarding content. These in-app product tutorials are most useful for SaaS (Software as a Service) companies that are providing complex solutions to their customers.
86% of customers are more likely to stay loyal when a business invests in creating welcoming and educational onboarding content.
These tutorials can greatly reduce the  learning curve that new customers may have to go through when they start using a new software or app.
Product tutorials can effectively guide customers throughout the onboarding process when they sign up or when new features are released.The tutorials can also be videos explaining how the software works or a series of interactive pop-ups that gives users a step-by-step walkthrough.
For example, check out tools such as Appcues, Pendo, Wyzowl, and UserGuiding, which can help you provide product tours.
Helpful Tips:
Create tutorials/demo videos for every step to provide a complete walkthrough to new customers without leaving your app
Give your customers "Tip of the Day" to learn about neat tricks
Guide them step-by-step to when they start using a new feature
7. Utilize software to implement multiple options
Different customers may prefer using different self-service tools. But as a business owner, it can become overwhelming to manage all those tools, especially if you have limited staff or budget.
Many help desk software solutions like Enchant can help you streamline your self-service tools and manage them with ease. With Enchant, you can create a knowledge base, embed it into a chat widget - Enchant Messenger, and let your customers use it the way they want.
Customers can browse through the different knowledge base topics, and if needed, chat with your customer support team - without leaving the page they are browsing on. Based on customer feedback studies, it was found that 91% of customers would use a knowledge base as long as it addressed their needs.
91% of customers would use a knowledge base as long as it addressed their needs.
Helpful Tips:
Help desk can give you reports that are necessary to determine common questions to populate them in your FAQs
Provide the multi-level organization feature to sort knowledge base articles into categories and sections
Email chat transcripts to your customers so that they can refer to it in the future if needed (another mini-tool for self-service!)
Self-service tools are becoming a standard
In this fast-paced and competitive world, businesses must develop a customer-centric approach and keep up with the ever-changing customer needs. Self-service is one of those needs. It's no longer an option but a requirement.
And when you put in the effort to provide instant help through user-oriented tools and high-quality content, it'll help your business grow faster and earn more revenue.
Remember that the knowledge base and chat widget are must-have tools for almost any business and an increasing number of customers expect companies to offer these options. By providing these self-service tools, you can enhance customer satisfaction and build loyalty to your brand.