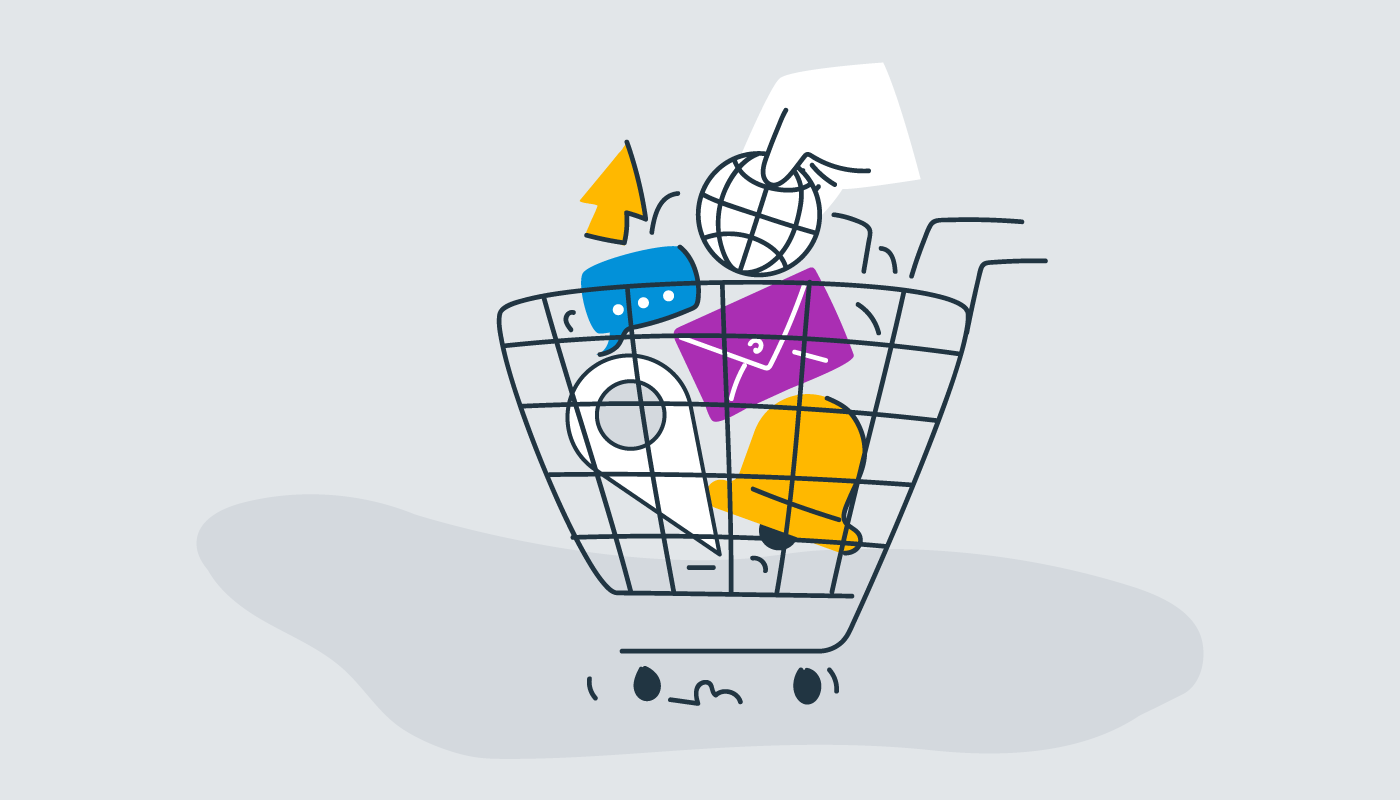 We've gone to the farthest corners to collect the finest grains of software. We then bring it all together to our top secret lab where we blend it together with a healthy handful of love. The end result is Enchant. If you're in the market for a help desk, you don't want to miss this one!
Attracting new customers is hard. You're constantly fighting for their attention, and you need to stand out from the competition. But keeping your existing customers happy is easier than you think, you just need the right help desk software.
A help desk is a one-stop solution that makes it easy for your team to organize and prioritize customer service tasks. It keeps all requests in one place, and helps automate repetitive tasks.
A help desk frees up time for your team to focus on building a loyal customer base, which benefits your bottom line. It's easier to retain customers than it is to attract new ones. In fact, 86% of customers who say they had a great experience, will make another purchase from the company.
86% of customers who say they had a great experience will make another purchase from the company.
A help desk empowers your team to provide the top quality service that keeps customers coming back.
Why Is It Important To Choose The Right Help Desk?
Picking a help desk can feel daunting. There are lots of options, and they all boast about their shiny features. Every help desk claims to be the best – but how do you know which one is best for YOUR team?
Here's the truth. No help desk can be the best for everybody. What suits one business might not suit yours.
A poor quality help desk or one that is incompatible with your team structure, will cause more problems than it solves. If the help desk is fundamentally wired to operate differently than how your team works, you'll end up struggling to make it work the way you want. If you're a small-medium business, a help desk that is heavily loaded with enterprise features and complexity will become an unnecessary source of confusion.
Bottom line - the wrong help desk will slow your team down rather than helping them and reduce your ROI. But if you get it right, you will be able to deliver great customer service and retain more customers. If you can increase customer retention by just 5%, your profit can increase by anything from 25% to 95%.
5% increase in customer retention can increase profits by 25% to 95%
So How Do You Choose The Best Help Desk?
There's more to choosing a help desk than just comparing their features. This is especially true if you're switching from email to your first help desk.
To help you avoid getting stuck in the feature comparison trap, we've made a list of actions to take when choosing your help desk. Here's what to do next:
Make an initial list of help desk providers that you're considering.
Follow the guided steps below and check out the various aspects of help desks that matter to you.
Evaluate each help desk provider based on your specific requirements.
Narrow your shortlist down to the help desks that check all the boxes.
If you find things that you can't answer for your team, don't worry. We'll guide you on who to lean on for those answers.
Take your time with this. The more thoroughly you screen, the more useful your shortlist will be.
1. User friendly & Quick to set up
You need a user friendly solution that you can set up quickly, and your team can learn without weeks of training. If the user interface is not intuitive enough, you're going to sink under a pile of questions from confused agents.
Think about how long it will take to get up and running. Cloud-based help desks are usually quicker to set up than open source options.
Does the provider have customer success specialists who can help with setup? At Enchant, our onboarding success managers help customers tweak the settings and workflows during their trial periods, so Enchant meets their needs.
Is the interface easy to understand? The simpler the user interface, the faster your team will get confident using it. Check out some demo videos to get a feel for usability. See for yourself what your team will have access to, and how straightforward it is.
Are there decent help docs, tutorials or a knowledge base to help your team learn the features? This is especially important for more complex features. Do a test search for a few things in their help docs and see if the instructions are easy to follow.
Remember there are lots of hidden things that add time. Setting up custom workflows, training your team, and importing your data takes time. Allow extra time at the beginning for learning and testing the system, and getting it set up. Also consider how much time and resources it will cost to integrate it with your existing software.
2. Type of Customer Experience you want to provide
Help desk software provides the tools your team needs to deliver a show-stopping customer experience. Having a clear understanding of the kind of experience you want to create will help you choose the best help desk.
86% of customers say they expect to be able to move from channel to channel but still have seamless conversations with agents.
How do your customers like to get in touch with you? Do they prefer email, chat, or social media? Decide which channels you need to use at the moment, and any you want to start using soon. Pick a solution that supports them. Remember, 86% of customers say they expect to be able to move from channel to channel but still have seamless conversations with agents , so pick a solution that makes this possible.
Have you got global customers? If so, you might need multi-language support for customer-facing interfaces, such as CSAT surveys, chat, and knowledge bases.
Are your customers other businesses that contractually require you to respond within a certain time (with a Service Level Agreement, or SLA)? Check how the help desk calculates the response times and make sure it's compatible with your contracts. For example, do you want to only include business hours in your response time? Or exclude certain holidays? Make sure that's covered.
Does the help desk make it easy to organize information into self-help resources, like a knowledge base? 40% of customers prefer a knowledge base over any other kind of support.
Does the built-in customer satisfaction survey make it convenient for customers to provide feedback? People want to feel like their opinions matter. In fact, 77% of customers have a more favorable view of brands that ask for and accept customer feedback.
77% of customers have a more favorable view of brands that ask for and accept customer feedback.
Look at what's already working for you. If you've got an internal response time target that keeps your customers happy, make sure your new help desk lets you do the same. On the flip side, if there are problems with your current solution, look for a help desk that solves those. If you're currently wrangling a third party live chat system that's leaving customers frustrated, pick a solution with built-in or deeply integrated chat. It's worth investing in a system that works with chatbots, as chatbots are expected to save businesses more than $8 billion a year by 2022.
3. Productivity and Workflow Features that are most useful for your team
Your team will be using the help desk all day everyday, so they should be your go-to source for finding out which features are most important. Learn what they need and why, so you can choose the right help desk. Did you know that 86% of customer service teams say using a help desk boosts their productivity?
86% of customer service teams say using a help desk boosts their productivity.
A help desk that aligns with your team leads to better customer service, because the team isn't burning time and energy trying to wrangle a piece of software that doesn't work for them.
What's your team's structure? Widely distributed? Lots of members working remotely? Think about which collaboration features will support that structure. For example, being able to add private notes right in the system is very useful for colleagues working in different timezones. Being able to add labels such as "waiting for vendor" is a quick way to let managers know why a request isn't resolved.
Find out if your agents prefer email or in-app notifications when they're away from their desk, or a mobile interface so they can work on the go.
Which features does your team need for sorting and prioritizing? For example, if you offer priority support to your VIP customers, you'll want a help desk that can alert a senior agent if a VIP request is left unresolved for a certain period of time.
Think about which of your manual processes and workflows can be automated. Check the help desk to see if the rules are flexible enough to automate those workflows. Automations can be used for simple request routing like: "if subject contains 'billing', assign request to billing team". They can also be used to define rules that apply when a bunch of conditions are met: "if request is from a VIP customer and has been on hold for more than 2 days, escalate to priority support team".
It's vital to separate your must-have features from your nice-to-haves. More is not always better – a complicated solution that does everything can cause frustration if your team doesn't use half those features. Plus you end up paying extra $$ for features you don't need.
4. Reporting Metrics that highlight relevant insights
Running customer service operations without any metrics on performance is like shooting in the dark and praying that you hit the target. Metrics tell you what requests are coming in, how your team is handling them, and whether your customers are loving their experience with your company.
Companies that use knowledge bases have higher average first-contact resolution rates than those that don't.
What analytics and reports do you need to keep customer service operations healthy? Which key performance indicators are most relevant to your business? Is it response times, resolution times, ticket volumes, type of requests, or something else?
Does the software let you identify trends or recurring problems? For example, if a bunch of customers are struggling with getting logged out too often, you need to know that. Being able to drill down to the specifics helps you make your products or services even better.
Does the help desk offer built-in Customer Satisfaction surveys (CSAT)? These offer invaluable customer satisfaction insights.
Does the knowledge base let you identify search terms that are coming up empty? This shows you where customers are not finding the answers they wanted. Now you can create new articles, or adjust the keywords on existing relevant articles, to make sure your customers aren't coming up empty handed. Maintaining your knowledge base is important – companies that use knowledge management tools such as knowledge bases have higher average first-level resolution rates than those that don't.
Can you export your reports in reasonable formats (CSV or Excel are best) so you can share them with employees outside of the help desk team? Getting the stats in a spreadsheet also makes it easier for you to slice and dice further.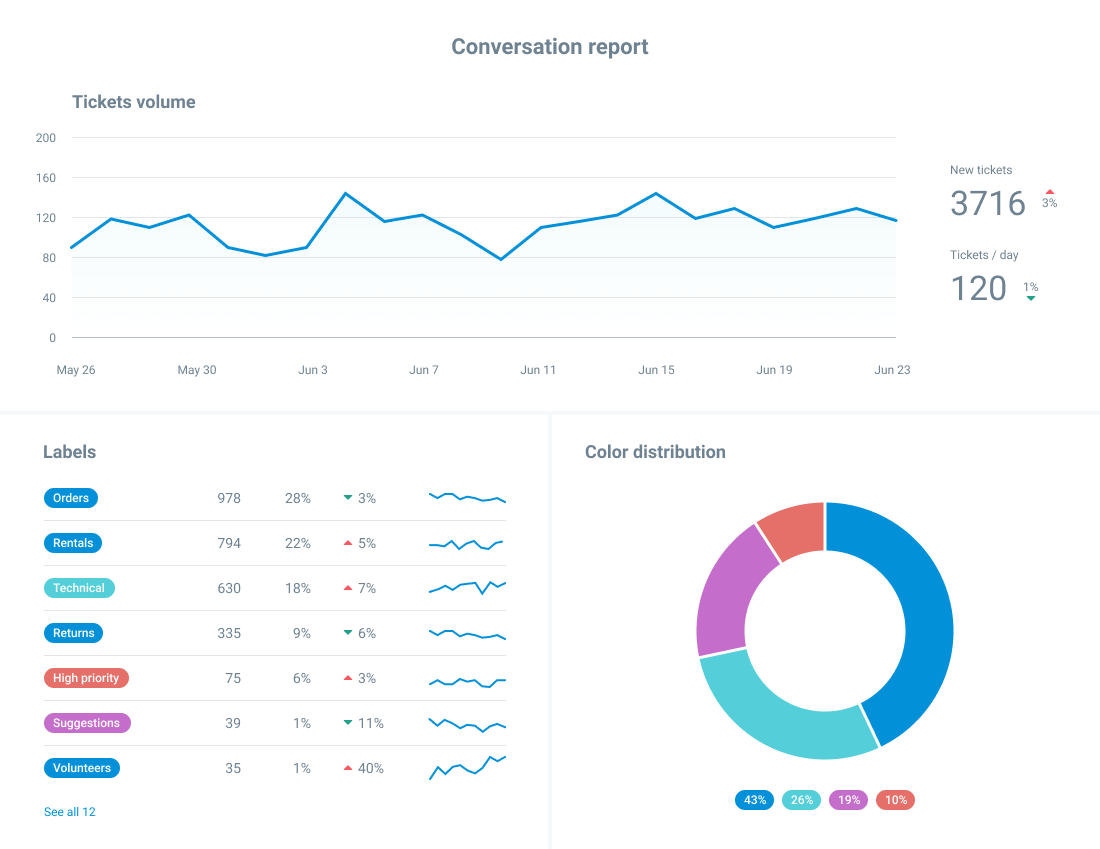 The ability to compare your chosen performance indicators at different time periods is a great bonus add-on. Then you can answer questions like "how many unresolved requests were there at the end of this month, versus last month?" This shows you trends in your support stats, which let you know if you are moving towards your goals or straying away from them. For example, if you put a new process in place to address the problem of long wait times, being able to compare wait times this month vs last month lets you know if you are hitting your targets.
5. Integrations with you other business software
It's likely that your help desk isn't the only software your company would be using. More often than not, you will need it to integrate with the other tools you use in your business.
Which other tools do you already use? Make a list, and then check the help desk solution to make sure it integrates with them. Think about what makes sense for your industry. If you run an e-commerce store that regularly gains new customers, being able to retrieve order info from the management system will be a real time saver.
What tools that you might start using soon? Maybe you're a subscription service, dealing with recurring shipments to a slow but steadily growing customer base. Having access to those shipment tracking links is a must for any help desk you purchase. Look for one that integrates with your shipment management system.
Does the help desk provide an API so you can export data to external systems? This is a must, because it gives you control of your data and the ability to send it elsewhere. For example, you might export data to your customer retention department so they can analyze it. Or if you use an internal chat tool like Slack, you can use the API to send out a notification there.
If you're moving from another help desk and you want to import customer request history, check whether the new help desk has an importer from the old provider. This would help make your transition smoother.
Another solid reason to check for a good API is that it'll come in handy if you move to a different provider down the road. No matter how carefully you choose the best help desk, you can't guarantee it will be the ideal match forever. Your business might out-grow the solution, or evolve to need a different tool. An API will make it easy to migrate your data if you switch in future.
75% customers expect agents to know about their previous interactions.
6. Data Security and Compliance Standard Requirements
Robust data security and loss prevention tools should come as standard on any help desk. But your company will have its unique needs too, and it's important to choose the right help desk to meet those. Did you know the average time to contain a data breach is 80 days? Your data is much more secure if the provider has taken preventative steps to deter any malicious activity.
Make sure you can see agent activity history for every request. You'll need this to follow the trail on a request and find out who did what, or to get answers about an incident handled by an ex-employee. Plus, more than 75% of customers expect agents to know about their previous interactions.
Choose a system with 2-factor authentication. It helps prevent your account from being compromised if hackers attack.
If your team gets a lot of email requests, spam filtering would be a great add-on feature. The filters will stop harmful files reaching your agents' devices.
Do you need your help desk to provide specific legal certifications, or meet specific security, privacy, or data protection standards? For example, if your company is in the health care sector, you'll need your help desk to be HIPAA compliant.
Do you manage critical customer data? Then ask your potential new provider what measures they take to prevent data loss in case of an outage. Make sure their processes meet your expectations for keeping your customers' data safe.
One last tip: Make sure the system gives you a way to remove data easily. Sometimes a customer will accidentally (or even intentionally) email in sensitive information like their credit card number. You want to remove that quickly, so you don't lose their trust in case of a security breach.
Your customers are putting their trust in you each time they get in touch.
Your customers are putting their trust in you each time they get in touch. Reliable security and loss prevention options help you protect and keep that trust.
7. Reliability and Speed of Service
Your help desk should empower your agents to provide outstanding customer service. To do that, it needs to work well, and work fast. But how do you check that? No provider is going to say on their page "warning, might run slow as molasses at peak times."
Find their status update page and see what their uptime has been like in the past year. Check out how many and what kind of outages they've had.
How long have they been around? The longer the software has been on the market, the more time-tested it is.
Check their Twitter feed. Do they answer questions quickly? Are their updates timely? The last thing you need during an outage is to be scrambling for information rather than managing your own customers' worries.
When you reach the trial run stage, check how fast the software loads and reacts. It's tricky to test this without real data, but you can get an initial gauge from how snappy it feels . If the software feels sluggish even without much data, it's not a promising sign.
Your team is going to depend on this product to handle your customer communication, so it has to be reliable. It's unrealistic to expect no outages, but you need to choose a provider that takes them seriously, and resolves them quickly.
8. Quality of Customer Support you can expect
No matter how intuitive the help desk feels, there will be times where your team has questions. Perhaps they are trying to implement a new feature or set up a new automation rule. Or maybe they've found a glitch. At those times, your team will be reaching out to THEIR customer service.
The speed and quality of their responses will determine how quickly your team can get back to providing excellent customer service.
Customer service software providers should be delivering top notch service of their own.
It's only natural to have higher expectations here.
What modes of customer support does the provider offer? Email, chat? Phone? Make sure you can reach them easily, on a channel that's convenient for you.
Check out their social media channels to see their response times, and how they talk to their customers. Do they take responsibility for problems? Do they solve issues quickly?
What are their existing customers saying? Don't rely on their website – of course, they're going to use five star testimonials. Read real reviews on unbiased platforms such as app stores and twitter feeds.
Another great source of customer opinions is twitter mentions, or the company's Facebook page.
Customer service software providers should be delivering top notch service of their own. You can test this by choosing a few help desk providers and sending them some questions. See how long it takes them to respond. Do they answer your questions clearly? Testing their customer service now gives you a feel for what you can expect when you have a real problem.
9. Think Fresh and Plan for Long Term
Your help desk is not just for today. The right help desk can help you build a stronger future for your company, by boosting existing customer loyalty and helping you gain new customers. New customers are 5 to 25 times more expensive than existing customers. Using a help desk to build customer loyalty is a good investment.
Rethink your approach to solving problems from scratch. What may not have been possible before, might be possible thanks to the new help desk. For example, if your team is wasting a lot of time routing requests to the right person, you could use bots or automation to make intelligent decisions on your behalf.
Keep your future product roadmap in mind when choosing features. Sure, you might outgrow your help desk eventually – but you don't want to outgrow it in a few months. Not sure what your company's got planned for the future? Talk to decision makers, or people who receive the product roadmap early, such as product managers.
If you're doing things right, there's a good chance your customer base and request volumes will keep growing. You'll likely need a bigger team, too. Pay attention to each help desk's limits. Does it have a maximum number of agents, inboxes, teams, customer requests, or chat widgets? Will you have limited storage space? Look for a solution that gives you space to grow. Enchant doesn't have unreasonable limits here – you can have many departments, agents, mailboxes, knowledge bases and chat widgets.
New customers are 5 to 25 times more expensive than existing customers.
You can't foresee all the future requirements. But picking a solution that gives you the flexibility to grow means you'll have a help desk that can keep up with your evolving business.
10. Match your Business Model
No help desk is ideal for every business. Your business model dictates what you need from your customer service software.
Who will you communicate with using this tool? Will you use it to communicate with vendors? Or will you focus mostly on customer communications? Are you planning to manage multiple departments or products?
Will the same people handle all communications through the help desk, or will you have separate teams focusing on different segments? For example, will you have one team for customer queries and one who handles vendors? Or one for dealing with shipping problems and one for new customers?
Check whether the fee changes depending on the number of agents. This is especially important if your company employs temporary staff to manage extra support requests during the holidays. Make sure a temporary spike in the number of agents won't bump your subscription costs too high.
Make sure you can separate agents into groups if you need to. For example, check you can set up different inboxes, with their own settings, to segment your team.
If a certain department deals with sensitive information a lot, they might want to restrict access to that information. Make sure the help desk lets you set custom permissions so only certain team members can access the data.
Not all help desk software is created equal. Some solutions cater to the needs of big enterprises, while others suit small businesses. Some are designed for internal IT teams, while others are designed to handle customer requests. Trying to use a help desk meant for IT departments, to run a huge customer service operation could cause major frustrations.
11. Best Value For Your Budget
Once you're clear on what features you need, you can look at your top choices to see which one offers the best value.
Make sure the pricing matches your business model. Are you a B2B company, with agents handling a small number of requests from enterprise customers? Then package-based pricing might be best for you, because getting the features you need is a higher priority than keeping your agent count low. Or are you a B2C company, with a small team handling a large number of customers? In that case a product priced on the number of agents will be a better and more flexible fit.
Study the plans carefully. Do they have a suitable plan or tier within your budget? Or will you be forced to upgrade to the pro plan to get what you really need? If the pro plan offers value, great, but if not look to a solution that's better priced for your needs.
What kind of payment cycles do they offer? Maybe it works best for your business to pay an annual subscription and take advantage of getting a lower price per month for paying upfront. Or maybe paying a little more per month so you can adjust your subscription as you go is more suitable. Monthly payments are useful if your team size changes seasonally and you need the flexibility to scale up and down.
Good customer service doesn't have to break the bank. There are lots of affordable help desk solutions on the market for small to medium businesses. When calculating costs to help you choose the right help desk, don't forget to budget for any external systems you'll need. For example, if your ideal solution doesn't have a built-in chat interface, add in the cost of subscribing to a chat solution as well.
12. Short List and Start Trial Runs
Now you know you need in your help desk, short list your choices to your top four or five. Now pick the top two and try them out. Test them one at a time, to avoid confusion.
Build a testing team. You're looking for a good representation of your company, with enough variety to see the product from different perspectives. Include support team members, support managers, power users, people of varying seniority, and people from different departments. If the testers tell you a solution isn't working, go to the next in line and trial that.
Try out various collaboration and organization steps, to make sure the software behaves as expected. Assign a request to a teammate and check that they get notified. Put a request on snooze and make sure it comes back when you expect it to.
Test it from a customer's viewpoint so you can see their perspective. Do they see simple emails? Ugly ticket numbers? Does the system force them to create an account somewhere to send a support request? Use the chat tool to see how it works. Search for an answer on the knowledge base.
Make sure the analytics and reporting capture the data you want to look at. You might not be able to access much hard data during a trial run, but check the knowledge base or help docs for clarification on how metrics are calculated.
84% of customers say being treated like a person, not a ticket, is essential to winning their business.
A trial run is a must. You'll get a feel for what the software is like both as a user and a customer, and feel more confident in your choice. The stats show that 84% of customers say being treated like a person, not a ticket, is essential to winning their business. So, use your trial run to find out how the software looks from the customers' side.
Plan your steps for making the switch
Great news! you've come this far, and you've made your choice. Now you need to make a plan for the migration. Here is a quick guide to help you get started:
If you're migrating from an existing tool, migrate your knowledge base data.
Update your websites to embed any new chat or messenger popups.
Note down all the customizations you'll need to make to get the workflow just right.
Create all your labels, auto-alerts, SLAs, and any automation rules in the new system.
Make a list of other software integrations you need to move, or new integrations you need to set up.
Will there be a period where your team is using the new and old solution at the same time? Plan how to route requests during the changeover.
Make sure that customers can still reach out by replying to the old emails. Ensure that any self-help links previously shared with them will continue to work.
Remember to make an alternative plan for what you'll do if there are any hiccups during migration. That way if something doesn't go as planned, you'll be able to react quickly, and switch back to your old solution until you figure things out. This will minimize disruption to your customer service operations.
Wrapping up
A long list of nice-to-have features sounds great upfront, but it might steer you towards a help desk that's more complicated than you need. Instead, focus on choosing a solution that fulfils all of your team's must-have needs. When you do that, your team will be more efficient and productive.
Evaluating, setting up, and migrating your team to a new help desk costs a significant amount of time and resources. So don't rush the process. Take your time picking the right one for your team now, and in the near future.
The time spent on this is an investment that will bring huge returns in the form of a happier support team and even happier customers.