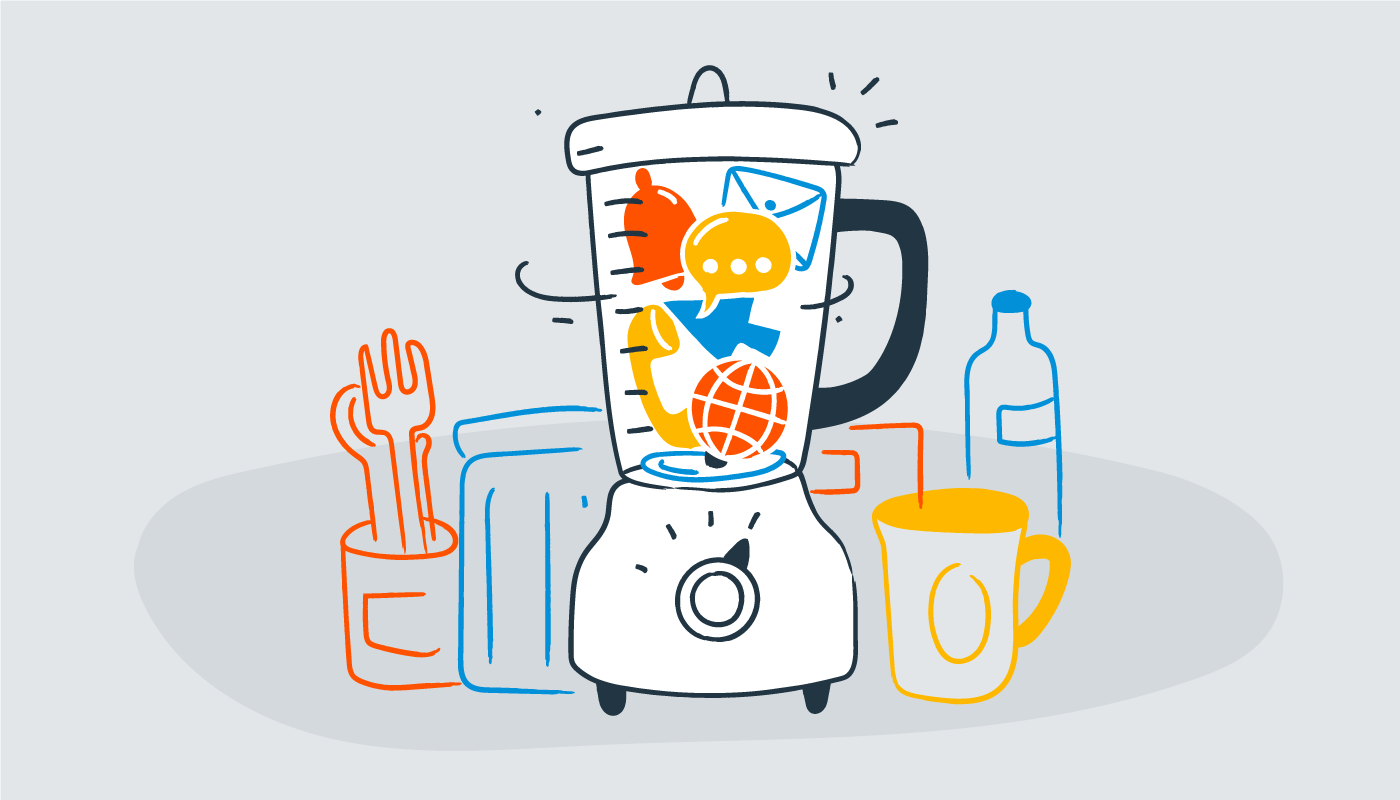 As any business owner knows, growing your customer base is essential for success. However, as your customer base grows, so does the need for multiple support channels. You might start out with a simple email address and a phone number, but pretty soon you'll need a live chat option, a help desk, and social media support. And if you're offering products or services that are global in scope, you'll need to be able to offer support in multiple languages. This can all be quite overwhelming for you and your team!
Wondering whether or not consolidation is the right move for you?
Start by evaluating the current state of your customer service operations. You can do this by asking questions like:
Does your support staff struggle to share information with each other?
Are your agents scrambling to find the right piece of customer data to answer queries?
Are customers complaining about inconsistent or poor service when using multiple channels?
If you continue to provide less than stellar service, it can not only hurt customer satisfaction, but also have a negative impact on your team's morale. By taking the time to consolidate your customer service tools, you can improve both customer and employee happiness.
What is consolidation of tools and why consider it?
Customer service consolidation is the process of combining various customer service functions and operations into a single, cohesive unit. This doesn't mean finding a complicated or bulky tool that has all the possible features. Instead, it may mean shaving it down to a smaller set of tools that collectively do the job more efficiently.
Fewer tools can mean fewer headaches for your customer service team. And a leaner, more streamlined operation can ultimately lead to happier customers and better business results.
The benefits of consolidating customer service tools
There are many benefits to consolidating your customer service tools. Here are some of the most notable areas of improvements experienced by customer service teams after consolidation.
Improved efficiency and lower costs: When all customer service operations are housed in a single tool, agents can communicate more easily and share information more quickly. This helps to ensure that customers receive consistent, high-quality support regardless of which channel they use to contact the customer service. By consolidating, businesses can eliminate redundancies and simplify their workflows, which leads to lower overhead costs.
Higher customer satisfaction: Consolidation can help businesses improve their customer satisfaction rates by providing a centralized point of contact for customers. The right tools can bring in contextual data about the customer and empower your agents with the right information at the right time.
Stronger brand identity: Using a single tool can also provide a place to keep shared knowledge about all aspects of the company's products and policies for consistency. This allows your team to present a more cohesive and memorable brand image for your company.
Enhanced employee productivity: When the tasks are performed in a small set of well connected tools, the team members become more productive overall. When they are not wasting time juggling between the apps, they can spend more time becoming experts in certain areas and enhance their customer service skills.
Faster training and onboarding: When it comes to training new hires, consolidating customer service tools can be a huge advantage. Since there are fewer tools to learn, new employees can be trained and up and running much faster. This can be a big benefit for businesses that are growing quickly and need to bring new employees on board quickly in order to meet customer demand.
Easier data tracking and analysis: By consolidating customer service tools, businesses can track and analyze data more easily. This is important because it can help businesses identify areas of improvement in their customer service. For example, if a business sees that many customers are contacting them through social media, they might decide to put more resources into their social media customer service.
How to Consolidate Your Customer Service Tools
Before consolidating customer service tools, it's important to make sure that everyone on your team is on board. This includes both management and employees. By getting everyone on board, you can create a smooth transition and ensure that everyone is working towards the same goals.
1. Understand your core requirements
Before you can think about consolidating customer service tools, you need to understand your core requirements. What are the tasks that your customer service team needs to be able to do? What are the most important functions of your customer service operation? Once you have a clear understanding of your requirements, you can start to look for a tool that meets those needs.
2. Come up with a shortlist
Once you have a list of core requirements, make a list of tools that meet them in order to evaluate them. When evaluating new tools, it's important to consider a variety of factors to help you create a shortlist. Some of the critical factors to consider are cost, features, and ease of use.
Cost: When considering the cost of customer service tools, you need to think about both the initial cost and the long-term cost. Some tools may be more expensive in the short-term but offer more features or be easier to use. Other tools may be less expensive but have fewer features or not flexible enough for your use cases. You need to find a tool that offers the right balance of features and affordability.
Features: When evaluating customer service tools, consider the features that they offer. Ask yourself if the tool has the features that you need to do your job effectively. For example, does the tool offer chat support? Does it have a built-in knowledge base? Does it allow you to track customer data? Look back at your core requirements and eliminate options that don't meet them from your shortlist
Ease of use: One of the most important factors to consider when evaluating any app is ease of use. The tool should be easy for both agents and managers to use. Ask yourself how intuitive the tool is and how much training is required to learn how to use it.
3. Pick the right tools for the job
Not all customer service tools are created equal. Make sure you are picking the right tools for the job. For example, if you are using a social media tool to communicate with customers, make sure you are using all or most of the features available to you. Don't just use it as a way to broadcast information; use it as a way to connect with customers and get feedback. If you're only going to use it to respond to queries, you might be better off using a help desk that provides this one thing as a feature.
4. Resist the urge to pick all-in-one solution
Don't be tempted to pick the one with the most features. Just because a tool has a lot of features doesn't mean that it's the best option for your business. Purchasing a tool with more features than you need can be unnecessarily expensive and lead to wasted resources.
Make sure that the app you choose has just the features that you need so the user interface is not cluttered with things you'd never click. If the tool is too complicated to use, it will only create headaches for your team and frustrate your customers.
5. Gather input from team members
When choosing a customer service tool, it's important to get input from your team. Their opinions matter as they will be using the tool all day everyday. Ask them what features they need and what they don't. Get their thoughts on usability and how comfortable they feel with the tool.
This feedback will help you make the best decision for your team. It's important to remember that not everyone will have the same opinion, so you may need to make some compromises. But by gathering input from your team, you can make sure that everyone is on board with the new tool and knows how to use it effectively.
6. Create a plan for consolidation
Once you've chosen the right set of customer service tools, do some testing to make sure that the newly chosen tools will work cohesively with each other. Be sure to ask questions like how easy it will be to load your existing data into the new tool and if there are any automatic migration options. It's important to create a step-by-step plan for the switching over from existing tools to the new ones. The changeover should be seamless for your customers. The last thing you want is to cause service disruption or problems when customers are trying to access your service.
One of the most important things to make sure that the new tools will work with your internal systems and complimentary apps that are not being consolidated. For example, if you are using a help desk tool, you'll need to make sure that it integrates with your CRM. If you're using a social media tool, make sure that it integrates with your marketing automation tool.
This integration is key to ensuring that all of your customer data is in one place. It will also help you to streamline your workflows and make sure that all of your apps are working together seamlessly. If you're not sure if the new tools will work with your other standalone apps, reach out to the vendor and ask them about their integrations. They should be able to provide you with a list of compatible integrations or even offer a custom integration for your business.
7. Execute the plan
Once the consolidation plan is in place, it's important to train your team members on how to use the new tools. This includes both new and existing employees. By training your team members, you can ensure that they are using the tools correctly and that they are providing the best possible customer service.
In addition, your technical team should be available and ready to deal with any unexpected problems that may arise when making the switch. Being prepared will help them resolve issues as quickly as possible.
If you are changing something that customers need to know, make sure to communicate the details clearly. This will help them understand what is happening and why. If possible, provide a timeline of what to expect so there are no surprises along the way.
8. Set goals and track progress
It's important to set goals for your customer service department and track progress over time. This can help you determine whether the new tool is working for you.
One of the benefits of consolidating customer service tools is that all of your customer data will be in one place. This makes it easy to track key performance indicators (KPIs) and measure the success of your new tools.
By tracking KPIs, you can identify areas where your team needs improvement. You can also see how the new tools are impacting customer satisfaction and engagement. The data from your KPIs can help you make changes to your toolset and improve your customer service operations.
The future of customer service consolidation
With customers opting to use a variety of channels to reach out, the need of consolidating customer service functions is likely to grow in the years ahead. Additionally, as technology evolves, it is becoming easier and more efficient for businesses to centralize their customer service operations.
To take advantage of these benefits, businesses should consider implementing a plan that meets their specific needs and requirements. The process of consolidation can be daunting, but with careful planning and execution, businesses can realize all the advantages that this strategy has to offer.
Looking for help getting started? Contact us at Enchant today and our team of experts will work with you to create a custom plan that takes into account your unique business needs and goals.