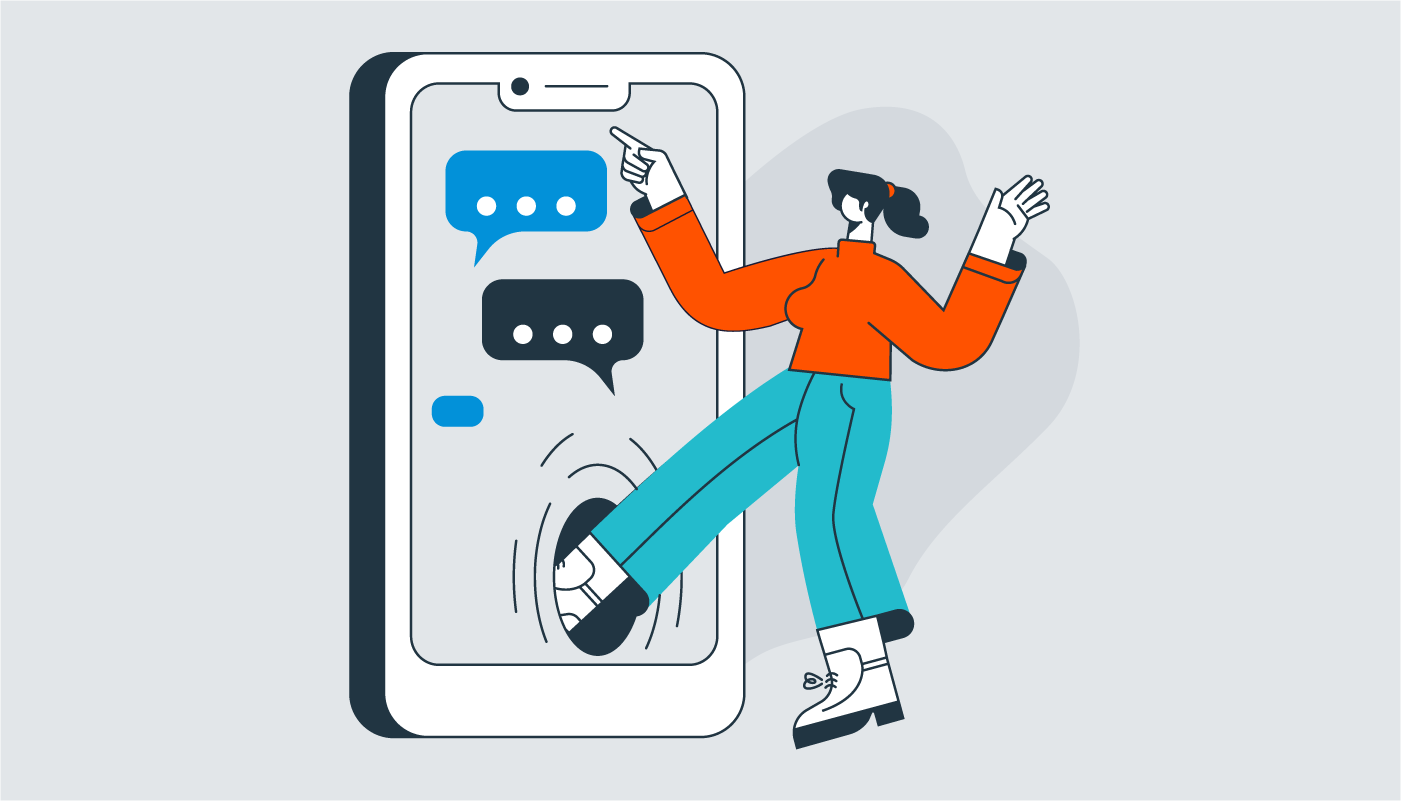 On December 3 1992, Neil Papworth (an engineer) sent the first-ever text message to his colleague. It read "Merry Christmas". A year later, Nokia introduced a revolutionary feature, where a classic 'beep' would alert you to a new incoming message.
Fast forward to the present. Even after more than 30 years, SMS messages are still being used by 1 in 3 people. Today, there's a huge opportunity for businesses to leverage SMS as a customer service channel.
This post will guide you on how to use SMS for customer service, its benefits, and best practices to use SMS effectively.
What is SMS Customer Service?
When a business provides help and support to its customers via SMS text messages (or "texting"), it's called SMS customer service.
SMS provides your customers with an easy and efficient way to communicate with your company. They're able to quickly send questions regarding products and services or even share valuable feedback.
What SMS customer service isn't: SMS refers to the text messaging services available through cellular telephone providers that enables messaging between phone numbers. This doesn't include other text based communication channels like WhatsApp, FB Messenger, Twitter, etc.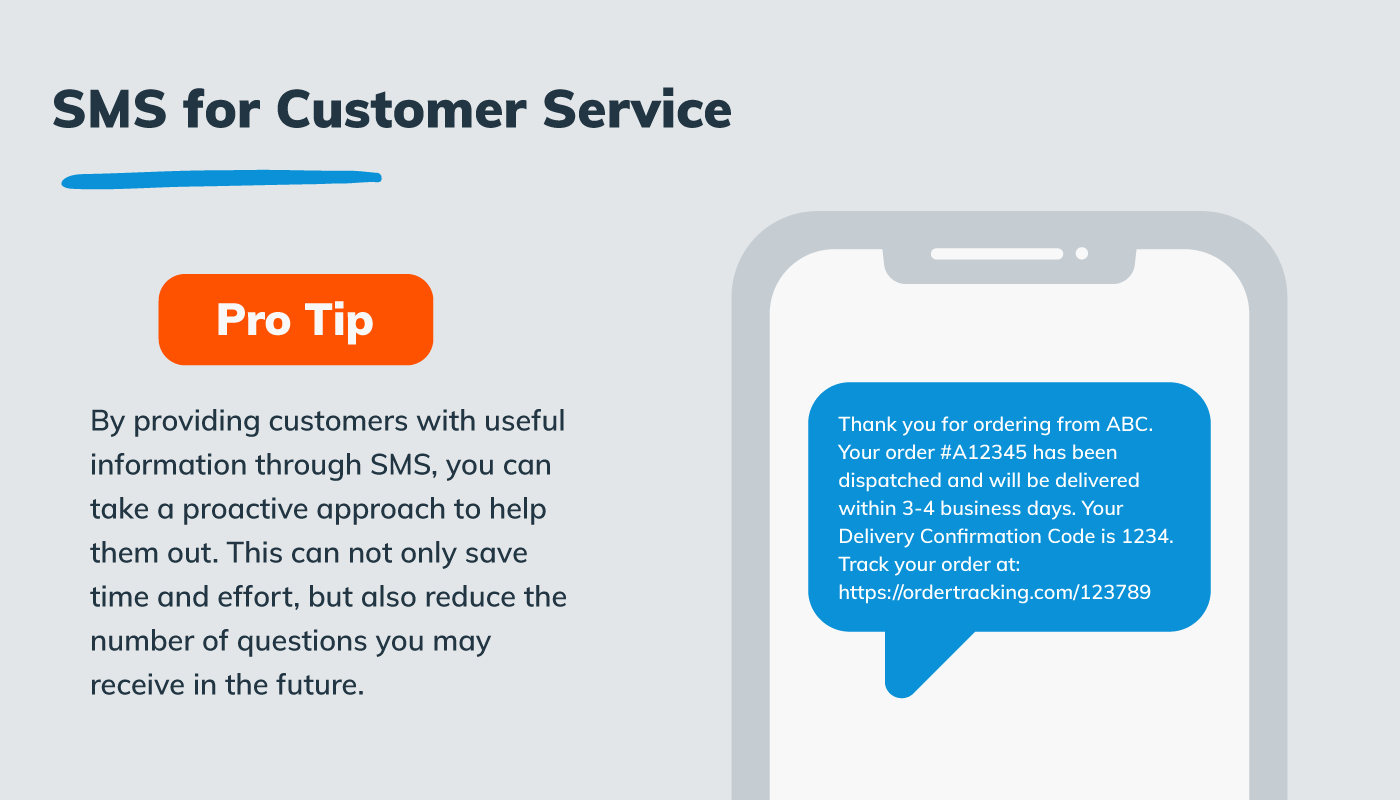 Why use SMS for Customer Service?
According to recent survey results published on Statista, nearly 57% of people on average spend more than 5-6 hours on their phones on a daily basis, which excludes work-related smartphone use.
57% of people on average spend more than 5-6 hours (excluding work) on their phones on a daily basis.
It's cost effective
Text based communications can be more effectively multi-tasked by your team than phone calls. Time savings by your team alone means that SMS based service costs less than phone based service.
It's universal
Everybody with a cell phone can receive SMS messages. They don't need a data plan or a special account on a service like Facebook.
It's convenient for customers
With SMS, customers can communicate where and when they're comfortable. While people spend a lot of time looking at their phones, they may not always be where they're comfortable to make a phone call. By providing them the opportunity to access customer service via SMS, you can make it as easy as a walk in the park.
Some people just don't want more email
Customers are already overwhelmed with emails from known as well as unknown sources. You can create a fresh experience for them by offering SMS customer service. Most people get a lot more email spam than SMS spam today.

According to a survey by Yotpo, 41% of customers prefer SMS communications with brands, whereas others prefer email (46%), social media (8%), and phone calls (6%).

There's higher customer satisfaction
Phone and email are traditional ways to talk to customers, which are important. But SMS is more casual and lets customers interact with your business in a more personal way. This can help you personalize your communications and boost customer satisfaction.
It's makes for better SMS marketing
SMS can also be used for marketing purposes. By providing SMS based customer service, you're getting customers used to opening your SMS messages. This will only make SMS marketing campaigns even more effective.
How to use SMS for Customer Service?
Most customer service teams already use a shared inbox or help desk to manage their email based customer communications. These provide the team with a platform where multiple agents can work together on those customer emails.
Similarly, an SMS shared inbox helps you manage all your SMS messages in one place, as a team. Ideally, this is the same solution your team already uses to manage your email communications.
Benefits of an SMS shared inbox
Delegate Conversations: Assign conversations to specific team members, so they can provide consistent responses to the customer.
Collaborate with Private Notes: Insert private notes in a conversation, which are visible to your team but not the customers.
Use Canned Responses: Create and share canned responses to present a consistent brand voice to your customers.
Categorize Conversations: Organize and categorize your conversations with labels
How to create an SMS Shared Inbox?
To create an SMS Shared Inbox, use help desk software like Enchant. Enchant is an omnichannel communication solution that can not only help you with SMS messages, but also with handling WhatsApp, Facebook Messenger, Email and others.
Creating an SMS shared inbox with Enchant is easy. Just follow these 3 simple steps given below: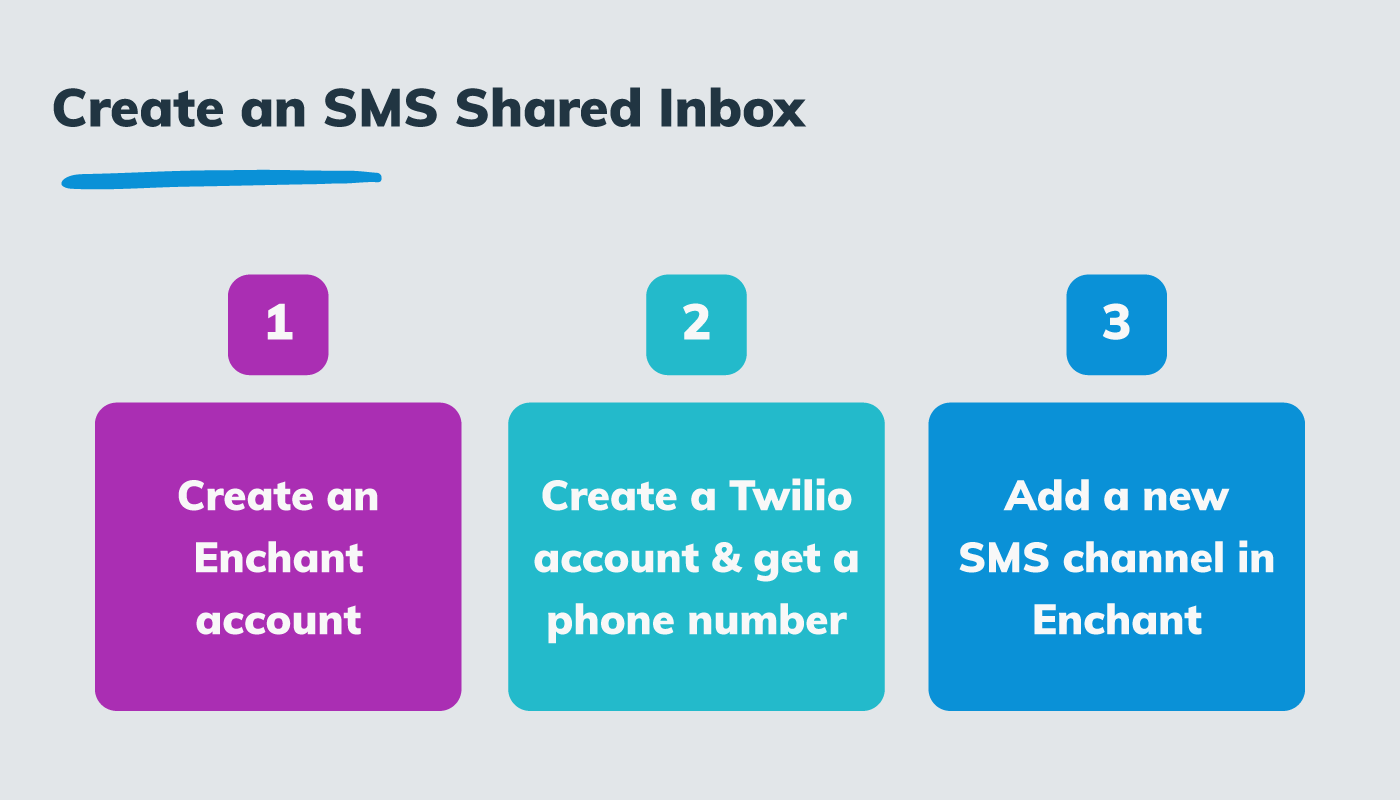 Step 1: Create an Enchant account to access the shared inbox software.
Step 2: Create a Twilio account and get a phone number through Twilio. Alternatively, you also have the option to port an existing number to Twilio.
Step 3: Go back to Enchant and head over to the Channel Settings and add a new SMS channel. Provide your Twilio API key to connect Enchant to your Twilio account.
That's it!
Once setup is completed, any incoming messages on your phone number will create conversations in Enchant's shared inbox. Your team would log in to Enchant to respond to those conversations.
Best Practices for SMS Customer Service
1. Create a Robust Strategy
To make the most out of your SMS customer service efforts, you need to have a solid strategy and system in place.
Step one is to define your goals. Analyze and estimate the flow of messages. Understand your customer base and their messaging patterns.
Step two is to prepare a plan for how your team will manage SMS customer service. If you're managing a large customer base with a high volume of requests, you'll need to figure out how to best prioritize the messages. You can even categorize different types of messages to ensure those are handled by the right people.
2. Train and Educate Your Staff
Train your customer service team to use clear and concise written communication in order to provide the best customer service experience. This will help to ensure that customers understand your messages and have a positive experience when contacting you via SMS.
SMS allows for more casual conversations. This means using phrasing can be relaxed and business appropriate emojis are acceptable.
However, shorthand like BTW, IMO, LMK should still be avoided - it can be difficult to understand and may come across as unprofessional.
3. Send Important Reminders and Notifications
Send your customers important automated SMS messages. For example:
Notifications about recent orders (order confirmation, shipping details, review requests)
Alerts about special promotions (sales, personalized promotions, time limited deals)
Reminders of how they can get more value (membership programs, email subscriptions, abandoned cart)
You can use bots to automate these SMS flows. However, don't overwhelm customers with frequent messages.
Let's take a look at this real-life example by a clothing brand - Pantaloons. 
After the purchase, they sent a message asking for feedback and providing a link to download a receipt. 
While receiving the receipt through a text message is helpful, they also sent a message confirming the membership to their loyalty program. This makes the entire customer experience more delightful to the customer.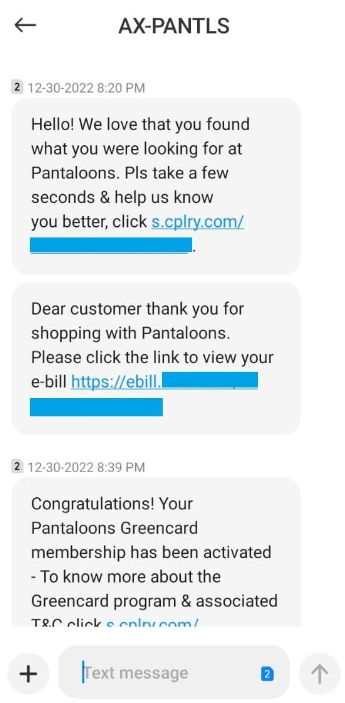 4. Use the Same Number for SMS and Phone Calls
Using the same number for SMS and phone-based customer service will make it easier for customers to reach out for help. It's simpler for customers to remember the number, especially if you're using a special or unique number.
Different numbers for SMS and phone calls can cause a lot of confusion. Customers may accidentally call the SMS number or send an SMS to the phone number.
5. Use Omnichannel Customer Service Software
Omnichannel customer service is a strategy to provide seamless service to your customers by integrating multiple channels (smail, social, phone, etc) into one platform. This allows customers to get their questions answered quickly, using whatever channel they are most comfortable with.
If you integrate SMS on to a common platform with your other customer service channels, your agents can work on SMS messages just like they would email messages.
How do I offer omnichannel customer service?
Enchant is an omnichannel customer service solution. It handles conversations from all your channels in one place. SMS, email, WhatsApp, Facebook Messenger, Instagram and Twitter. On top of that, it enables you to keep notes about incoming phone calls. All from a single platform.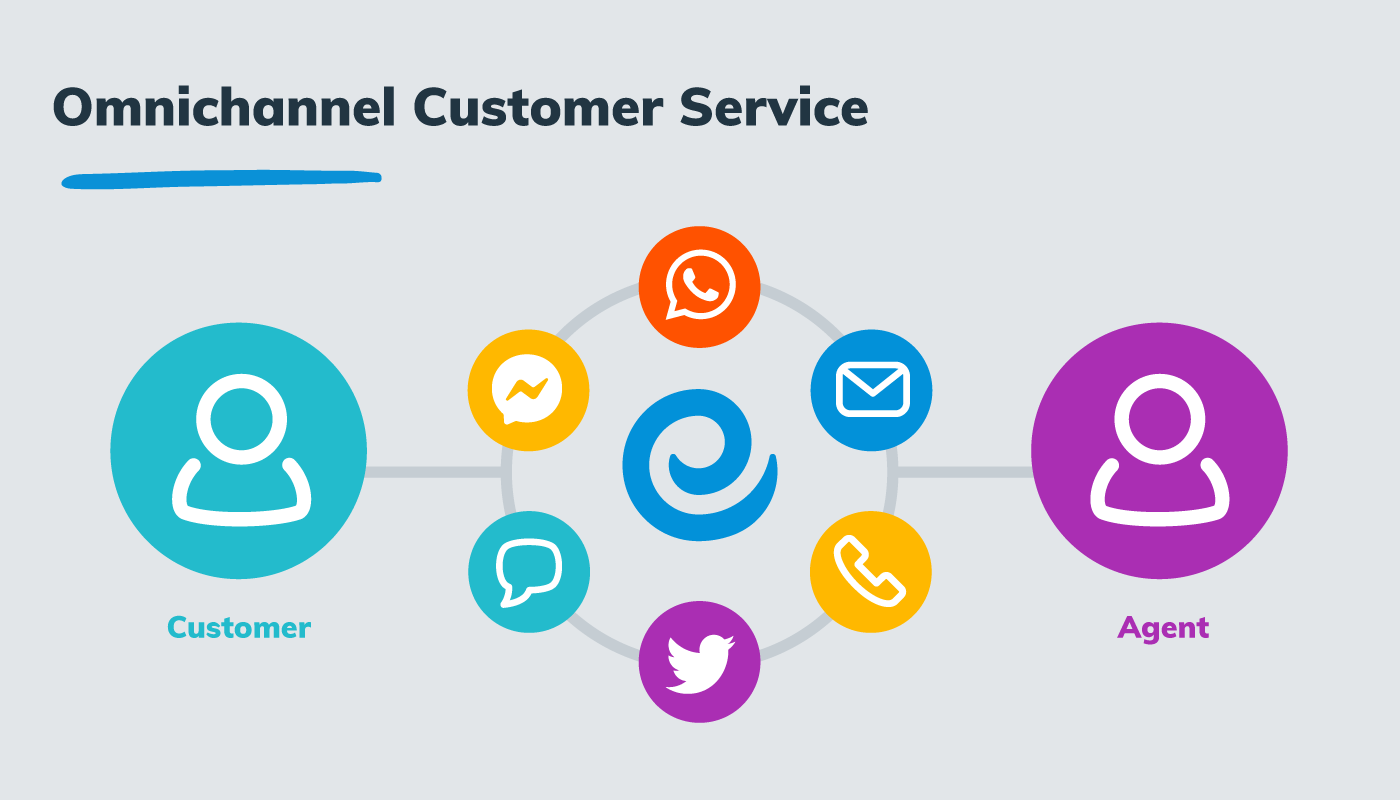 6. Send Short Messages
It's important to keep SMS messages short, as customers have come to expect quick responses with only the needed information through the SMS channel.
Using pre-written responses for common inquiries can help further speed up the process. 
7. Respond Quickly
You know that feeling when you text your friend and you keep looking at your phone every little while to see if they've responded to your message?
Your customers will get the same feeling when they send you a text. In fact, some specifically prefer SMS because they feel it's faster than email or a phone call.
Whenever your customers contact you with questions, aim to reply as soon as you can. Providing a quick response will make their experience with you a positive one that they'll remember for a while.
8. Automate Where Possible
One of the best ways to reduce the workload of your customer service team is to automate your support processes. Enchant can help here:
Automatically delegate or label conversations based on words in the conversation
Send auto replies to set customer expectations
Create shared inboxes where your team can work together
Manage canned responses that are shared with your team
.. and much more
Using a bot to answer basic questions from a FAQ (Frequently asked questions) would reduce the total number of questions your team has to answer.
9. Leverage Bots but Make It Possible to Reach a Human
Using bots can give your business a self-service element. This can help reduce the workload of your customer service team, while still having a human presence to offer personalized service. The combination of automation and human touch can create an efficient self-service experience.
Finding the right balance between automation and human interaction is key when using bots for customer service. Automated bots can be used to handle simple customer questions, but more complex ones should be handled by humans. This ensures that customers get the quality of service they need, and a better customer experience overall.
Additionally, make sure that your automated bots are properly trained to provide accurate and relevant responses. This will prevent customers from getting stuck in a cycle of automatic replies that don't give them the help they need.
10. Make It a One-Stop Solution
When customers are reaching out to you through SMS, try to resolve the problem through the same channel. Avoid routing customers to email or phone support if a solution can be provided through SMS messages.
Keep your SMS communication simple and clear so your customers can easily understand you. Avoid using complicated words or phrases. If customers have trouble understanding your messages, they may need to pick up the phone and call (which ultimately costs you more!).
11. Raise Awareness About Your SMS Customer Service
Encourage your customers to make use of your SMS customer service. Share details about your SMS customer service number on all of your communication channels including website, social media, and voicemail greeting.
This will also showcase how much your company cares about the quality of customer service. 
12. Collect Customer Feedback with Polls and Surveys
Only 1 out of 26 unhappy customers complain. The rest churn.
A lesson here is that companies should not view absence of feedback as a sign of satisfaction. The true enemy is indifference.
This quote summarizes the importance of collecting customer feedback. Customer feedback gives you the foundation to develop and scale your product or service.
While offering SMS customer service, you can easily collect feedback from your customers via surveys and polls. SMS can prove to be a great channel to privately and quickly collect honest feedback from your customers.
Sometimes, customers may not feel comfortable sharing negative feedback on other channels while interacting with a live person but they may feel comfortable sharing it through SMS.
13. Use Media When Needed
Most SMS conversations are text only. However, if needed, you can also include images, videos, and links to make your message clearer or provide information.
For example, if a customer says the product they received is damaged, you can ask them to send pictures so you can look into it further.
Or if you're sending an SMS based promotion, a picture would help grab their attention and convey your promotional message more quickly.
Final Thoughts on SMS for Customer Service
With an increasing number of brands working on their omnichannel strategies, it's time to roll up your sleeves and implement SMS customer service for your own business.
To stay ahead of your competition, you need to stay connected with your customers through every major channel that they are using in their day-to-day life.
SMS may seem like an old-fashioned mode of communication on the surface. However, once you dig into it, you'll realize that it's actually a powerful and universal channel with huge potential for businesses-to-customer communications.