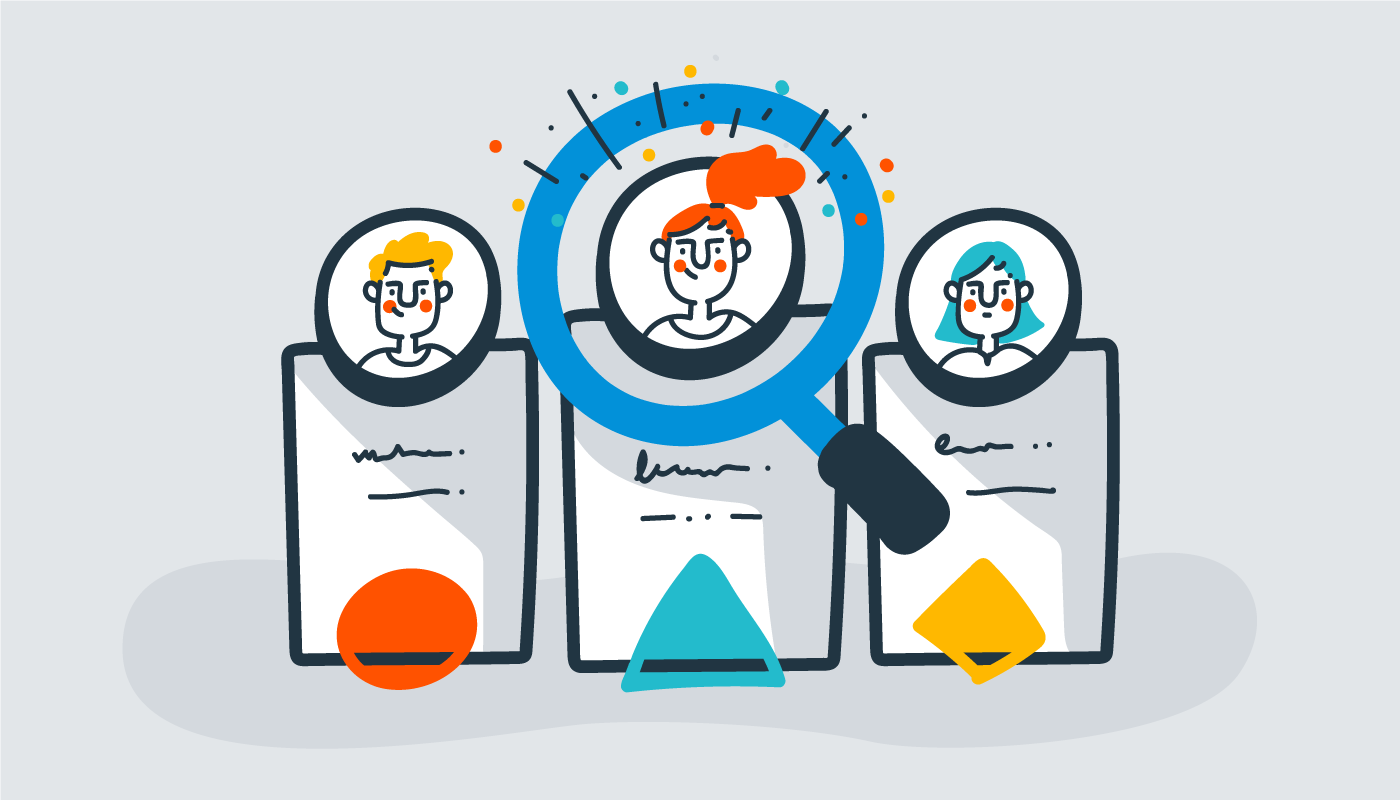 Your customer support team are the only people at your company that most of your customers will talk to. That interaction forms their impression of your whole business. It's important to make that impression count!
That's why you need the right customer support team. One you can rely on to be memorable for all the right reasons.
Take Nordstrom, for example. When Shaylae received a defective pair of designer shoes from an online order, right before a big event, she went to her local store for help. They went above and beyond to solve her problem.

Happy customers are more likely to say good things about your brand. One survey found that when a business goes above and beyond, 61% of customers are very likely to leave a positive review (and 27% are likely to leave a positive review.)
61% of customers are very likely to leave a positive review when a business goes above and beyond.
But what happens if your team doesn't get it right?
Dissatisfied customers are less likely to spend with you again. But they are more likely to share their woes with friends, family, and colleagues.
Look at what happened to Hasan. When British Airways lost his father's luggage, their response was so poor that he purchased a promoted tweet to warn other people not to fly BA.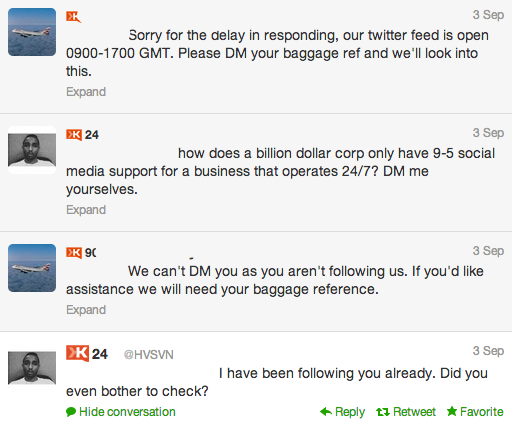 Now that's not the kind of impression you want to leave on your customers!
Good customer service is more than solving issues
Great service is about representing the personality, voice and ethos of your brand.
Imagine your brand as a person. Customer service is how your customers feel when they come to that person for help. Do they feel safe? Reassured? Like they're in good hands?
You need to hire the right people, and you need to empower them to excel at their role. Glassdoor found that for every one star improvement in a company's employee rating, there was more than 2.6-point increase in customer satisfaction scores for industries where employees interact frequently with customers.
But how do you know when it's time to hire those people? And how do you find the best?
When should you hire more staff?
Hiring is a big commitment of time, energy, and money. First you have to find the right people, and then you need to train them to the high standards your customers deserve.
So how do you know it's time? Look for these signs that your team is struggling:
Overwhelmed staff: It is important to take the time to listen to staff when they express feeling under pressure or stressed out. If you believe that your current processes are efficient enough, then hiring more staff might be needed to distribute workloads more evenly, and boost morale.
Unable to meet SLAs & deadlines: You notice that your team is consistently running behind on projects and deadlines. Failing to meet your Service Level Agreements (SLAs) too often might mean that your current employees are being spread too thin.
Key tasks remain undone: The team is struggling to complete important tasks. This can be an early sign, especially if you've noticed an increase in the workload.
Longer response times: When response times are getting longer, it may indicate that your team doesn't have enough capacity to handle requests in a timely manner.
Decreasing customer happiness: If you're seeing a decline in your customer satisfaction ratings, it is critical to identify the core reason behind it. Hiring more staff may be needed to help free up existing employees to focus on more complex tasks, allowing you to maximize efficiency and productivity.
Missed customer requests: Some customer messages have missed getting a response from your team entirely. When there's more work than your existing employees can handle, it may result in them rushing through the support queues and things slipping through the cracks.
What are the alternatives to hiring more staff?
Glad you asked! There are other ways to scale your customer service without leaping straight to drafting your next job posting. Before you hire, consider these alternatives:
Improve availability: If your existing staff is only covering, say, 8:00 - 3:00 EST, can you change their availability? You might be able to move some shifts and get more hours covered. Think about seasonal needs too, and whether you need to take on temporary seasonal staff.
Add self service options: Your staff don't have to meet every enquiry head on. A knowledge base or FAQ are excellent ways to give your customers instant help.
Embrace automation: Reduce the load on your support team with smart use of automation. You can automate tasks such as prioritizing tickets, updating customers, asking for feedback, and tracking ticket lifecycles. Maxime Manseau, Co-Founder and CEO of Zest says:
If you want to provide 1-on-1 customer support, you have to start by having everything else automated.
Automation frees up your agents to give proper focus and attention to your customers.
Use chatbots: Chatbots act like a digital receptionist, finding out what your customers need and directing them to a self-service resource or an agent. And customers are getting used to them, too. While 60% would still rather wait for a human, more than half are willing to talk to a chatbot before being transferred.
More than half of customers are willing to talk to a chatbot before being transferred to an agent.
Invest in the right help desk software.: Help desk software is a game changer. Yes we're a little biased, but it's true. Help desk software, like Enchant, helps your team collaborate, automates your workflows, prioritizes requests, and makes sure no ticket goes unanswered.
Examine your process:: Dive into the stats and see where the problems are. Look for bottlenecks such as slow response times from certain agents, or a high volume of requests about a specific issue. Now you know where to start looking for a solution.
Empower your team: Your team is only as good as the skills and knowledge at their disposal. Make sure your team knows how to handle common and uncommon situations. Excellent ongoing training is a worthwhile investment of your time and resources. Make sure your staff know your product and services well, and they'll provide more focused and knowledgeable customer service.
8 step guide for hiring the best support agents
You've had a good look at the current situation, and you know the time is right to hire. How do you make sure you hire the best people?
Here are 8 steps to help you build your dream team.
1. Understand your company culture
There are lots of definitions of company culture out there. A simple definition is:
Company culture is how things are done, and why they're done that way.
From management attitudes to how departments are run, and from how a team collaborates to how they approach customer service, it all feeds into company culture. Your culture might be:
Friendly
Energetic
Compassionate
Reassuring
Professional
Your agents represent that culture. When you understand it, you can communicate it in your job postings and attract applicants who are a good fit.
2. Know what skills and characteristics your agents need
If you were in charge of casting the next Hollywood blockbuster, you'd have a list of qualities you needed in each actor. There'd be no point casting a strapping bodybuilder, if the role calls for a shy, slightly-built poet. Nothing wrong with either actor, but only one of them fits your needs.
Recruiting for your customer service team is the same. To hire the right people, you need to know who the right people are. List the skills you need, in these three categories:
Skills that every customer service professional needs. These include listening skills, empathy, a knack for diffusing tension, problem solving abilities, great communication, a can-do attitude, and rapport building.
Skills that applicants need for this specific role. Your staff might need industry specific experience, or technical knowledge.
Skills that are nice but not necessary. These are skills that can be taught on the job, including product knowledge, or experience on the helpdesk software your team uses.
3. Create a standout job description
If you want to attract the right people, you need a job description that will catch their attention like a neon sign.
Of course you'll talk about the role, and the experience and skills needed for it. But a truly great job description goes beyond that.
That culture we just talked about? Make sure it shines through. Use humor if that fits your culture. Use your brand voice just as you would in marketing materials, so applicants get a sense of what you stand for.
Use your brand voice just as you would in marketing materials, so applicants get a sense of what you stand for.
Be inclusive, to make sure you're not accidentally screening out qualified applicants. Use gender neutral language, and talk about your diversity processes (with real examples, facts and stats, not buzzwords.)
Think about the words you choose. "Customer service agent" is expected. But what about:
Expert - to make clear this is a role for highly skilled candidates.
Specialist - to let them know they'll be expected to laser-focus on problem solving.
Hero - says "you'll need a proactive approach and to leave our customers feeling like you were their knight in shining armor."
Or Champion - to make clear that your culture is customer focused and it's their job to take up each cause and get it sorted.
4. Get your description in front of the right people
This isn't a Field of Dreams "if you build it they will come" scenario. Make sure your job description lands in front of the right people:
Use Linkedin and job boards where your ideal candidates are hanging out.
Use specialized job boards such as those focused on your industry or on customer service, to narrow the field.
Don't stop at posting job listings! Talk to your network. Do you have colleagues in your industry who might know someone? Can you think of someone you've worked with before who would be ideal?
Look within your company. Do you have an intern or someone on another team who's ripe for promotion, and has what it takes? Invite them to apply.
5. Evaluate the applications
You've got your applications. Now you need to shortlist the ones you want to interview.
How do you do that? First you screen by whether they have the skills you want.
But don't stop there. Look for how well they read and responded to the job description. Did you ask them to talk about a specific topic? Look at their application and see how well they answered.
Their understanding and response to the job description tells you a lot about their ability to comprehend and follow instructions.
Their understanding and response to the job description tells you a lot about their ability to comprehend and follow instructions.
Think about the culture of your company and look for signs of how well they'll fit. Do their answers display confidence? Compassion? Excitement about being in customer service? Do they seem like someone who would fit in?
6. Interview your shortlist
This is it. The moment where you meet your candidate and find out if they're a good fit.
The right questions are all-important. Great questions to start with include:
How do you define good customer service?
What's a time when you experienced great customer service? What made it stand out?
How about a time you received poor customer service?
Have you dealt with frustrated customers? How did you do that?
What's your approach when you don't know the answer to a customer's question?
How would you deal with a miscommunication with a customer?
What would you do if you were certain a customer was being unreasonable?
Your customer has dealt with multiple agents and still hasn't got their problem resolved. What's your approach?
What makes a customer service agent a good teammate?
Pay attention to each candidate's attitude and demeanor. Are they engaged? Friendly? Enthusiastic? Do they ask for clarification if they need it? Do they show clear interest in your company and ask relevant questions about it?
7. Set up some test projects
The most hopeful-looking interview in the world still can't tell you what a candidate will be like on the job. A test project gives you a chance to see them in the role.
Maybe you could set them up to prioritize and answer some fake queries, give a product demonstration, or collaborate with a team member.
Or try some role play! Set up role play scenarios dealing with different types of customer queries. Create scenarios to find out how they'd deal with an aggressive customer, or one who is actually wrong. See what they do with unexpected or complex queries, or a customer who doesn't quite follow their instructions.
8. Make sure your onboarding is up to scratch
Putting together the right team doesn't stop once they're hired. Excellent onboarding sets your new staff members up for success. As Donna Morris, Chief People Officer at Walmart says:
If our own associates aren't having a great experience, how can we expect those that don't receive a paycheck from us to think of it as a great experience?
Start strong with a helpful on-boarding process.
Document everything. New hires should have access to written guidelines for everything they'll do, and everything they need to know. Your onboarding pack should include:
Technical knowledge
Company values and ethos
Chain of command for escalation
How to contact HR
Who to direct questions to
And make sure they know their way around the office, where to make a drink or snack, and how to arrange breaks. Give them the chance to meet with key players from different departments so they understand how the whole team fits together, not just their immediate colleagues.
It's a great idea to have a more experienced staff member buddy up with them for training and so they have someone to ask questions.
Empower your new agents. Make sure they understand how and when to escalate a ticket. Let them know when they're authorized to offer sweeteners such as an upgrade or a complementary months' subscription.
Take Away
We can't overstate the importance of having a happy, confident team. One study found that the odds of fearful employees being happy at work are only a sixth of those who aren't fearful.
Your customer support team is the heart of your company, and key to its success. It's not enough to have the right people in the role. They need to feel right in the role. That means confident, at ease, valued and empowered. A strong, knowledgeable team helps you meet your customer service goals, and keep your customers happy.
Get started with these suggestions today and build a team your customers will love interacting with.