Why Direct To Consumer (DTC/D2C) companies use Enchant
Improve Operational Efficiency: Centralized customer communications (across email, live chat and phone notes) with powerful workflow automation tools enable your team to manage customer communications effectively.
Accelerate Sales: Chat with visitors on your website to maximize website conversions.
Includes live chat & FAQ: Chat with customers on your websites, or let them help themselves with an integrated FAQ.
How do Direct To Consumer (DTC/D2C) companies use Enchant
With Enchant, emails and live chats come to a central hub. You'll have all the tools needed to collaborate effectively and keep the team moving swiftly.
Universal Inbox
Capture all your customer communications inside Enchant shared inboxes.
Customize live folders based on responsibility, priority or type of request.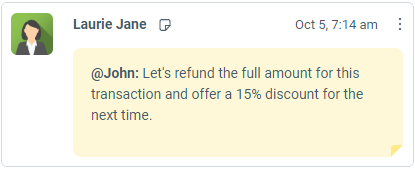 Private notes
Communicate privately to approve refunds or discuss customer issues, without leaving the conversation.
All decisions are archived alongside the relevant conversations.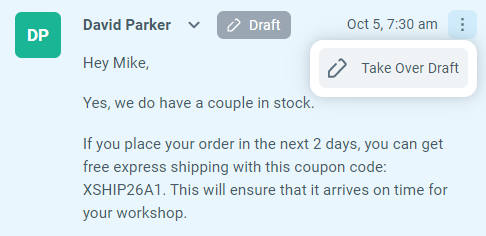 Shared drafts
Create a draft and send it to a team mate to fill in the details.
Help new hires learn by approving their drafts.
Save time with canned responses
Build up a library of readymade emails for various situations (refunds, international shipping, etc)
Share the canned responses with your team.
Live Customer Context
Recent conversations, across channels, at your fingertips.
If you have a Direct To Consumer (DTC/D2C) ecommerce store, display customer and order details alongside conversations in real time.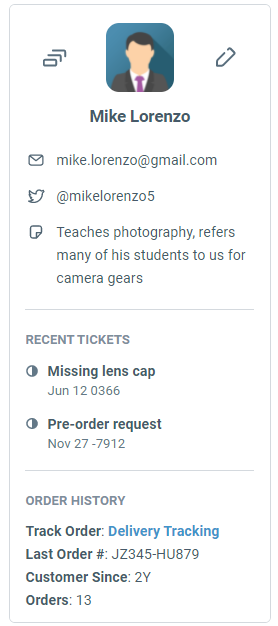 Workflow automation - rules, macros
Replace repetitive tasks with single click macros.
… or use rules to have the system take actions for you automatically.
Live chat on your website
Chat with visitors and answer enquiries while they are still on your website.
Enchant provides live customer context to the team, so they can identify if the visitor is an existing customer.
If you're not available to chat, Enchant will capture the visitor's contact details so you can email them later.
Build a public FAQ
Create a public FAQ website with an easy to use article builder.
No IT or webmaster needed. The website is fully hosted on our network.
Theme the website to match your company branding.
Manage internal procedures
Document and organize internal procedures in Enchant with an easy to use article builder.
Powerful content managment features keep internal documentation organized and accessible.
Readymade analytics and insights
Get a guage on the effectiveness of your team using integrated analytics.
Track team performance and responsiveness. Drill down to identify contributions of specific team members.
Built in satisfaction ratings help keep a finger on customer sentiment.
Frequently asked questions
What is customer service software?
Companies use customer service software to streamline online communications with their customers.
Customer service software consists of:
A centralized help desk to manage your email.
A live chat solution to talk to visitors on your website.
A FAQ solution so the customer service team can manage public answers to common questions without talking to IT… and this FAQ is fully integrated into the live chat widget to reduce the number of chats for common questions.
Powerful automation and collaboration tools.
A satisfaction ratings solution to gather customer feedback.
Powerful readymade analytics to gauge team performance.
Is customer service software the same as help desk software?
Help desk software provides a centralized inbox with workflow automation tools to manage your customer communications.
Help desk software is one of the products that a customer service team will use for their operations. Other products that customer service software typically includes are:
Live chat software - to chat with visitors on your website.
FAQ software - to manage a public FAQ without needing to reach out to IT.
Satisfaction survey software - to gather customer feedback
Analytics software - to better understand how your customer service team is performing.
What is Enchant?
Enchant offers suite of software products that enable a company to better manage conversations with their customers.
For a customer service team, this includes everything you'll need - shared inboxes, powerful automation tools, live chat, public FAQ websites, satisfaction surveys and analytics.
Does Enchant replace our email system?
Enchant compliments your existing email system like Outlook 365 or Google Workspace.
You would continue to use your existing email system for your personal email addresses (james@), but use Enchant to manage your team email addresses (support@, customerservice@, wholesale@, vendors@ etc).
Enchant would become your team's email client to those team email addresses.
Does Enchant replace our ecommerce solution?
Enchant is focussed on client communications: via email and live chat. It does not replace the other functionality that would be offered by your ecommerce solution.
Does Enchant work with our ecommerce platform?
Enchant has readymade integrations for popular ecommerce platforms like Shopify, WooCommerce and BigCommerce. If we don't have a readymade integration for your ecommerce platform, reach out to us to discuss possibility of adding an integration.
Can we manage multiple brands on a single account?
Enchant is a Multi Brand Customer Service Software solution and can handle all your brands within a single account. Each with their own support team and settings.
We provide service globally, across many languages. Will that work with Enchant?
Yes, definitely! Enchant is a Multilingual Customer Service Software solution and can handle email, live chat and FAQs in multiple languages, all from a single account.
Does Enchant work with my CRM?
Enchant has a powerful API on which integrations can be built. We have a number of readymade integrations with other systems and are open to adding more. If the solution you are using with has an open API, reach out to us to discuss possibility of adding an integration.
What does it require on my end to setup Enchant?
For incoming email: We'll provide you with a forwarding address (eg: abc-123@enchant.com) for every team email address that will be managed by Enchant. You would need to setup your email system to automatically forward incoming email to the provided forwarded address.
For outgoing email: We'll provide you DNS entries that need to be put in place to allow us to send email on your domain's behalf. Alternatively, you can provide us SMTP details of your email systems and we can send email through those systems.
For text messaging, phone calls and social channels, please see the integrations page for more details.
For website setup, please see the knowledge base page for more details.
How much does Enchant cost?
Enchant costs $15 USD / user / month. Here, a user is someone on your team that needs to login to Enchant.
Can I try out Enchant and see if it works for my company?
Yes, Enchant has a no-credit-card required 30-day free trial.