What is a shared inbox for Phone Calls?
Instead of individual team members managing their own separate call logs and voicemails, a shared inbox for phone calls consolidates all incoming or outgoing calls, voicemails, and related information in one place. This type of shared inbox is designed to streamline communication, improve response times, and enhance efficiency of teams who handle phone calls.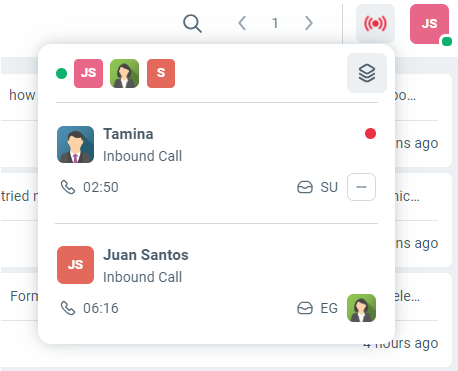 A shared inbox for phone calls is a platform that allows multiple agents to manage and respond to incoming phone calls as a team. It allows your team to respond to calls from a browser or a personal device and ensures that the conversation history isn't lost if a phone is lost.
Does my business need a Shared Inbox for Phone Calls?
If your business receives and responds to customers via voice calls, you definitely need a Shared Inbox for Phone Calls. For teams that also use other channels like email, SMS or WhatsApp, an onmichannel shared inbox can make it easier for teams to collaborate, assign tasks, track progress, and ensure a consistent customer experience across all channels.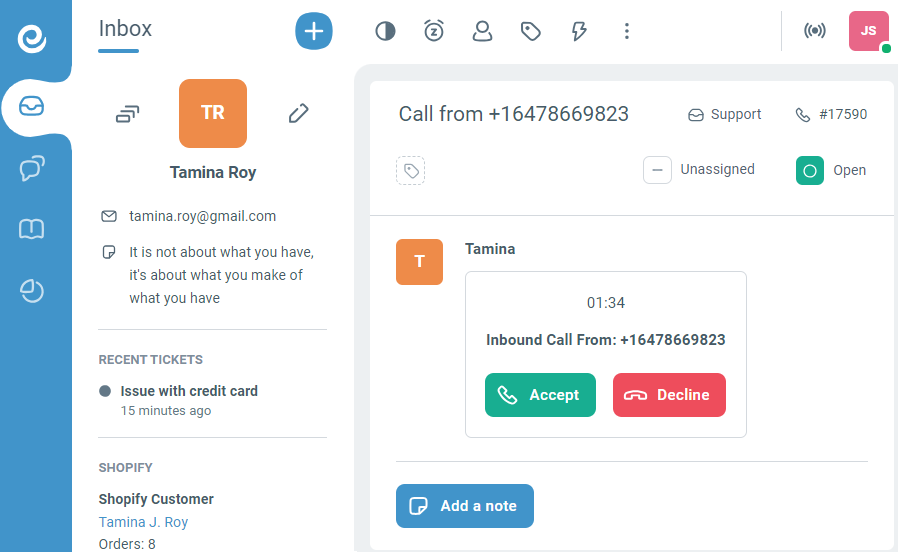 What are the benefits of Shared Inbox for Phone Calls?
With a Shared Inbox for Phone Calls, you'll be able to:
Add private notes to a call, only visible to other members of your team
Assign calls to specific team mates so you know which calls are being handled by whom
Customize queue size and wait times for consistent customer experience
Categorize calls with labels and use automated rules to perform actions on the call tickets
See consolidated customer communication history, across all communication channels
Track and save all customer calls, including missed calls and voicemail recordings for easy follow-ups
Make outbound calls from your shared inbox with the right customer context at your findertips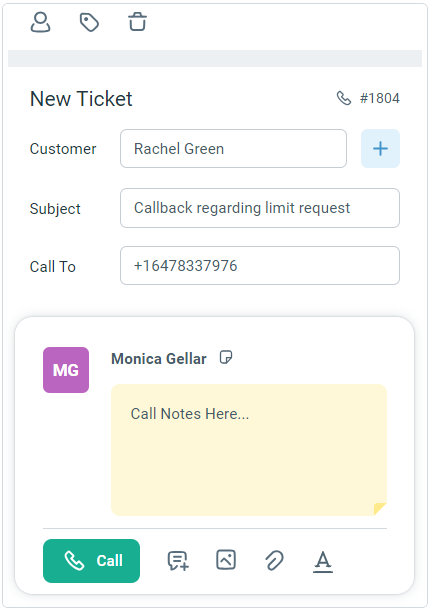 How to create an Shared Inbox for Phone Calls?
Enchant provides shared inbox software that can be used to manage customer conversations across many communication channels (Phone Calls, SMS, WhatsApp, Facebook Messenger, Email, etc). The Phone Call channel works through Twilio, a telephony provider.
To create an Shared Inbox for Phone Calls for your business:
Create an Enchant account, so your team has shared inbox software.
Create a Twilio account, and get a phone number through Twilio. Alternatively, you can port an existing number to Twilio.
In Enchant, head to channel settings and add a new Phone Call Channel. Provide your Twilio API key to connect Enchant to your Twilio account.
Once setup, incoming calls to the provided phone number will result in conversations being created in Enchant. Your team will login and answer calls right from Enchant.
Manage Phone Calls as a Team
Try out Enchant today, free for 30 days!