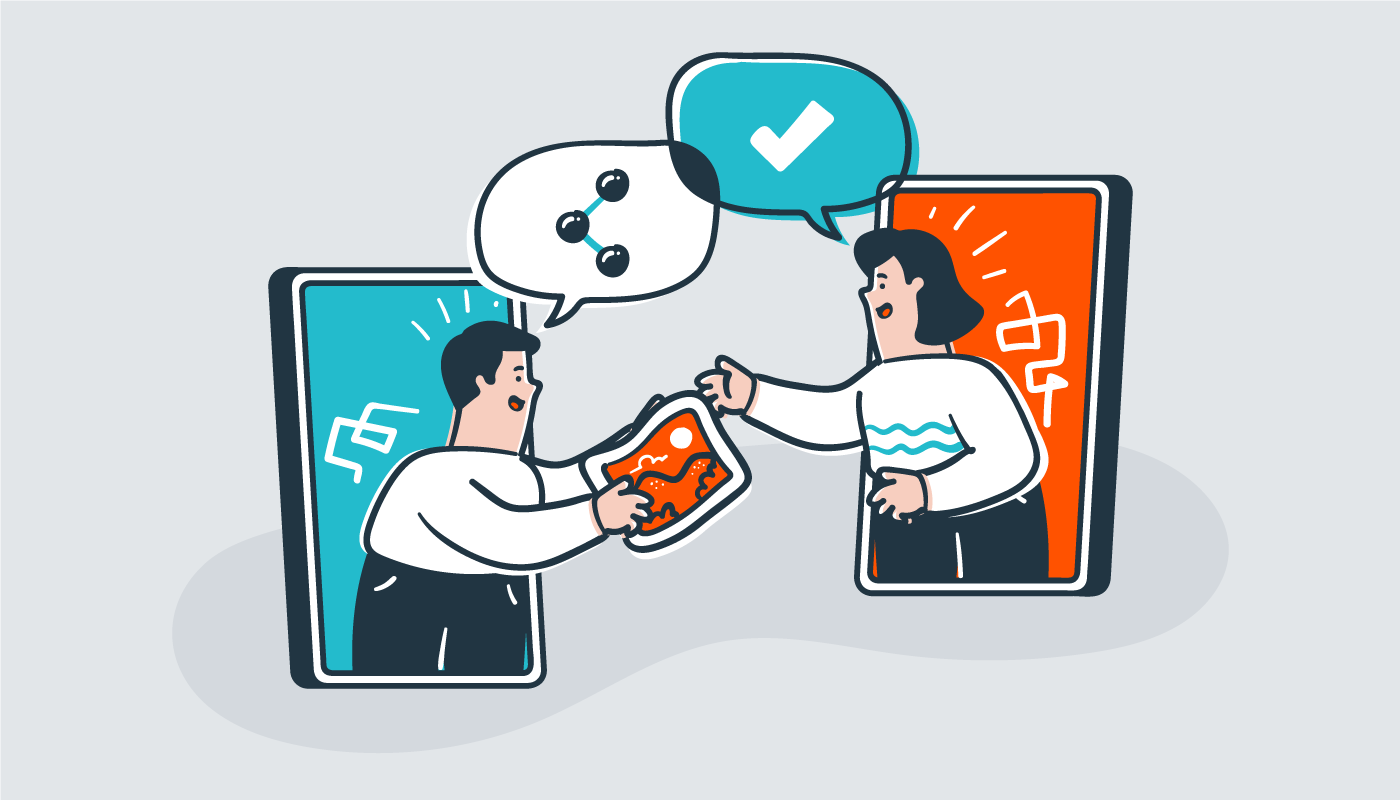 How deeply do you connect with your customers? Do they see your brand like a trusted friend?
Maybe you haven't given a lot of thought to building meaningful connections, but your customers have. 72% of customers prefer buying from companies that are aligned with their values. People want to buy from brands who have a purpose.
72% of customers prefer buying from companies that are aligned with their values.
When you build connections, your customers feel understood. And they understand you too. They know what you stand for, and that builds respect and trust in your brand.
So how do you do it? Just like building a friendship you focus on gaining and keeping their trust, and respect.
Here are 15 ways to start building more meaningful connections with your customers.
1. Understand what makes your customers tick
A good friend knows you. They're the ones who roll up to your door with your favorite beverage when you have a crappy day.
Best Buy knows how to treat their customers as friends. When a child brought in their "very sick" dinosaur toy, Best Buy employees didn't send them to the toy aisle for a new one. Instead, they performed as "surgeons" so the youngster thought the new toy was actually their old toy, mended. That's what Hubert Joly, former CEO of Best Buy calls human magic.
Human magic is when at scale you have employees that do things for each other and for customers that nobody has told them to do.
So how do you get to know your customers?
Invite feedback. Drop a satisfaction survey after they reach out to you to solve a problem. Get proactive and ask for opinions before they reach out with an issue.
When they provide feedback, listen. Pay attention to what they say, reflect on it, and figure out what you can learn from it. Use customer feedback to make improvements to your service or to add new features to your product. For example, If you're getting a lot of feedback that customers are finding the navigation on your web page confusing, consider simplifying.
Remember to thank them for their feedback, and let them know what you're doing about it. Show them that their opinion matters.
2. Don't treat your customers like a number
If Mateo is annoyed because he can't configure your app, he doesn't want to feel like just another ticket number. He wants to feel like there's a human right there, who gives a damn. And Mateo isn't alone! 70% of customers say it's important that brands give them personalized experiences.
As your business grows, you're going to need a customer service solution to keep track of requests. Pick something like Enchant, that's invisible to your customers. With Enchant, your customers never see a ticket number.
Remember, a conversational, but helpful and respectful tone helps. Make sure your staff have all the training they need to convey that tone.
70% of customers say it's important that brands give them personalized experiences.
And if you want to see some fantastic examples of treating your customers like real people, look at Zappos! Zappos' focus is on building relationships. They encourage their employees to stay on the line with customers as long as it takes to solve their issues. One memorable story has a staff member going out to buy shoes for a customer from a rival store, because they were out of stock on the Zappos website.
3. Respond quickly to customer questions and concerns
If you texted your friend needing help, you'd hope for a decently fast response, right? It's the same when your customers reach out to you. They don't want to wait for multiple days for a response.
A good target to set is responding within one business day. An even better target is responding within one calendar day. Your customer's problems don't take a break just because it's the weekend.
If you're struggling with those targets, it's time to reassess how you handle customer queries. Maybe you need more staff, or customer service software to help you manage incoming requests. A great way to scale your operations is using automation tools. Use them to manage repeated tasks and internal processes so your team can focus on helping customers faster.
4. Make it easy for customers to get help
Francesca is frustrated because she got the wrong order. Don't make her dig around your site and social media trying to find who to contact. Set up a dedicated email address like help@yourcompany, and a separate customer support Twitter handle.
Don't forget about self-service. 81% of customers say that they would like to be offered more self-service options.
81% of customers say that they would like to be offered more self-service options.
Give your customers a choice of how to contact you. We don't just mean offering a range of options such as chat or self service. We also mean no gatekeeping. For example, don't make it so that customers who click your chat widget have to view an article to "see if it helps" before they're allowed to contact a real human.
5. Be an expert
So now Mateo or Francesca has gotten through to your team, and they're on the way to resolving their issue.

Make sure that when they make contact with your staff, your staff know what they're talking about. Customers expect staff to be knowledgeable. It's like that one friend who knows the best cooking hacks. You know he's got the best tips to cook the perfect roast. Your customers expect quick, actionable solutions.

If your staff sounds clueless, it hurts your brand reputation. It's not great for staff morale, either. Empower your customer facing teams with proper training and detailed guidelines on how to handle whatever customers throw at them.
Make sure your staff know what sweeteners they're authorized to offer and when, and what to do if they need to escalate.
6. Build a consistent brand tone and personality
Building a consistent brand tone makes you instantly recognizable. Is your brand friendly, knowledgeable, funny, serious? Does it value green issues, diversity, keeping a good work-life balance?

It's hard to connect with a giant boring bank (sorry to any banks reading this), but with a smaller, or even a mid-sized org, it's a lot easier. If your brand doesn't have a list of core values and guidelines, now's a great time to start building them.

Let your brand breathe. A slightly quirky, casual personality makes you sound more human. Even a serious brand can choose to sound reassuring, fresh, or like a close ally that's got your back.
7. Have a purpose bigger than the company and stand by it in your actions
Being a mission driven company is more important now than ever. Unilever found that 78% of customers feel better about themselves when they buy products that are better for the environment. And if buying certain products or supporting a certain brand makes them feel good, they're going to keep doing it.
78% of customers feel better when they buy products that are better for the environment.
Customers want to support companies that stand for something. This is partly about how they feel - they want to support something that matters. And it's partly about what their choice of where they spend money says about them.
Apple is one of the most well-known purpose driven brands on the planet. As Steve Jobs once said:
Apple is about people who think 'outside the box,' people who want to use computers to help them change the world.
Apple backs up its commitment with real stats. For example, their diversity section on their website shows an 89% increase in the number of female employees globally, 71% increase in Black employees in the U.S. and 104% increase in Latinx/Hispanic employees. This lets Apple customers know that they're committed to walking the walk, not just talking the talk.
8. Align your company's purpose with your customers
Common ground is a strong basis for any friendship. We all love it when we find a friend who shares our views.
People don't buy what you do; they buy why you do it.
If your customers feel like you believe in the same things they do, that builds rapport. They're more likely to rally behind your causes, and stay loyal to you. 66% of customers in the U.S. buy from brands that reflect their personal values. That's an increase from 60% in 2019 and 50% in 2013.
It all comes back to #1 — get to know your customers. Not just what they buy, but who they are. What they believe. What makes them happy and what keeps them up at night.
66% of customers in the U.S. buy from brands that reflect their personal values.
Customers who share your purpose will get excited about what you do. They'll tell their friends. They become willing brand ambassadors who spread the word about you.
Brands like Patagonia understand this. They don't just talk a good game about environmental issues. They regularly update their customers on what they're doing, and what specific steps they're taking to reduce their carbon footprint and be kinder to the planet.
9. Build a community around your mission
Nothing builds trust and respect quite like belonging to a community of like minded people.

Build a community around your brand, and your customers are no longer just customers. They're part of a movement. They stand for something. As Nate Brown, author of The CX Primer says, customers care about:
Does this brand encourage me and give me life by treating me like a person? Do they encourage a type of lifestyle among their employees and customers that aligns to my values?
A Facebook or Linkedin Page is a good place to start. Encourage your staff to interact and build relationships with customers there. But don't stop at a page. Consider hosting a conference or webinar to connect with your like-minded customers, and help them connect with each other.
Encourage new customers into your community. Let them see how much your long-time customers trust you. Your die-hard fans will love showcasing how your product has improved their lives.
10. Be transparent
Good friendships are built on honesty. And so are strong customer relationships.
If your customer finds a bug, be honest. Tell them yes, it's a bug, and let them know what you're doing about it.
Need to increase your prices? Be upfront about when, how much, and why you need to do it.
Software suffered a major outage because someone made a mistake? Tell your customers that, and outline what you're doing to prevent it happening again.
Customers are much more likely to be forgiving if you're open and honest. Showing genuine remorse works in your favor, proving that you're not afraid to take responsibility.
11. Provide great customer service
Cassie is not happy that she can't get your app working the way she expected. By the time she gets in touch, she's already frustrated and wants things fixed immediately.
Your team's response will set the tone for the rest of the interaction. Cassie needs to know:
Your team has empathy. They're on her side and understand her feelings. "I can see how frustrating that would be …"
You're taking responsibility for the problem. "Here's what I'm going to do next …" (talk to the software team and get back to you today / reset that for you / go in and take a look at your settings.)
She's been heard. Your team should echo back so Cassie knows they've understood. "I understand. The window isn't closing even though you're clicking the X."
63% of customers fall in love with a brand because of their great customer service.
63% of customers fall in love with a brand because of their great service. Make sure your brand is one of them.
12. Show appreciation
Ask your warehouse team to include a hand signed "thank you" note with every order so your customers feel appreciated. Show your gratitude towards a long term customer with a personalized message or, even better, a small inexpensive surprise.

A new customer found your service through a referral? Offer referral discounts and incentives to customers who recommend you to their friends and family. Reward your brand evangelists for being proactive and raising your profile.

Little touches like this have a big impact on your customer relationships. Your customers feel loved, noticed, and appreciated. And who doesn't want that?
13. Make good use of customer segmentation
Everything we've talked about so far will go a long way to building more meaningful connections with your customers. But segmentation takes things a step further.

For example, at Enchant we've opted not to raise rates for existing customers. They've been with us for years and supported us at a time when we didn't have as many people signing up. We figure they deserve a thank you for that.
Offering your existing customers a sweet deal can reduce churn for that segment.
Can you make personalized offers based on a customer's purchase history? What about customization based on their usage pattern? Make your customers feel like they matter individually, not just as part of a crowd. They'll feel the love.
Tailor your communications to each segment. If you've got some non technical users who need more hand holding, try and cater your messaging to them. Give them special guidance in the weeks following sign up.
Consider offering services in the client's language. Being able to access services without needing to translate lets them know you want to meet them where they are.
14. Empower your team
Nothing is worse than your team feeling helpless in the face of customer issues. Your customers feel let down, your team feels demoralized, and no one is happy. In fact, 44% of customers say receiving quick responses to questions with helpful, personalized answers is very important to them.
44% of customers say receiving quick responses to questions with helpful, personalized answers is very important to them.
So make sure your team knows how to handle the most common situations. And what to do if they come across something outside of the usual queries. Make sure your team has a clear way to make judgment calls and provide solutions. As Jim Goodnight, founder of SAS says:
Start with the right tools. Use customer communication tools that add personalized information to customer requests. Make sure your team can see the history of each interaction. Now they can add a human touch, even at scale.
Build a collection of resources like templates that your employees can call on when facing a difficult situation or angry customer. Now they can feel confident that they're ready for whatever the day throws at them.
If you treat employees like they make a difference, they will make a difference.
Invest in training. Your team needs finely honed customer service skills so they can handle even the most difficult situations.
15. Communicate regularly using various channels
Good friends keep in touch. It should be the same with you and your customers. Send them regular updates on social media and via email newsletters.
When you're keeping in touch, remember two things. Reiterate your mission and what you stand for. And show your brand's personality. You want your updates to sound human.
Go where the conversations are. Track mentions of your brand and monitor online reviews. Reply to positive reviews with a thank you. Reply to negative reviews with what you can do to fix the situation, or how the customer can reach out to you for a solution.
Create a two way dialogue with your customers. Poll them for their opinion about new features, hold contests and giveaways, and join in conversations centered around your core beliefs.
People like recommendations from other people. Collect your customers' success stories and showcase them on your website as case studies, reviews, or even just screenshots of what your happy customers are saying about you.
Takeaways
You can't succeed without your customers. That's the straightforward truth.
When you build real connections, you build a base of loyal customers for your brand. Loyal customers stay with you through thick and thin. And they tell others about why they love and stay with you too, making them one of the most powerful marketing tools you could want. 46% of loyal customers are willing to spend more on products from brands they love, even if there's a cheaper alternative.
46% of loyal customers are willing to spend more on products from brands they love.
Remember, purpose leads to profit. When you understand and align your goals and values with your customers', you create a deeper relationship. And because you understand your people, you can more easily see and address issues when they arise. Your customers know they can trust you to care about their opinions, to value what matters to them, and to answer their questions honestly. Now that's the basis for a great relationship.