Traditional call centers are now transforming into virtual call centers.
The pandemic has been a blessing in disguise for some businesses. It has enabled them to think and operate beyond the walls of traditional offices – new offices are now "in the cloud"!
Before the COVID-19 outbreak, only about 20% of call center agents were working from home - typically a few days per week. The current projection is that nearly 53% of call center agents would move to the cloud by the end of 2023.
In this post we're going to show you how to set up a virtual call center with no coding and no upfront infrastructure purchases.
For this, we're going to use Twilio as a telephony infrastructure provider and Enchant as the interface for your team.
Nearly 53% of call center agents would move to the cloud by the end of 2023.
What is a Virtual Call Center?
A 'virtual call center' or 'contact center' is an online customer service center where agents work from remote locations instead of a physical location.
In other words, it's the advanced version of an on-premise call center.
Virtual call centers allow agents to work from anywhere (i.e. home office or shared workspace). All they need is an internet connection and access to the software.
On-Premise vs. Cloud-Based Call Center - What's the Difference?
| On-Premise Call Center | Cloud-Based Call Center |
| --- | --- |
| Requires installation of physical phones and phone lines. | The entire infrastructure is on the Internet and calls are managed in the cloud. |
| Significant upfront hardware infrastructure required (VoIP Phones, PBX devices, etc). | No special hardware infrastructure is needed. |
| Requires huge upfront investment. | Minimal upfront investment. |
| Basic technology and features for call transfers, hold, call logging, etc. | Advanced technology and features for call management and monitoring. Integration with CRM, context based routing, AI voice analysis. |
| Complex, messy, or not possible to integrate with other channels.  | Easy to integrate with other channels such as email, live chat, social, and SMS. |
| Hard to scale since physical infrastructure setup takes time | Easy to scale operations based on business needs |
| Initial deployment takes days to weeks. | Initial deployment takes hours. |
| Workforce limited to physical office locations | Workforce can be anywhere |
| Not compatible with work from home configurations | Natural fit for people that work from home |
Why Use a Virtual Call Center?
Let's go through the main reasons why you would use a virtual call center instead of an on-premise call center:
Manage Global Workforce with Ease
Hire the talent your business needs, and not just what's available.
A virtual call center eliminates the limitation of hiring locally. You now have access to a global talent pool.
This enables you to hire call center specialists at a lower cost. At the same time, remote video interviews speed up the hiring process.
Eliminate Infrastructure Costs
There's a significant upfront infrastructure investment with an on-premise call center. Phones, centralized PBX systems, phone lines and any office changes needed to support all the infrastructure.
A virtual call center eliminates all of this. Your team needs nothing more than a computer and an internet connection.
Easy to Scale Up or Down
Virtual call centers can easily scale operations up or down based on call volume and business needs. This agility is crucial for adapting to changing market demands.
An on-premise call center has very little flexibility here:
To scale down: you can send the team home, but you're still paying for rent and electricity. 
To scale up: you need to figure out where you'll add the extra desks, ensure you have the right infrastructure (phone lines & phones), ensure your PBX can handle the extra lines, etc. It's complicated!
Quick Deployment
Implementing a virtual call center is quicker since it relies on cloud-based solutions. For example, a virtual call center powered by Enchant can be up and running in a single day.
An on-premise call center will take days/weeks to get all the infrastructure requirements worked out.
Compatible with Remote Teams that Work From Home
By managing your customer service operations with a virtual call center, you're able to attract qualified and talented employees that are seeking remote work opportunities.
While the pandemic popularized work-from-home culture, today remote work is a perk that people want and expect from companies.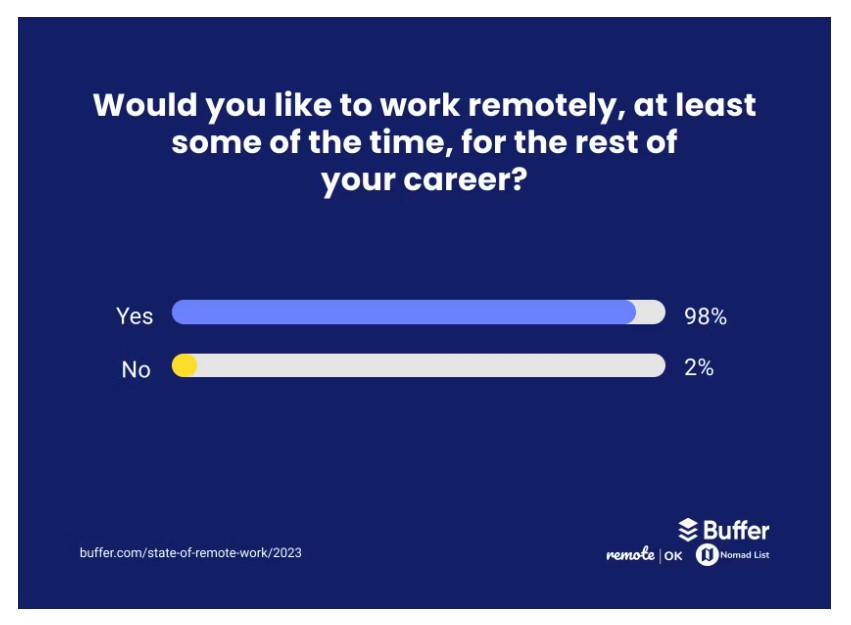 Here are some interesting findings from the State of Remote Work - 2023 report: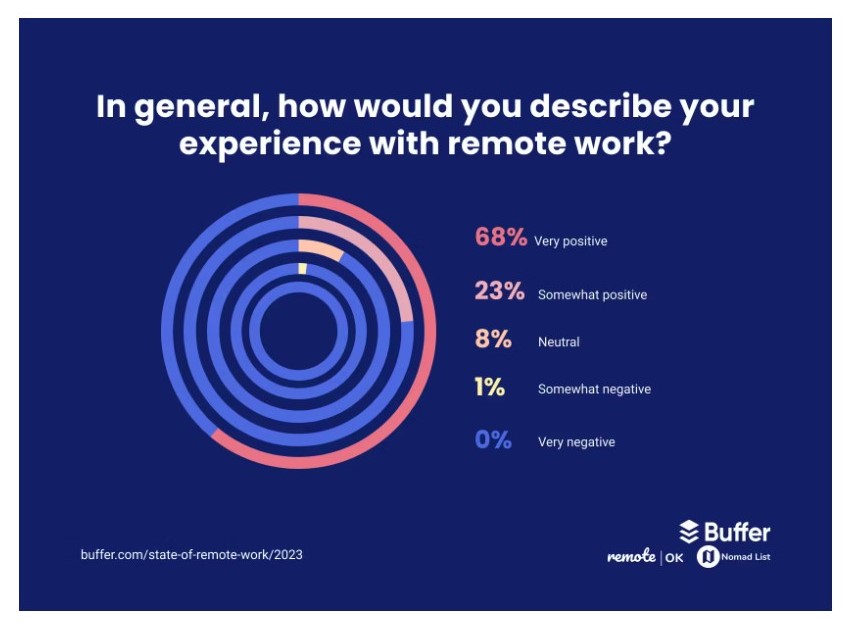 Easier to Manage 24x7 Operations
If your business operates globally, you need to offer 24x7 customer service.
With an on-premise call center, you will either need to hire a team that operates through the night out of a central location, or set up customer services teams across the globe.
A virtual call center offers a separate option - a system managed from a central location with a globally distributed team. Advanced features of a virtual call center solution will ensure the customers are routed to the right regional team.
Why use Twilio?
There are two big networks that facilitate communication across the globe, both with their own ecosystems:
Telephony network
The internet
Twilio provides infrastructure that bridges the gap between the telephony network and the internet. it enables cloud-based software to integrate with the ecosystem of telephony carriers.
Through Twilio, you can purchase access to phone numbers anywhere in the world. They help handle any forms and regional requirements and regulations and provide APIs through which software applications can utilize those numbers.
Why Use Enchant for a Virtual Call Center?
Enchant is an omnichannel customer communication platform. It features a built in virtual call center solution, enabling your team to receive and make calls all in the cloud. Enchant Call Center leverages Twilio for telephony infrastructure.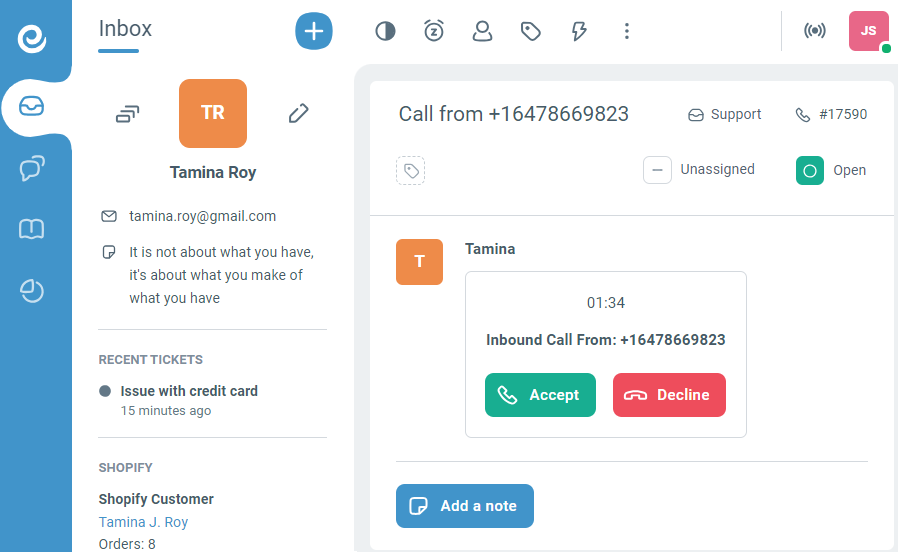 As an omnichannel solution, Enchant can manage customer communication over Phone Calls, SMS, WhatsApp, email and social media accounts all from a single dashboard.
Big brands like Nike and Decathlon have transformed their businesses with an omnichannel approach. According to McKinsey, Nike has seen a 30% rise in its sales thanks to the omnichannel approach. Decathlon's online sales have reached nearly 30% share in 2021 after switching to the "omnichannel way of thinking".
Nike has seen a 30% rise in its sales thanks to the omnichannel approach. Decathlon's online sales have reached nearly 30% share in 2021 after switching to the "omnichannel way of thinking".
How to set up a Virtual Call Center with Twilio
Step 1: Create an Enchant account. Add your team to your Enchant account.
Step 2: Create a Twilio account
Step 3: Provision a phone number from Twilio
Step 4: Create a Call Channel in Enchant
… and that's it! Now when you call your provisioned number, it will ring in Enchant.
Challenges in Managing a Virtual Call Center & Possible Solutions
Lack of Team Environment
One of the things employees can miss the most while working from home is socializing with other team members.
Solutions:
Create an onboarding experience that gets new hires talking to multiple members of the team.
Organize virtual team-building exercises like video conference calls and non-work virtual gaming sessions.
Have a chat room where the team can hang out and communicate with each other.
Guidance and Support for Agents
There are times when members on the team need timely help and guidance. However, having a remote team makes it difficult to get assistance from supervisors and managers on a real-time basis. This can lead to poor or inaccurate service for your customers.
Solutions:
Provide agents with a real time chat platform where they can reach out to each other and also managers for help.
Create robust Standard Operating Procedure (SOP) documents.
Ensure there's a detailed internal Knowledge Base to answer common questions.
Quality Assurance
A work-from-home environment is a double-edged sword. It can have positive as well as negative impacts on performance. While you don't want to micro-manage your team, you can't let your quality go down due to a lack of monitoring.
Solutions:
Set clear, specific, and measurable quality benchmarks.
Ensure regular quality audits of your agents and provide feedback.
Recognize and incentivize top-quality performers.
Data Security Concerns
One of the biggest challenges of a remote work setup is to tackle data security concerns. Since employees (and their home networks) aren't physically under your watch, there's a potential threat to sensitive customer data.
If your customers are from the European Union (EU), General Data Protection Regulation (GDPR) makes it even more critical to securely handle Personally Identifiable Information (PII).
Solutions:
Provide employees with company laptops managed by your IT team. Lock down the machines to limit the applications that can be installed and ensure all internet connections run through a company VPN.
Create and share policies with employees on security protocols.
Configure appropriate monitoring systems to identify any data breaches or inappropriate data accesses.
Ready to Start Your Virtual Call Center with Twilio & Enchant?
Customer service is more than just answering the calls.
You need to deliver a consistent customer service experience across all channels. And that's why it's crucial to streamline and integrate your telephone/voice customer service with email, SMS, and social media channels.
For small to medium-scale businesses, a virtual call center is a great way to offer quality support and earn a higher return on investment (ROI). Large organizations may prefer a hybrid approach, where a virtual call center is combined with an on-premise one.