If you want your business to thrive - which of course you do - pay attention to customer service. Customers are looking for quick, helpful support - and businesses are looking for ways to provide that. Companies who invest in their customers with a cohesive plan for the future of their customers are more than twice as likely as their peers to outperform the competition.
Companies who have a cohesive plan for the future of their customers are more than twice as likely as their peers to outperform the competition.
A help desk is one way to make customer service more efficient. When you search for a help desk, Freshdesk is likely to be one of the first you find. Freshdesk is part of a bigger suite of products, called Freshworks. Freshworks is an award winning customer software company that provides tools for both customer and employee management. Their clients include HP, DHL, American Express and Pearson.
What Makes Freshdesk Popular?
Freshdesk is popular because it offers an all inclusive one stop shop software that lets businesses manage their customers from one central dashboard. You'll find email, social messages, telephony, live chats and knowledge bases, all in one place.
Advanced collaboration tools make it easy for agents to work with field service teams.
Users can create custom reports, although this has a bit of a learning curve.
Freshdesk uses gamification to make customer service into a fun activity for agents. Everyday tasks become quests, and agents complete tasks to score points and unlock achievements.
The free plan for new clients makes it an affordable option for beginners.
Why Are Businesses Looking For Freshdesk Competitors?
Although Freshdesk is a popular customer help desk, it has its issues too. Some businesses are looking for Freshdesk alternatives.
It's complicated to set up. Most teams need dedicated training to make sense of it, so you'll need to set aside the time and budget for that.
The basic plan lacks important features. You'll need to pay for premium plans if you want the full service. Even fairly basic features like team performance reports, social channels, and CSAT surveys cost a minimum of $70 per seat or more.
There are too many pricing levels, making it hard to pick the best one for you. Plus smaller organizations won't need all the complex features. Why pay for things you're not going to use?
The customer facing portal looks outdated and could use a style refresh. Customers have beenasking for a native Instagram integration for years, with no progress towards it. Customers want to feel heard!
The product is actually made up of multiple different products working together. That means your data is separated which can make tracking and reporting hard.
8 Freshdesk Alternatives To Try
There are plenty of simpler and more affordable customer support solutions out there. You don't have to compromise on functionality, either - there's a solution for most needs.
Let's take a look at some Freshdesk alternatives to help you decide which is the best fit for your team. Here are our 8 top picks for Freshdesk alternatives.
1. Enchant
Enchant has been designed from the ground up with ease of use in mind. The product is similar to Freshdesk in many ways and offers a range of features to help you take care of your customers. Enchant is a great Freshdesk Alternative if you want something lighter on its feet.
Enchant boasts an intuitive interface that will seem familiar if you've used common business tools like Gmail. That means a shallow learning curve, so your team can get started right away. Enchant is suited to teams from 3 - 300, so there's plenty of room to grow.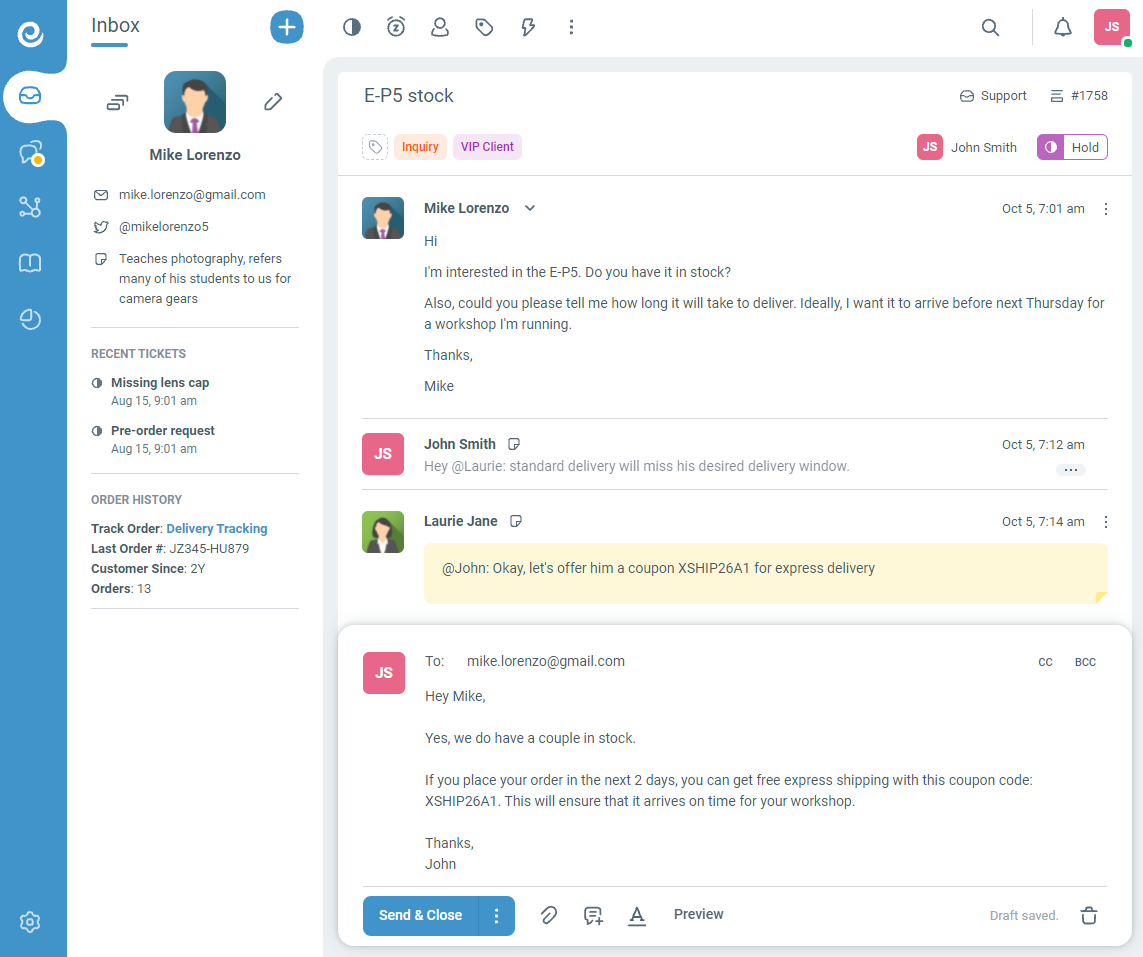 Enchant has been around for over a decade now. Of course we may be a bit biased, but we stand by the quality of our product and our commitment to our customers' success. The flexible features include a robust set of workflow customizations, to fit teams from a variety of different industries.
With built-in automation and collaboration tools your team can keep their focus on delivering excellent customer service. Many of our customers migrated from Freshdesk and have successfully grown their businesses with Enchant, and you can too!
What Enchant offers:
Shared inboxes with customizable folders, automations, and collaboration tools.
Built-in live chat and knowledge base for quick answers. Great for customers who want to resolve their issues without speaking to an agent.
Customer Satisfaction Ratings (CSAT) so it's easy to find out how happy your customers are.
Omnichannel support - receive and respond to customers via voice calls, SMS, WhatsApp, Facebook Messenger and Instagram channels.
In-depth analysis and reports that give you insights on trends, team performance, and customer satisfaction.
Easy integration with popular apps such as Shopify, Slack and many more.
Simple, affordable pricing: $15 per user, per month. No annual contracts or nasty surprises.
Pros:
No ticket numbers or log-ins means Enchant is invisible to customers. They only see the stellar customer service they receive!
Easy and intuitive interface.
Get set up quickly, with no need for additional training.
Multiple inboxes with their own permissions and settings. Handle requests individually, or in a single unified queue.
Manage all your brands and departments separately, but through one single account.
Supports over 20 languages.
Cons:
No customer forums or customer dashboard.
Pro-active messaging is not supported.
2. Zendesk
If you're looking for Freshdesk alternatives, Zendesk is unbeatable when it comes to features. It is robust and reliable. Any major enterprise level business on the hunt for a help desk will find Zendesk meets most if not all of their needs.
Zendesk's features include a shared inbox, knowledge base, live chat, and customer satisfaction tools. They provide both social and phone support even on their starting plan. They also offer detailed analytics and reports you can use to improve your customer service.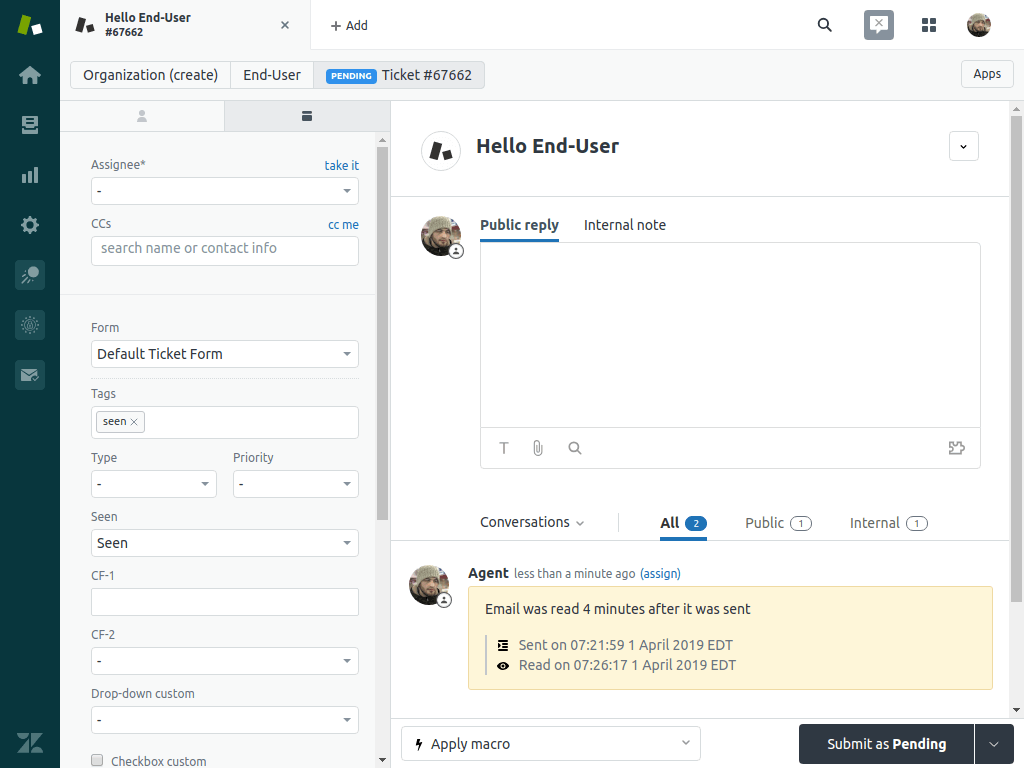 The higher priced Zendesk Suite plan provides sales and marketing features alongside the support management ones. But some users don't need all those features. The sheer amount of functionality can make Zendesk feel bulky and complex. And it isn't exactly affordable for small-mid size businesses as you could end up paying for features you don't need. Many customers also complain that the software evolves very slowly due to its behemoth size.
The interface is also old fashioned and lacks that modern, intuitive feel that some users are looking for.
What Zendesk offers:
Omnichannel support, including social media.
A self-service knowledge base so customers can find their own answers without contacting an agent.
Support for phone calls, and a live chat widget.
CRM, customer portals, and community forums.
Reports and integrations.
Pros:
You can get phone and social channel support even on the lowest plan.
Robust analytics and reporting capabilities help you make data-backed decisions.
An advanced CRM with flexible customizations.
A wide range of integrations with other apps and services.
If you have the budget to invest more, Zendesk suite gives you added sales and lead tracking features.
Cons:
The product is bloated and complicated enough that agents need training on how to use it.
Basic features such as customer satisfaction ratings are only available at higher price points.
It's not affordable for small - medium sized businesses or bootstrapping startups.
There's a lack of features available on the mobile app.
Some customers complain about delays of more than 10 minutes receiving inbound emails.
Some customers also point out that the user interface can be glitchy.
Chat and email tickets have their own queues, so it doesn't really feel like you're using one single tool.
3. Kayako
Kayako offers a more traditional approach to managing customer support. Kayako gathers all communications with each customer across channels, and pulls them into a single long thread.
Kayako helps you provide a personalized customer support experience by bringing together events from external systems. Along with the messages across multiple channels, Kayako can show events like "customer made a purchase", or "viewed an article on a knowledge base".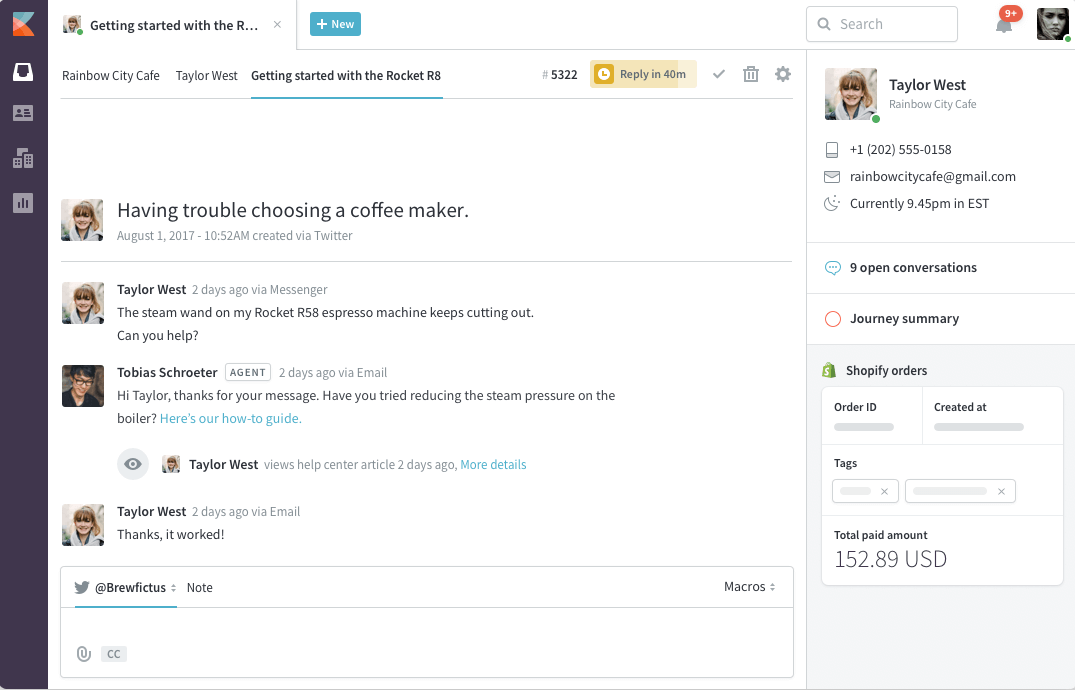 Although the commitment to keeping all communications in one place is fantastic, Kayako's features aren't up to par with Freshdesk's. They revamped their solution in 2016 but it still doesn't feel very modern or user friendly.
Kayako struggles with workflows. Even common help desk workflows are frustrating to set up. Say you want to set follow up reminders. With Kayako, you have to do the dance of adding a whole custom date field for when to follow up. Then you have to set up monitoring for that date field. It's all too easy to squander precious time on all these fiddly little tasks.
What Kayako offers:
Single view omnichannel communication, including social channels, purchases and knowledge base use.
Advanced collaboration features.
Self-service customer portal.
Live chat widget.
Native iOS and Android apps.
Pros:
See the customer journey right alongside the conversation, so agents always have full context.
Social integration is included even on the basic plan.
Lets you collaborate internally with personnel from outside your customer support team.
Simpler pricing plans than Zendesk or Freshdesk.
Cons:
Poorer help desk functionality than Zendesk or Freshdesk.
The forever single thread feature makes it harder to analyze individual interactions that customers have with different agents.
Help desk customizations are only available at higher price points.
No way to sort or search tickets by custom fields.
4. Help Scout
Help Scout is all about the customer centric approach and treating customers like "people, not tickets." If you're looking for Freshdesk competitors to help you focus more firmly on providing a delightful customer experience, Help Scout might be a good fit for you.
Help Scout's features focus on managing support requests seamlessly, to keep customers happy. The product packs an excellent mix of collaboration, organization, and automation tools. Help Scout has a clean and user-friendly interface, without the steep learning curve of a bigger enterprise focused solution.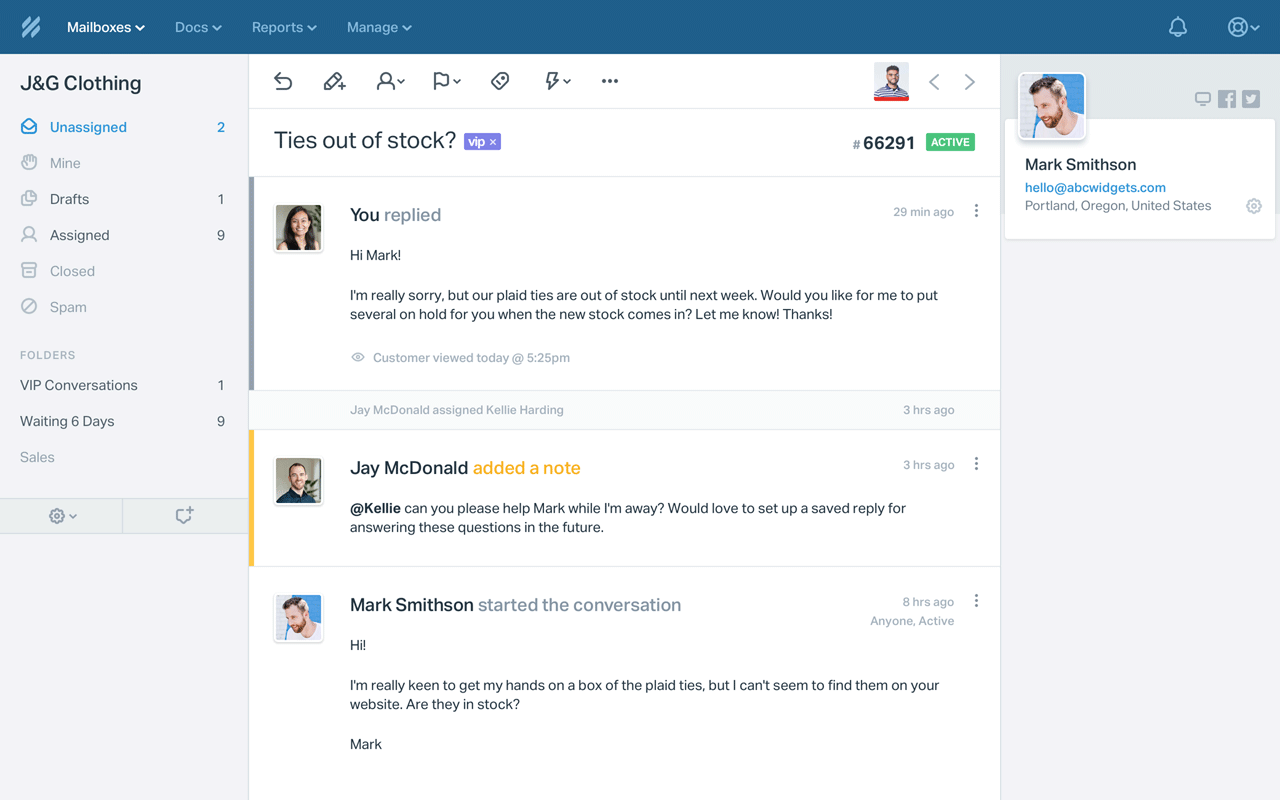 Help Scout promises a well-rounded customer support solution - and it delivers. However, like any software, it's not one size fits all. There are some use cases that might not feel intuitive, depending on what your team needs.
Some workflows in Help Scout are either too restrictive for certain needs, or just not supported. For example, you can't create custom folders based on a label. There isn't an option to add another user's email as a CC in a conversation. That's not ideal for teams that frequently collaborate with members outside the regular support team to deal with issues.
What Help Scout offers:
Shared inbox for easy team collaboration.
A beacon widget with live chat messaging.
Knowledge base so customers can find the help docs they need.
Custom workflows and automation options.
Insightful reports so you can monitor support interactions and results.
Pros:
Nice straightforward and simple user interface.
Advanced automations to help you customize your workflow.
HIPAA compliant, so healthcare businesses can use it with confidence.
Discounted price on your first year for non-profits and startups.
Cons:
Organizing support tickets into folders feels inflexible. For example, there's no option to create folders based on tags. Using tags to group requests is a super helpful feature for most teams, so the lack of it could cause unnecessary work for agents.
Each mailbox is completely separate. It's harder to bring conversations into one place.
You can only add one ecommerce store for each single account.
The ability to create different teams is only available on the higher priced plans.
5. Intercom
Intercom is one of the most popular Freshdesk competitors. Although it's quite different from Freshdesk, it's an ideal alternative for some teams. Intercom is strongly geared towards managing customer relations.
Intercom offers a flexible business messenger centered around proactive sales and marketing. Customers can also use the messenger to reach out to support staff. Other innovative Intercom features include custom bots, and product tours. It also offers in-app messaging for customers.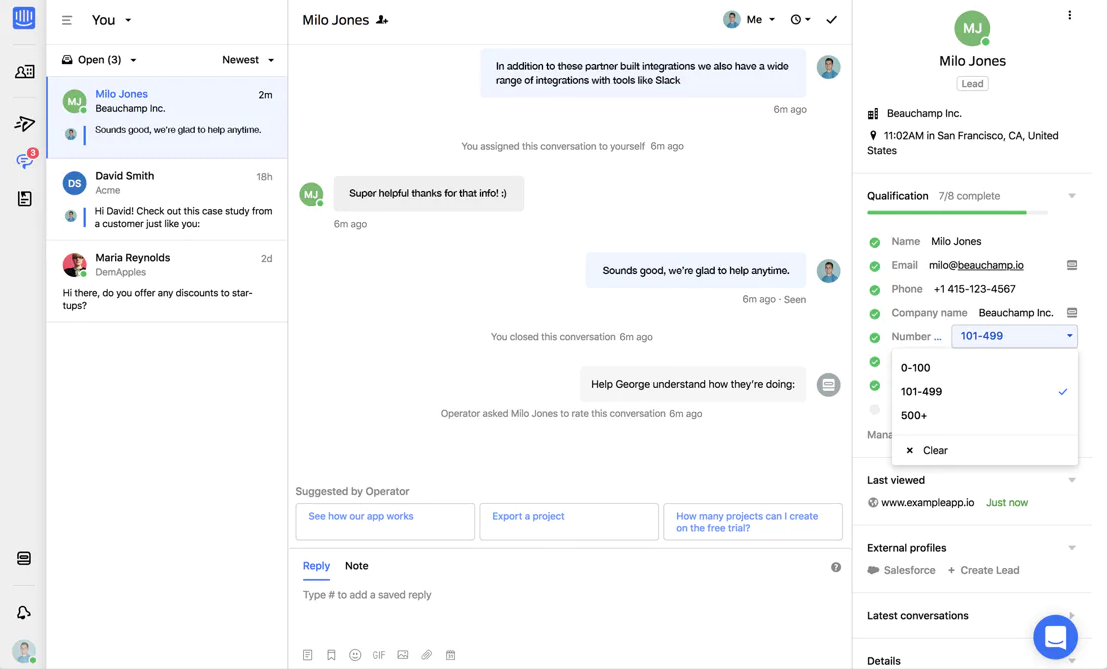 If you're a SaaS business with a big sales / marketing budget, Intercom could be the right choice for you. The proactive sales tools, custom bots, and product tours help you engage customers and introduce them to your solution.
If your team needs customizable workflows, you might find the Intercom help desk isn't robust enough. For ecommerce stores, where customers don't interact with your app on a regular basis, Intercom's messenger might cause confusion. It looks like a live chat but isn't truly live, which may catch customers off guard.
If you're a small startup, or bootstrapping right now, the steep pricing might put you off.
What Intercom offers:
Email marketing campaigns based on customer segments.
Business messenger with live chat and in-app messaging.
Product tours and custom bots to engage customers.
Manage support messages across channels.
Self-serve support articles database.
Reporting dashboard.
Pros:
Clean and modern interface.
Feature rich business messenger that has both marketing and support functions.
You can use bots for advanced automation.
Targeted outbound and proactive messages to clients.
Cons:
Complicated pricing. Fees are based on both per agent seat, and number of customers. They used to have a price calculator to help customers figure out their cost, but now even that's unavailable.
It's not any more affordable than Freshdesk. We had to do a bit of digging to find this. When you try to find pricing information, all you see is a "chat with us" option.
Not as robust as some other solutions on this list, especially for email support management.
Weaker analytics that don't offer enough options to let you really drill down for deeper insights.
6. Front
Front makes things easy by keeping their app familiar and intuitive. That means the learning curve isn't too steep, so you can get set up quickly. Front users can manage their personal and shared inboxes in the same place.
Front also supports social channels and SMS so customers can use their favorite way to get in touch. Customers are looking for fast responses to queries across all channels, so social media integration is vital. Front offers a robust set of collaboration features to enable teams to work together efficiently.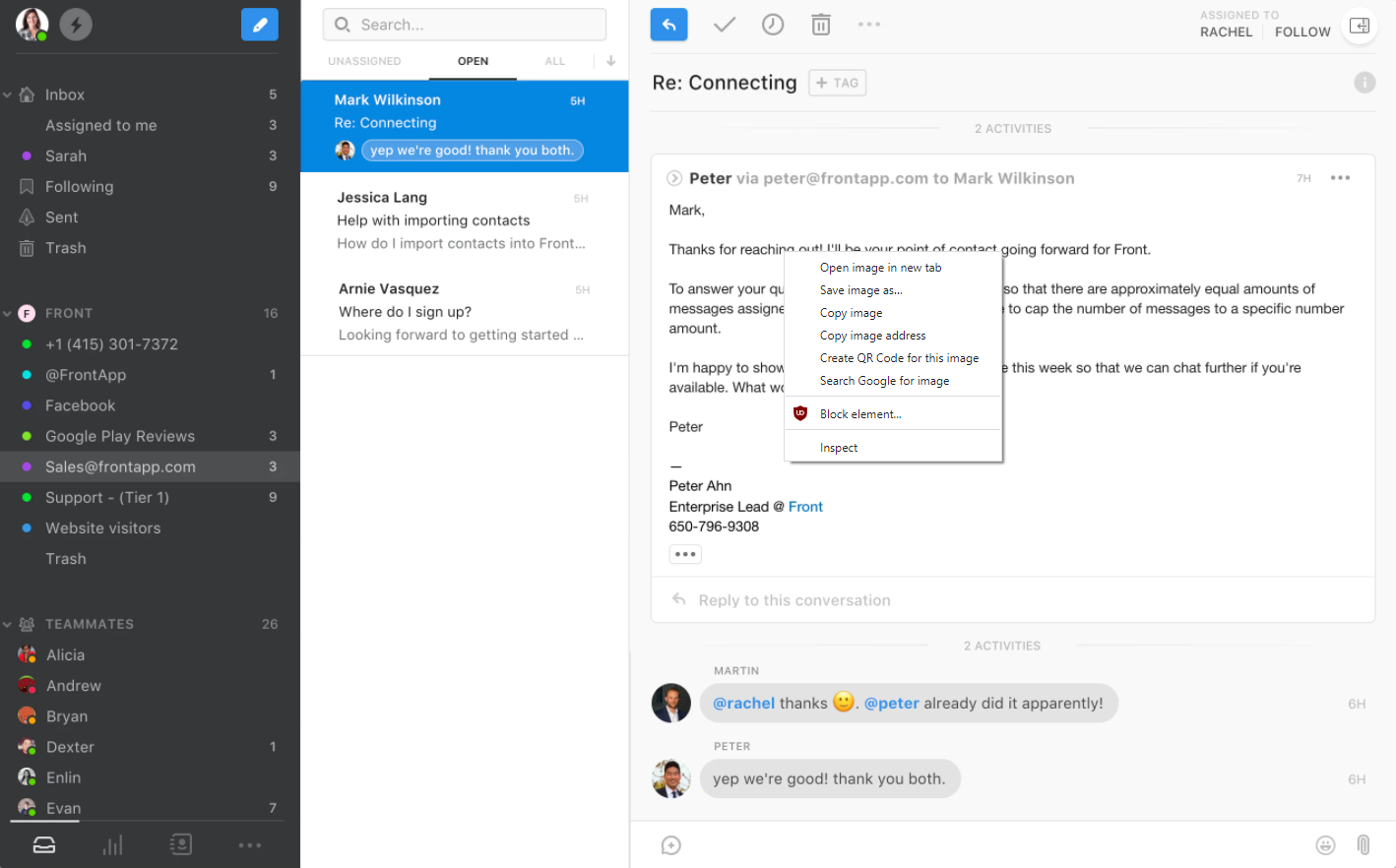 If your team relies heavily on cross-collaboration for a majority of requests, Front could be a great Freshdesk alternative for you. But if your team has a certain way it likes to work, or you need something beyond basic workflow customization, it might not be flexible enough.
Front is ideal for smaller teams, but can get expensive for teams of 10 or more. Add in the fact that all pricing plans require a commitment of a year in advance, and you might find it challenging to grow your team with Front.
What Front offers:
Unified inbox with email and SMS threads in one place.
Social media integration.
Ability to manage both personal and shared emails within the same app.
Custom workflow automation (available on higher priced plans only.)
Integrates with popular sales and CRM tools like Salesforce and Hubspot.
Pros:
Makes collaboration a breeze with team oriented tools such as collaborative drafts and tasks.
Omnichannel communication.
Strong integrations with external apps and custom plugins.
User-friendly interface, and it's quick and easy to set up.
Cons:
Ticketing system isn't robust enough for teams with higher support volumes.
Not flexible enough for teams that need customized workflows. The more affordable price points only offer limited workflow customizations.
Requires an annual contract, making it hard to switch tools later if you want to.
Higher plans can be pricey for small-medium companies.
Some bigger teams (50+ people) notice performance issues.
7. Reamaze
Reamaze was designed for businesses with online stores. If you're an online retail business looking for a customer support solution, Reamaze could be the one for you. It integrates well with popular ecommerce solutions such as Shopify, WooCommerce and BigCommerce to bring in relevant information such as order details.
Reamaze also offers multi-channel support, including social media and live chat.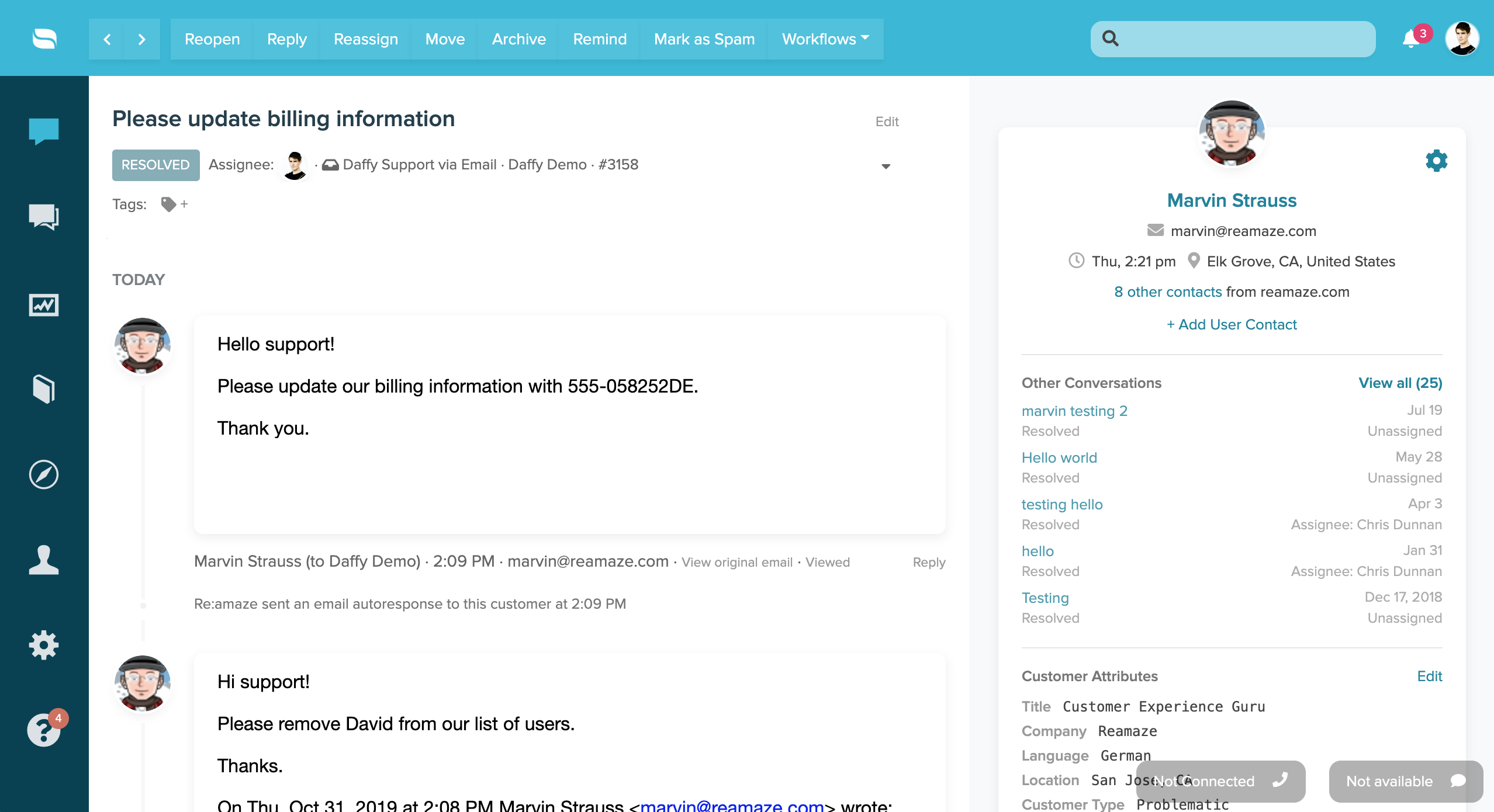 Reamaze is one of the best Freshdesk competitors for ecommerce businesses. Its deep ecommerce integration features, such as being able to give refunds for a Shopify store, make it a powerful tool. But if you need more robust handling of email, such as adding BCC recipients or classic email forward support, you might want to look at some of our other options in this list.
Some users feel that the reporting on certain data points could be better, too.
What Reamaze offers:
Email based ticketing support.
Omnichannel integration with social media.
Robust integration with popular ecommerce tools.
Live chat tool with chatbots.
Customer community portal.
A self-help FAQ center.
Pros:
Deeper ecommerce integrations allow you to connect multiple stores to one help desk.
Automated workflows based on customer intent make it easy for your agents to help customers at every stage of their journey.
Customizable live chat with chatbots.
Live view of site visitors on higher priced plans.
Cons:
Weaker reporting of data points compared to some other solutions on this list.
Some users report a poor experience when trying to like or share social messages.
Other users report performance issues with the chat app.
Attaching media such as images to the FAQ is not supported.
8. Zoho Desk
Zoho Desk is a customer service tool that allows you to easily communicate with your customers through popular channels like email, live chat, social media, and phone. It's packed with a ton of features like automation and rules that provide a high level of customization so you can tailor the product to your specific needs.
It comes with an advanced AI bot called Zia, that can perform tasks like auto-tagging, sentiment analysis and assisted replies. Zoho Desk also integrates with text messaging apps, like WhatsApp and Telegram, giving you more options to communicate with customers. If you're looking for a Freshdesk competitor that supports multiple languages for both agent and customer interfaces, Zoho Desk could be the right fit for you.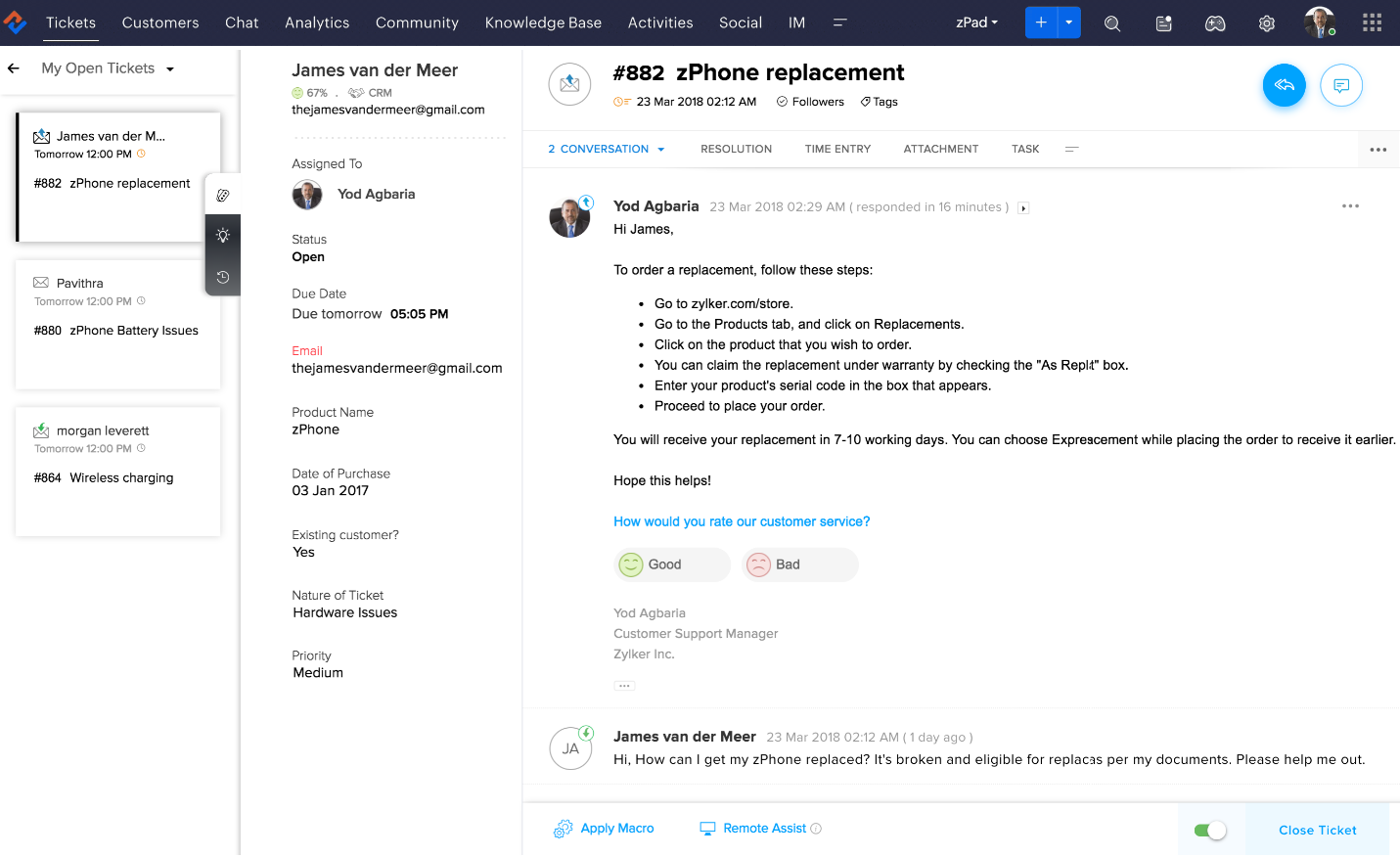 Zoho Desk provides some great features for larger teams, including a light agent seat who can view the conversations and participate in private comments. Plus, integrations with other Zoho apps that they may already be using is an added bonus for teams that are looking for a Freshdesk alternative.
Although Zoho Desk offers a range of price tiers including a free plan for small teams, their cheaper plans can be quite limiting when it comes to functionality. The higher plans, that come with all the bells and whistles, can be a bit pricey at $44 per seat. Due to the sheer number of features it offers, the tool can be a bit complicated to set up and the user interface can feel overwhelming to some agents.
What Zoho Desk offers:
Ticket Management system with customer portals.
Omnichannel support including social, text-messaging, and telephony.
Knowledge base for self-service.
Live chat widget with co-browsing.
Reporting on agent performance and time-tracking.
Pros:
Support for text-messaging apps like Telegram.
Advanced AI features like sentiment analysis and auto-tagging.
Multi-language support for agent and customer interface.
Built-in support for social channels and voice.
Ready-to-go integrations with other Zoho apps.
Cons:
Limited low priced tiers. Higher tier is pricey at $63, and yet have limits for brands and channels.
Shorter 15-day trial period with slow customer support.
Complicated to set up due to a large feature set.
Clunky and bloated user interface - harder to train agents.
Performance issues and slow load times.
Conclusion
Offering a high quality customer experience sets you apart from the competition - and protects you from bad customer press, too. Research shows that 45% of customers who have something positive to say about a company tell fewer than 3 other people. But 48% of those with something negative to say tell more than 10.
When looking for Freshdesk alternatives, think carefully about the features you need to offer the kind of experience that leaves customers with only good things to say.
48% of customers who have something negative to say about a company tell more than 10 other people.
Some products may make it easier to perform certain types of tasks while others might be more robust for certain types of industries. Certain solutions might still feel too bulky for your needs, while some might feel simpler yet flexible enough for your use case. Some might evolve faster than others, and some might offer better customer support than others.
The best Freshdesk alternative for your team is the one that offers just enough functionality that you need, with enough flexibility for your business to grow. Remember, the whole point is to have something that makes it easier to help your customers without feeling bulky or overly pricey.
If you need further help in choosing the best Freshdesk alternative, please see our detailed guide on how to choose a help desk.
At Enchant, we believe in delivering value to our customers without binding them into contracts. We also offer a free-of-cost and fully managed import of all conversations from Freshdesk. If Enchant's offering meets your needs, we recommend you try it out with your team today!