In January 2018, WhatsApp introduced its first business tools, providing new opportunities for businesses to use the platform. This was a significant move by WhatsApp at the time.
With over two billion active users worldwide, chances are high that your customers are already using WhatsApp. If you have not yet utilized WhatsApp Business for your company, it is still not too late. In this blog post, we'll cover everything you need to know about moving your number from WhatsApp Messenger to WhatsApp Business App or WhatsApp Business Platform.
Difference between WhatsApp and WhatsApp Business
First, let's cover the basics.
There are three different WhatsApp products with different use cases. Although the names sound similar, the functionality of each product differs based on the intended usage.
1. WhatsApp Messenger
WhatsApp Messenger is an app that was made for personal conversations through instant messaging. It's free to download on both Google Play Store (Android) and Apple Store (iOS).
Apart from instant messaging, it's also quite popular for group chats, audio calls and video calls.
2. WhatsApp Business App
WhatsApp Business App is a free to download app that is specifically created for small business owners. In addition to the basic messaging capability of WhatsApp Messenger, it includes some business focussed features like business profiles, product catalogs, quick replies and away messages.
3. WhatsApp Business Platform (formerly API)
WhatsApp Business Platform has been designed for medium and large businesses. This is a paid product that allows businesses to communicate with customers on a large scale using multiple devices and agents.
Why and When should you move from WhatsApp to WhatsApp Business
Before we go through the required steps to convert your WhatsApp number, let's understand why and when you should go for this action.
Why should you make the switch?
WhatsApp Business App and WhatsApp Business Platform are helpful tools to manage business communications in an effective way.
One of the major benefits of these tools is that they help distinguish your WhatsApp business number from personal numbers.
WhatsApp Business App features that are helpful to businesses
Business Profile - Create your visual storefront with a brand logo, business description, website, and work hours.
Labels - Organize and filter your customer conversations so you can quickly search for important messages and reply to them on priority.
Messaging Tools - Send away messages and quick replies to your customers.
WhatsApp Business Platform features that are helpful to businesses
Green Tick - Helps to showcase your authenticity and build trust with your customers through a verified badge/green tick.
Multiple Users and Devices - Manage customer communications on a large scale by having shared inboxes.
Broadcast Messages - Send messages in bulk to customers who've opted-in for it.
Automatic Notifications - Share important reminders and updates with your customers.
In a nutshell, WhatsApp Business tools can help you with your marketing efforts as well as customer service.
When should you make the switch?
As soon as you begin communicating with customers on a wider scale than personal contacts, you should make the switch to WhatsApp Business.
Should you convert the number or register a new number?
If you've been using a number for personal conversations and that number is not shared with a large customer base yet, it's a good idea to start from scratch with a new number that you'll solely use for business purposes.
However, if you have already created a new number for your business and connected it to WhatsApp Messenger, it would make sense to convert it to WhatsApp Business. By doing so, you would gain access to additional business-focused functionality that is not available on WhatsApp Messenger. 
Steps to Move from WhatsApp Messenger to WhatsApp Business App
Important Note: Once you switch your WhatsApp Messenger number to WhatsApp Business App, you will not be able to use it from WhatsApp Messenger anymore. You will need to have separate phone numbers to keep your personal conversations in WhatsApp Messenger and your business conversations in WhatsApp Business App.
Step 1: Create a Backup
Before converting your WhatsApp Messenger to WhatsApp Business App, create a backup of your WhatsApp Messenger account.
By default, your WhatsApp chat data is automatically backed up and stored in your phone's memory on a daily basis. But you can also save it to Google Drive. 
Go to WhatsApp and click on the three dots (more options) in the top right corner. Then, tap on Settings > Chats > Chat backup > Back up.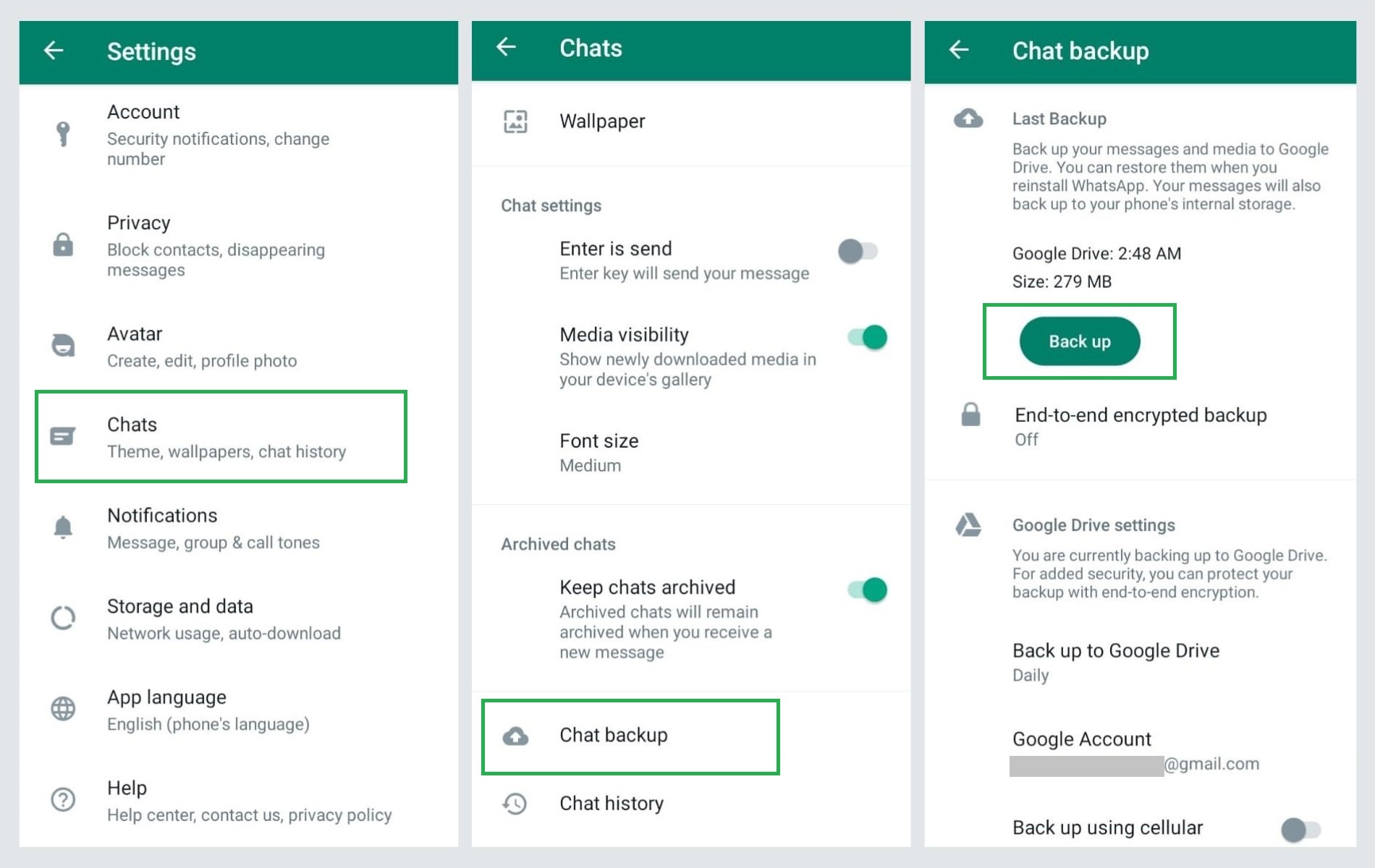 Step 2: Download and Install the WhatsApp Business App
Go to the Google Play Store or Apple App Store depending on your device and search for WhatsApp Business App. It is free download on both app stores. Download and install the app on your device.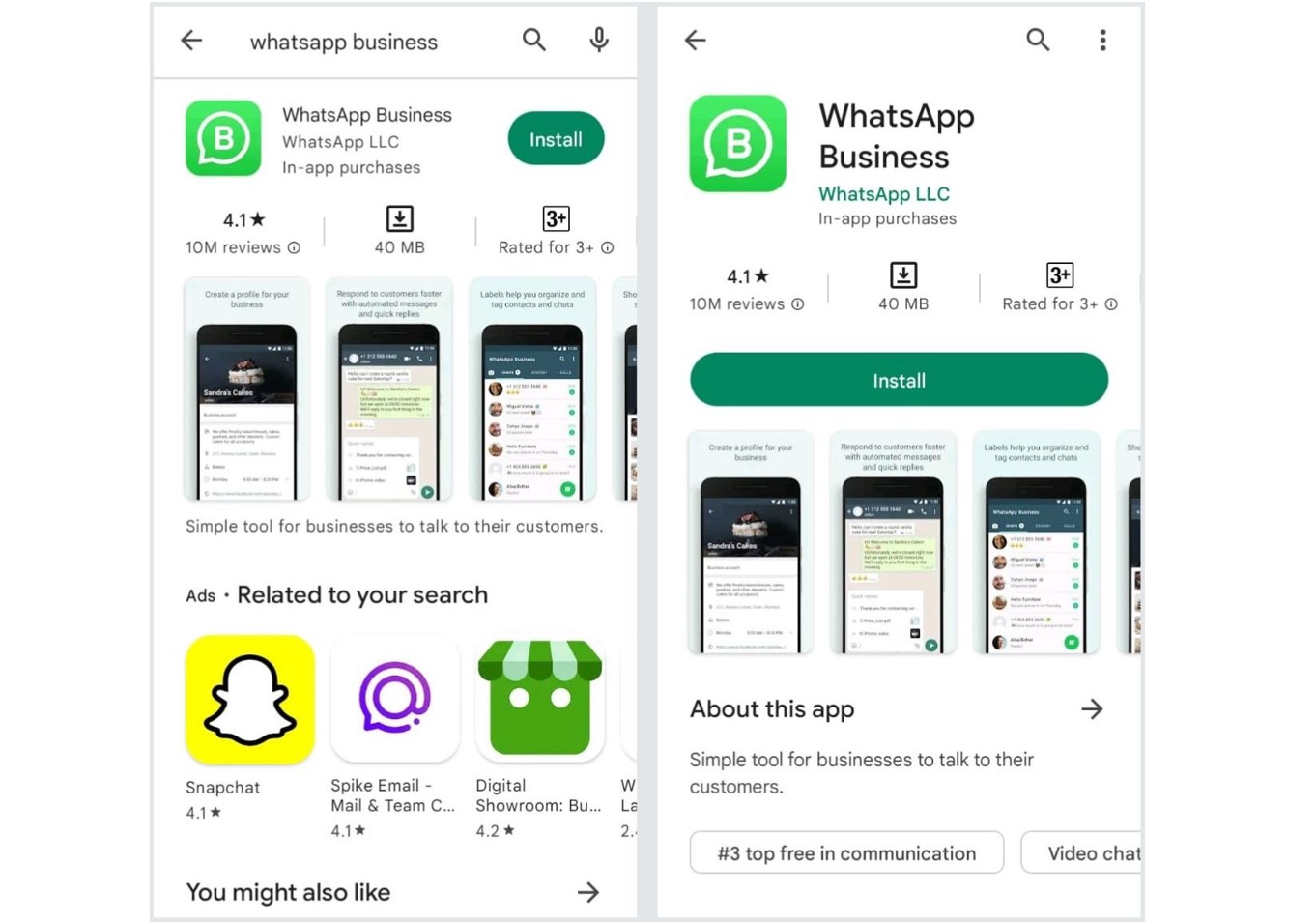 Step 3: Open the App and Complete the Setup
Go through the Terms of Service. Once done, tap AGREE AND CONTINUE to accept the Terms of Service. Now, WhatsApp will automatically identify the number that you've been using in WhatsApp Messenger. You can choose the same number and continue the WhatsApp Business App setup.
Here, you'll see the option to USE A DIFFERENT NUMBER, which will take you through the standard verification process for a new number.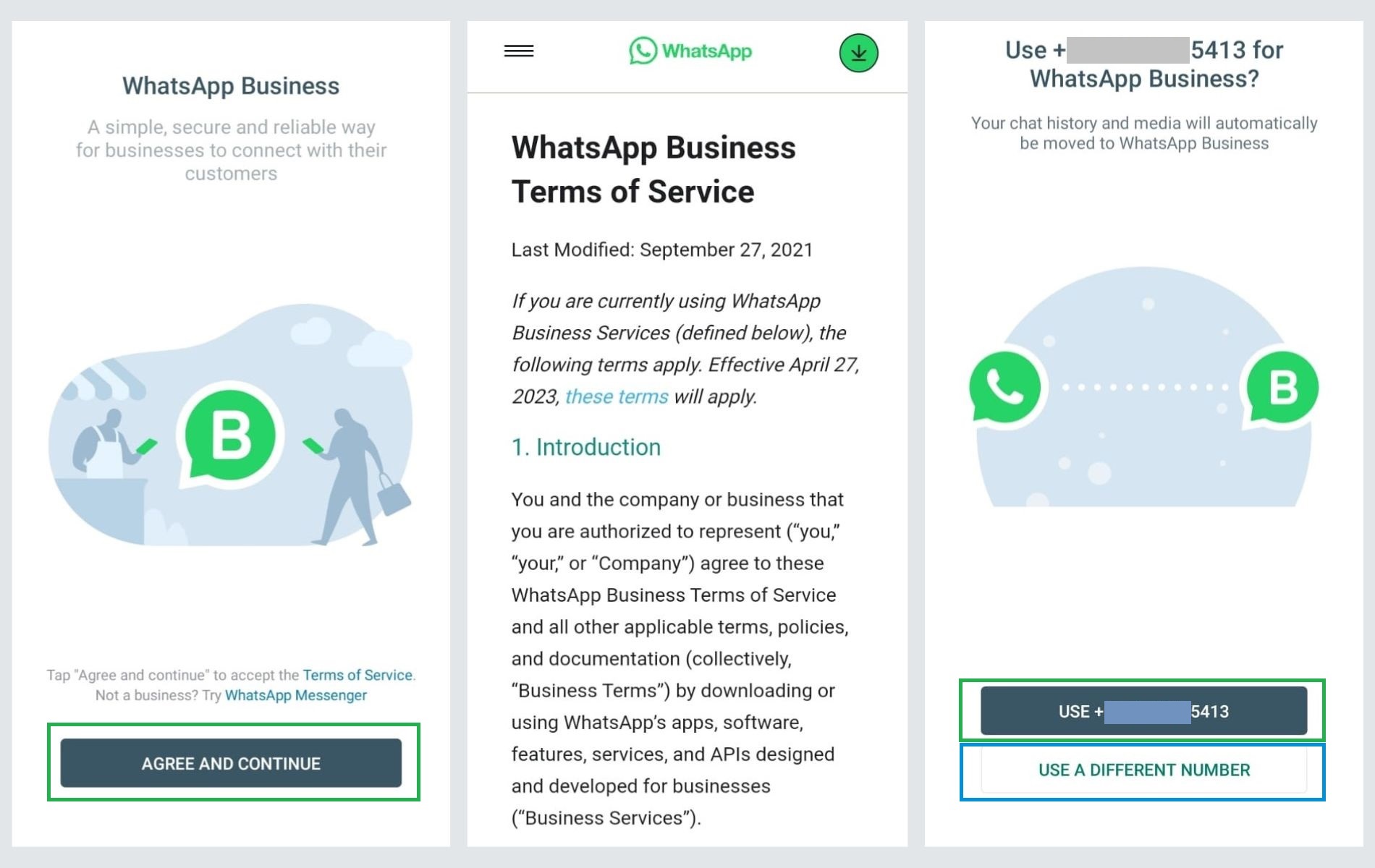 Step 4: Allow Access to Chat History and Media
Tap the CONTINUE > ALLOW options so the WhatsApp Business app can access your WhatsApp Messenger chat history and media.
Step 5: Verify Your Number
Complete the verification of your number by typing the 6-digit code that WhatsApp will send you via an SMS text message.
Step 6: Create Your Business Profile
In the final step, create your WhatsApp Business profile and then tap NEXT. Make sure that you properly edit your business profile with the necessary information such as:
Profile and cover photos
Business name, address, hours, description, and category
Email address and website
Link social media accounts
Catalog
About information
For more details on editing your business profile, you can check out this resource: How to edit your business profile.
Convert WhatsApp Messenger or Business App to WhatsApp Business Platform
Important Notes:
WhatsApp does not allow users to use the same number simultaneously on WhatsApp Business App as well as WhatsApp Business Platform. If you want to use both of these tools, you need to have a different number for each.
WhatsApp Business App is free but the WhatsApp Business Platform has conversation-based pricing. Check out WhatsApp Business Platform pricing to understand the costs involved.
Step 1: Create a Backup
Make sure to back up the chat history of your WhatsApp Business App.
Step 2: Add the Phone Number
Go to Meta Business Manager. Then, add the phone number registered with your WhatsApp Business App or WhatsApp Messenger, whichever is applicable.
Step 3: Create a Display Name
Make sure that you follow WhatsApp's display name guidelines while assigning a display name to your phone number. Submit it to WhatsApp for review. WhatsApp will notify you once the display name is approved. While you're waiting for the approval, you can still use this phone number in WhatsApp Business App if you want. 
Caution:Wait for your display name to be approved by WhatsApp. DO NOT move forward to the next step until it's done otherwise you won't be able to use your phone number.
Step 4: Delete your WhatsApp account
Open WhatsApp Business App and go to Settings > Account. Tap Delete my account. WhatsApp will ask you to confirm your country code and phone number before you tap the final button - DELETE MY ACCOUNT.
Note: Until your WhatsApp account is active on your phone, you won't be able to download a certificate that is needed for the migration process. Wait for a couple of minutes for the number to become available.
Step 5: Proceed with the Registration Process
Once your number becomes available, go back to Meta Business Manager and refresh the browser window. Now, you'll be able to download the certificate. Once done, go through the registration process as usual.
Take Aways
As businesses increasingly focus on leveraging WhatsApp for both marketing and customer service purposes, it's crucial to keep up with the competition. By utilizing WhatsApp Business, companies can enhance their omnichannel customer service strategies, leading to a more positive customer experience.
However, it's important to note that each phone number can only be associated with one of WhatsApp's three products at a time. Before making any changes, it's important to carefully consider whether migrating an existing number or creating a new one makes the most sense for your business.