WhatsApp is no longer just a person-to-person chat application!
It's emerging as a powerful tool for business-to-person communications as well, helping businesses engage with their audience and drive more sales.
Your customers can now use WhatsApp for many different purposes - interacting with your customer support team, browsing products or even placing an order.
But it's crucial to gain the trust of customers so they feel secure and comfortable interacting with your business via WhatsApp.
That's where WhatsApp Green Tick or Verified Badge comes into the picture. A green tick next to your account's name is a sign to your customers that your account is official and reputable.
This blog will cover everything you need to know about the WhatsApp Green Tick. It's importance, requirements, process to follow and best practices to obtain this badge.
What is WhatsApp Green Tick (Verified Badge)?
WhatsApp Green Tick is a verification badge that appears next to the display name on a WhatsApp business account. This badge is assigned by WhatsApp to indicate that it's an Official Business Account and to prevent spam/scams from fake accounts.
WhatsApp assigns the verified badge to businesses that meet its criteria and have gone through a successful verification process. For WhatsApp users, this badge signifies authenticity and trustworthiness.
Why Should You Get a WhatsApp Verified Badge?
WhatsApp is one of the most popular instant messaging apps and it's used by more than two billion users worldwide. Imagine the world of possibilities that you can unlock by connecting with this large audience.
In his October 2020 tweet, Will Cathcart - head of WhatsApp, indicated that WhatsApp is able to deliver nearly 100 billion messages every day.
WhatsApp Business Platform Use Cases:
Here are some of the ways WhatsApp can be helpful as a business tool:
Let your customer browse your products and place an order without leaving WhatsApp.
Send order confirmation messages to customers.
Keep your customers updated about the shipment/delivery.
Share reminders with your customers about special promotions.
Increase sales with upselling and cross-selling.
Re-engage with your customers for cart abandonment recovery.
Increase your return on investment (ROI) by sending customers promotional messages.
Integrate with CRM and platforms for marketing automation.
Integrate with omnichannel shared inbox platforms to manage WhatsApp conversations alongside email, Facebook Messenger, and live chat.
Benefits of Getting a WhatsApp Green Tick (Verified Badge)
It's absolutely free:
One of the biggest advantages of the WhatsApp Green Tick is that it won't add costs to your business.
Gives credibility to your account:
Due to the concerns related to online scams and fraud, customers are usually worried to interact with anyone they don't know personally. With a WhatsApp Green Tick, a business looks more credible and your communications are less likely to get blocked.
Stand out from regular accounts::
Many businesses have started trying WhatsApp marketing strategies, which can become overwhelming for customers. By getting a green tick on your WhatsApp Business profile you can stand out from those non-verified accounts.
Enhance engagement with your customers:
According to GWI's report, 12% of WhatsApp users have interacted with a brand through the WhatsApp messaging app. A WhatsApp Green Tick will validate the authenticity of your messages, increase the likelihood that your messages will be read and ultimately lead to more engagement with your customers.
12% of WhatsApp users have interacted with a brand through the WhatsApp messaging app.
Get recognized with your brand name:
Once you complete the Business Verification process, customers can see the name of your business even if they don't have your contact number saved. This helps your brand be recognized immediately instead of customers seeing a random number.
Difference Between Business Account and Official Business Account
Although both these sound similar, there's a subtle difference between them. So, let's understand each of them:
Business Account::
Any account that is created by a business using WhatsApp Business Platform (formerly API) or by downloading the free WhatsApp Business App is a business account, by default.
Learn more about WhatsApp Business App vs WhatsApp Business Platform (API).
WhatsApp Official Business Account (OBA):
An Official Business Account has an additional layer of business verification by Meta/WhatsApp that's available to accounts created through WhatsApp Business Platform (formerly API). Once a WhatsApp Business Account successfully goes through the business verification process, the account is assigned a Green Tick (Verified Badge) in the WhatsApp Business Profile and in WhatsApp chats with customers.
Not everyone may realize how common it is to WhatsApp message businesses in many countries. In fact, about 175 million people message a business account each day on WhatsApp and more want to do so.
Requirements to Get a WhatsApp Green Tick
Let's look at what you need to get the verified badge:
WhatsApp Business Platform (formerly API) account
WhatsApp Business Platform is a solution for medium to large businesses to connect and engage with customers at scale. To apply for WhatsApp Green Tick (Verified Badge), your WhatsApp Business Account must be connected to WhatsApp Business Platform.
Meta does not approve Official Business Accounts to businesses using WhatsApp Business App. Also, business employees and test accounts do not qualify for Official Business Accounts.
Meta (formerly Facebook) Business Manager Verification
To request an Official Business Account with Green Tick, your business must have gone through the business verification process. Meta requires this step to be completed to ensure that the account is created for a legitimate business or organization.
You can check your business verification status from Meta Business Manager by clicking on Business Information in Business settings. Make sure that you've submitted all the Business details such as legal business name, address, business phone number, website, and tax identifier.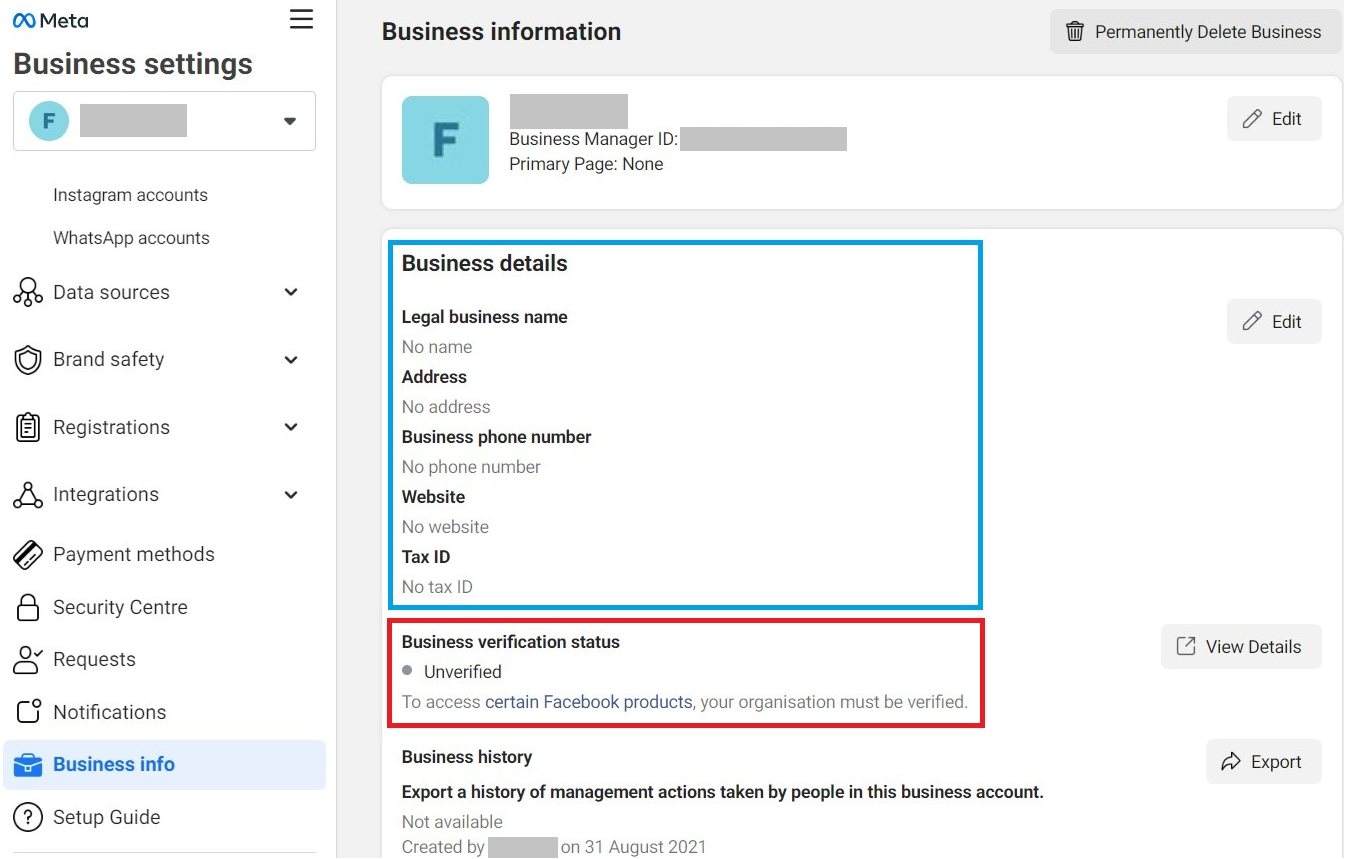 You can initiate your business verification by going to the Security Center in Business Settings. You should see a Start Verification button.
Enable Two-Step Verification
Two-Step Verification (also known as 2FA or 2-Factor Authentication) must be set up on your account. Meta requires this step to ensure an extra layer of security.
In the Security Center, you will have the option to turn on the 2-step verification. You can activate it through any of the three methods:
Authentication app
Text message (SMS)
Security key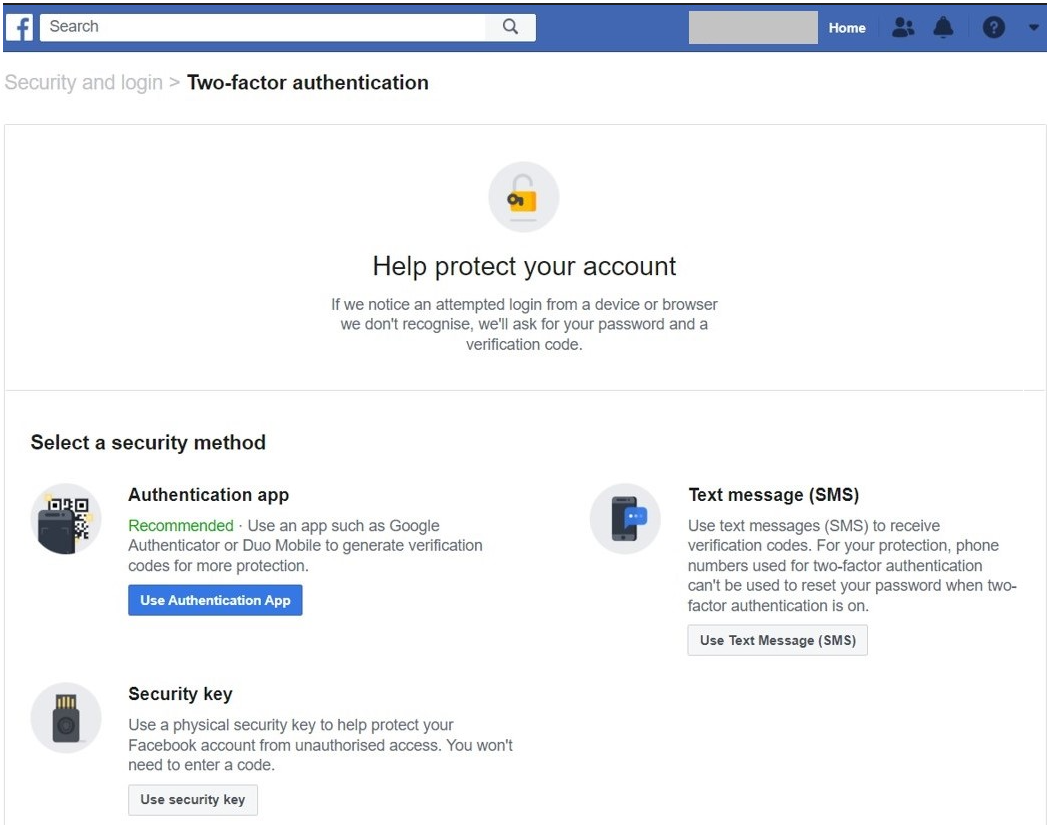 The display name must be approved
The display name is the name that appears on your WhatsApp Business profile. You must ensure that your display name complies with the WhatsApp Commerce and Business policies.
Here's one of the examples given by Meta for a wine glass store:
Accepted: ABC Wine Glasses
Not accepted: ABC Wine
The display name must also ensure that it represents your business in an accurate manner.
Meta has also advised that a display name should not be:
A person's full name
A generic term such as "Fashion"
A generic location or city name such as "New York"
A slogan or a long description
For more information, you can go through Meta's display name guidelines.
Being a Notable Brand
Meta's criteria for WhatsApp Official Business Accounts (OBA) are different from other platforms' policies. Meta requires that the brand has to be notable and well-known and is searched by users.
We'll cover more on this later in Best Practices.
The CEO of a notable brand like Uber, Dara Khosrowshahi also tweeted about how their customers prefer using WhatsApp.
How to Get Your WhatsApp Business Account Verified with Green Tick?
There are two ways to apply for WhatsApp Green Tick:
A) Apply through a Business Solution Provider (BSP)
B) Apply by yourself
We'll take you through the step-by-step process for both of these methods.
A) Apply for WhatsApp Green Tick through a BSP
1. Complete Meta's prerequisites
As we covered in the requirements, first, complete your Business Verification and ensure that the two-step verification is activated. Also, when adding a new phone number for your WhatsApp Business account in Meta Business Manager, you'll need to add a display name. Make sure that the display name is approved.
2. Get access to the WhatsApp Business Platform (API)
You can get access to the WhatsApp Business Platform with the help of a WhatsApp Business Solution Provider (BSP). BSPs are third-party solution providers who have expertise and experience in working with the WhatsApp Business Platform.
Reach out to any BSP that you know or check out Meta Partner Directory.
3. Apply for WhatsApp Green Tick (Verified Badge)
Pro tip: Once you have access to the WhatsApp Business Platform, make sure that you chat with some customers and use the platform for a while before applying for the green tick.
Once everything is ready, you can apply for the WhatsApp Green Tick through your BSP by providing all the necessary information required by WhatsApp to approve your request. Your BSP will take care of the application process on your behalf.
B) Apply for WhatsApp Green Tick on Your Own
In the above guide, we saw how you can apply for WhatsApp Verified Badge through a BSP. You can also apply for a WhatsApp Green Tick (Verified Badge) on your own using Meta Business Manager.
Keep in mind that the requirements for this process are the same. So, make sure that:
You have successfully completed business verification for your Meta Business Account
You have 2-step verification enabled
Your Business Account is connected to WhatsApp Business Platform
Once all that is done, follow this process:
Login into your Meta Business Manager account.
Go to "Business settings".
Under the "Accounts" drop-down, click on "WhatsApp accounts".
If you have multiple WhatsApp accounts, select the account for which you want to apply for Green Tick.
Go to "Settings" and click on the "Contact Support" option.
Click on "Ask a question" and select "WABiz: Request official business account status".
Submit the application with all required details and documents for your business verification.
Once you've submitted the details, wait for the approval of your request. If you want, the status of the application can be viewed from the "Direct Support" tab.
If approved, your account will be upgraded to a WhatsApp Official Business Account and your WhatsApp profile will display the verified badge.
Best Practices to Increase Your Chance of Getting WhatsApp Green Tick
Here are 5 ways to increase your chances of getting the verified badge:
1. Create an online presence through news articles
As we discussed earlier, Meta requires the business to be a notable entity in order to approve the WhatsApp Green Tick application.
But how does Meta define the notability of your business?
To meet this requirement, your business should have a substantial online presence through news articles. Also, it is to be noted that those news articles should be from publications having sizable audiences.
2. Use an official email address
Ensure your company is using email addresses on your own custom domain. In simple words, it should be an email address that ends with the domain name of your business. For example, user@yourdomain.com instead of user@gmail.com.
3. Run WhatsApp campaigns
Running WhatsApp marketing campaigns indicates that you're an active user of the platform. This can increase your likelihood of being approved for the WhatsApp Green Tick / Verified Badge.
4. Increase engagement with an audience
Once you receive access to the WhatsApp Business Platform, engage with as many customers as you can. By engaging with your audience and making good use of the platform, you can increase your chance of getting verified.
67% of users across seven different markets say that their use of messaging channels has increased in the past two years.
5. Achieve Tier 2 Messaging Level
WhatsApp has certain limits about the number of users to whom you can send messages. Tier 2 messaging level allows sending messages to up to 10,000 unique users in a rolling 24-hour timeline. Gaining a tier 2 messaging level can also give you an added advantage to get the approval.
Important things you need to know about the WhatsApp Verified Badge:
We've curated some of the most common questions and their answers that will help you get the complete picture:
What is the cost of getting WhatsApp Green Tick verification?
WhatsApp Green Tick is free of cost from Meta/WhatsApp. If you are going to apply for it through a Business Solutions Provider (BSP), there are some BSPs who can do it for free on your behalf.
Are there any special features that come with WhatsApp Green Tick / Verified Badge?
The primary benefit is that your WhatsApp profile would appear with a display name and a Green Tick even though the customers may not have your number saved in their contacts. Otherwise, it functions the same as any other WhatsApp Business Platform account.
How long does it take to get your WhatsApp Business Account verified?
Usually, WhatsApp responds to your application within 1-4 business days.
Which businesses are not eligible for WhatsApp Verified Badge?
When using the WhatsApp Business Platform, you need to ensure that your business complies with all WhatsApp policies and any applicable laws and regulations.
Here are some of the products or services that aren't allowed on the platform and aren't qualified for the green badge:
Illegal products or services
Drugs, whether prescription, recreational, or otherwise
Tobacco items and related paraphernalia
Alcohol
Unsafe ingestible supplements
Weapons, ammunition, or explosives
Adult products or services
Body parts and fluids
Medical and healthcare products
Items or products with overtly sexualized positioning
Real money gambling services
Dating services
Real, virtual, or fake currency
For more information, you can check out WhatsApp Commerce Policy.
Can I use WhatsApp Business without a green tick?
Yes, you can. WhatsApp Business Platform offers the same functionality whether you use it with or without the green tick.
What do I do if my WhatsApp green ticket application is rejected?
WhatsApp has specified that WhatsApp business verification is a closed pilot program for a small number of businesses. If you don't get approval for the green tick, don't be discouraged.
You can continue using the WhatsApp Business Platform for your campaigns and customer support. Also, you can submit another application after 30 days once you think you have a stronger case to get verified.
Take Aways
The WhatsApp verified badge can help to make your WhatsApp marketing strategies and customer support more effective. Considering the benefits, it's worth applying for the green tick after making sure you meet all the requirements.
Get help if you need it by reaching out to a BSP. But make sure you don't pay any unnecessary fees to get the badge.
Before you put in too much effort, make sure your target audience uses WhatsApp. While it's popular in many countries, some countries may not have a large enough audience using the app. Research by AudienceProject shows that 50% of Americans use WhatsApp daily whereas the stats for other notable nationalities are as follows: German (89%), Finnish (83%), Swedish (43%), Norwegian (38%), and Danish (26%).
50% of Americans use WhatsApp daily whereas other notable nationalities are: German (89%), Finnish (83%) and Swedish (43%).
If a significant portion of your target audience is using WhatsApp, it may be worth investing in obtaining a green tick for your account. By leveraging the platform effectively, you can increase the reach of your business and potentially gain more customers. WhatsApp can be a powerful tool for expanding your business.