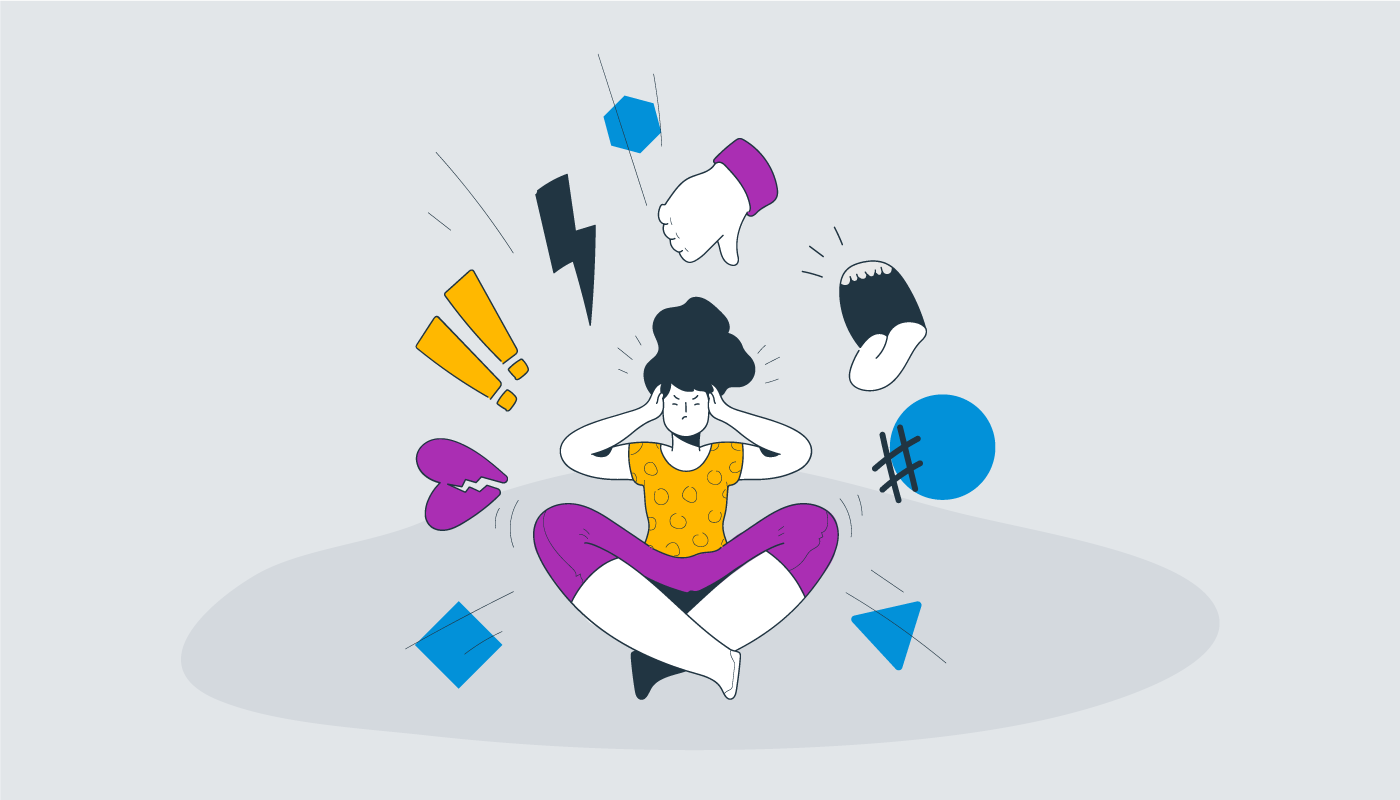 It's almost impossible to avoid situations when a customer is not happy with your service. We're Enchant and we help companies have better conversations with their customers. Today we're doing that by sharing our tips on how to handle customer complaints. But usually, we do that with awesome software to help manage your customer communications!
No matter how good your product or customer-centric your service approach, there will be times when you have unhappy customers complaining about something they don't like.
But be aware of this: the customer that bothers to complain is doing your business a favor.
That's a bold statement, but one backed by research.
Customer experience expert Esteban Kolsky (currently SAP's chief of customer experience) found that 91% of customers who are unhappy with a brand leave for a competitor without even registering a complaint.
The customer who bothers to complain – a mere 1 in 26, according to Kolsky – is providing you with an opportunity to win them back.
91% of customers who are unhappy with a brand leave for a competitor without even registering a complaint.
By helping a customer with their complaint, you have the opportunity to learn something that can help prevent other customers, many of whom won't bother to complain, from having the same experience.
9 Techniques for Resolving Customer Complaints
Here are 9 tried and tested techniques that apply to nearly any customer service interaction, regardless of your product or service.
1. Be Prompt and Personal
To demonstrate just how vital prompt response to customer complaints can be, the Harvard Business Review (HBR) studied customers who sent complaint messages to airlines and wireless companies via the Twitter social media platform.
Their research surprised even the study's authors. They found:
When airlines responded to a customer's complaint within 5 minutes, the customer was willing to pay almost $20 more for a ticket on the same airline in the future.
When wireless providers responded to a customer's complaint within 5 minutes, the customer was willing to spend $17 more each month for their phone plan in the future.
Most customers were not only willing to stay with the offending provider after their complaints had been handled promptly, they were prepared to spend more on future purchases with that vendor.
2. Stay Calm and Listen
The most crucial technique for resolving a customer complaint is staying calm throughout the process. This is necessary to think clearly, listen closely to what the customer is saying, and act with intent rather than impulse.
Remember that a customer complaint is not personal. While you shouldn't tolerate abusive behavior from any customer, you shouldn't value their complaint or criticism less just because they are less than kind or eloquent in presenting it.
3. Thank the Customer and Apologize
It's important to demonstrate integrity and honesty to the customer by acknowledging that your company makes mistakes. Expressing sympathy and understanding for the customer's experience is equally essential.
Even if you don't feel the company made an error, you can apologize for the customer's negative experience. Apologies can work wonders. They make customers feel that they are cared about and being heard.
By thanking the customer for their complaint, you are validating them and helping them feel like partners in the resolution process.
4. Reassure the Customer of a Solution
A complaining customer will often demand an instant solution. Kolsky's customer retention research confirms the importance of quickly resolving customer issues.
67% of customer churn could be prevented if the customer's issue was resolved during the initial engagement.
Kolsky determined that 67% of customer churn could be prevented if the customer's issue was resolved during the initial engagement.
Always reassure the customer that the company will take steps to resolve the mistake and not repeat it in the future. Be as specific as you can. In any case, let the customer know that their complaint has provided the company with the opportunity to improve service.
5. Ask the Right Questions
Determining the actual cause of a customer complaint can be difficult. The process of questioning is a skill learned and sharpened over time.
Socratic questioning is a technique to bring out facts that previously resided beyond the person's active awareness. By asking the customer a series of focused but open-ended questions, the agent can encourage the customer to reflect on their experience.
Through Socratic questioning, the agent can obtain additional information to help determine more precisely what is triggering the complaint and what solutions the customer will accept.
Here are some examples of Socratic questioning applied to typical customer service situations:
Clarification questions: What do you mean by…? Or Could you please tell me what text you see when you click that button?
Assumption questions: Why does the customer assume that you don't care about customers who make small purchases?
Probing questions: Does the customer feel that a particular agent didn't treat them respectfully?
Implication and consequences questions: Is the customer implying that more demo videos need to be added for your product?
Viewpoint and perspective questions: What would you do if a customer came to you with this complaint?
Questioning the question: Why does the customer think they should be allowed to keep the product even if they were given a full refund?
Asking the right questions can help determine more precisely what is triggering the customer's complaint and what solutions they will accept.
For more information, see the University of Connecticut's easy-to-understand online resource about Socratic questioning, including extensive question examples.
6. Take Necessary Action
The customer ultimately wants you to resolve their complaint. Sometimes, they will ask for a solution that you can't provide. In such instances, try to offer an alternative so the customer doesn't walk away empty-handed.
Let's say that you are an eCommerce website and your system didn't apply free shipping at checkout as it should have. The customer wants free shipping on their order, but the order has already been processed. The obvious solution would be to refund the customer what they were mistakenly charged for shipping.
A practical alternative might be to offer an account credit to the customer that's higher than the mistaken shipping charge. This can make them feel that they've been made even better than "whole" while ensuring they will return to your company for a future purchase.
Whatever you do, treat the customer as a partner in the process. Ask for permission to take the steps available to you for a resolution. For example, ask if it's all right for you to log in to their account to investigate what went wrong. Ask if they would prefer an account credit for $35 instead of a shipping refund of $25 if that's an option.
7. Keep Transfers Smooth
Few things will annoy an irate customer more than having to repeat their complaint to someone else because of a transfer. But sometimes, a transfer cannot be avoided, so make sure it's as smooth as possible. Explain to the customer that you need to transfer them and why, using terms that focus on how the transfer will benefit them.
Give the colleague who is receiving the transfer as much information as possible to lessen the extent that the customer will have to repeat themselves. Use customer service software to provide that information out of the customer's view and earshot, so the next agent can greet them personally and dive into resolving their problem.
8. Follow Up
If the customer service contact was successful, you presume that the customer received what they needed from the interaction. To ensure that's how they feel, follow up 24-48 hours later to ask about their experience.
Never underestimate the power of follow-through. If their complaint was about a systemic problem, such as a bug in your order checkout process, follow up once the problem has been fixed. Even if that happens weeks later, let them know it's been fixed and thank them again for making you aware of the problem.
Your most unhappy customers are your most significant source of learning.
9. Learn from the Experience
Handling a customer complaint is always a learning experience. It helps the company improve its business processes and helps the service agent to refine their professional skills. If the interaction doesn't go smoothly or the customer remains unhappy despite your efforts, review everything to identify what you can do better or differently next time.
Analyzing customer complaints will help you highlight issues with your internal workflows and customer service interactions. Constant training and re-training based on the information gathered from complaint analysis is essential to help prevent the same issues from recurring.
For example: analysis reveals a pattern of complaints about bristles falling out of a certain brand of paint brush. There is evidently a quality control problem at the factory. As a result, you alter business processes to inspect incoming deliveries more aggressively to avoid selling more inventory with the same problem.
Another example: team performance data shows that a customer service agent is issuing a much higher percentage of customer refunds than the department average. Management determines that he tends to offer the refund early in the interaction and doesn't offer any alternatives. As a result, that agent undergoes retraining.
5 Ways to Proactively Reduce Customer Complaints
Eight in 10 consumers (80%) say that convenience, knowledgeable help, and friendly service are the essential elements of a positive customer experience, according to PricewaterhouseCooper (PwC).
With that in mind, here are four ways to proactively reduce customer complaints.
80% of consumers say that convenience, friendly service, and knowledgeable help are essential to a positive customer experience.
1. Seek Customer Feedback
One of the most common mistakes companies make is assuming they know what their customers want and need. The company's current success doesn't mean you are accurately addressing your issues and exploiting all your growth opportunities.
Seek customer feedback through surveys, questionnaires, and tools like the Net Promoter Score® customer experience metric.
There are also no-code tools such as Enchant Inbox, which has built-in satisfaction ratings. When you send an email, Inbox automatically includes a link in the signature to gather customer feedback on their experience.
The more you hear about potentially negative customer sentiment, the more quickly you can work to minimize damage to your reputation.
2. Monitor Social Media and Review Sites
Bad reviews travel fast (just like bad news), especially on the internet. Monitor what is being said about you and respond to complaints, comments and questions as quickly as possible.
This applies to social media, such as Facebook, Twitter, Instagram etc. Pew Research has studied the demographics of those who use the different platforms. Compare their findings to your target audience to determine which platforms to compare:
Also, check review sites such as Google, Trustpilot, Yelp, TrustRadius, and GlassDoor.
You can set up notifications on the platforms that let you know when your company's name is mentioned in a post or a comment is made on one of your posts or your page.
A brand is no longer what we tell the consumer it is – it is what consumers tell each other it is.
3. Set Clear and Realistic Expectations
At the end of the day, customers just want to be happy. They want to know that their hard-earned money was well spent, and that they made a good choice in choosing your product or service. The best way to proactively reduce customer complaints is to set clear and realistic expectations from the start. When customers know what to expect from your product or service, they're less likely to be disappointed - and less likely to complain.
Be upfront about what your product or service can and cannot do. Let them know what they can expect in terms of quality, durability, and performance. For example, if your service is experiencing an outage, whether scheduled or unexpected, communicate the details to them and provide timely updates. The most important thing to keep in mind is to make sure that you deliver on your promises. If you can do it well, then you'll find that customer complaints are few and far between. With 90% of customers saying that most brands fail to meet their expectations, there's definitely room for improvement.
90% of customers believe that most brands fail to meet their expectations when it comes to delivering a good customer experience.
4. Identify and Analyze Common Complaints
Nearly every company receives at least a handful of specific customer complaints repeatedly and on a regular basis. Review customer service contacts to identify those common complaints and then analyze how to lower their incidence to improve the overall customer experience.
For example, let's say that one of your most common customer service issues involves customers returning a product because it doesn't work as expected. At first glance, you suspect a quality control issue at the factory. Digging deeper you find that the sales associates in that department have been recommending the wrong product due to poor knowledge. You are now in a position to proactively reduce future occurrences of this complaint by providing additional product training to your staff.
Many help desks like Enchant come with built-in reports to analyze and highlight trends to help you uncover the real reasons behind recurring problems.
5. Fix Underlying Problems
Look at the list of common complaints you prepared in the last section. Are there issues that are likely to repeat in the future because of an underlying problem? Then fix the problem!
That may sound obvious, but failing to address the core problem related to a customer service issue happens all too often.
In the example we used in the last section, the true cause of customer complaints was that company sales associates did not have enough product knowledge. By providing additional training, the company was able to fix the underlying problem and proactively reduce future customer complaints.
Conclusion
Although it may seem like a hassle, customer complaints are actually a valuable opportunity to improve your business. If you fail to make things right for your customers, you may lose the trust that they have put in you. If you handle them successfully, you can turn unhappy customers into loyal advocates for your brand.
By handling customer complaints successfully, you can turn unhappy customers into loyal advocates for your brand.
Remember that business is a competition, and the customer is your prize. Putting your best efforts to resolve customer complaints and taking proactive steps to reduce them in the future can make all the difference.
Develop a list of common customer complaints, analyze root causes, and take actions to fix the problems. By following these simple tips, you can create an exceptional experience for your customers that will keep them coming back for more.