Dialpad Contact Center is a cloud-based solution designed to optimize communications via voice calls and text messaging. With built-in AI and analytical features such as customer sentiment tracking, automatic call transcription and manager alerts, the platform empowers agents to deliver personalized assistance and have effective communication with customers.
The product has a user-friendly interface that is easy to navigate, providing an intuitive experience for agents. Additionally, its seamless integration with Salesforce & Zendesk makes the workflow efficient for businesses using these CRM platforms.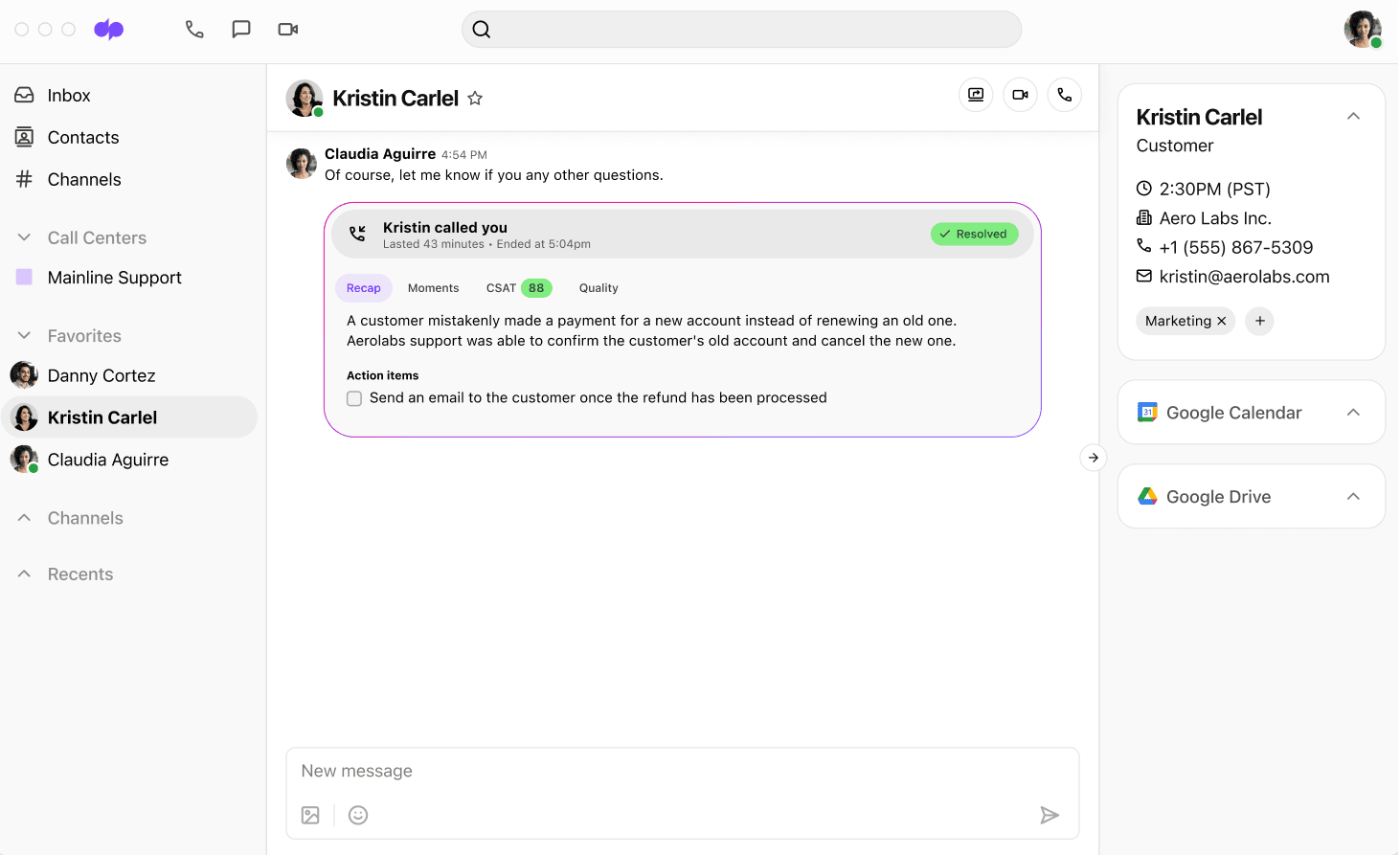 Dialpad's business communication package combines contact center with VoIP phone systems features like audio & video conferencing, number forwarding and custom call routing. The tool also supports HIPAA/BAA data security compliance measures, useful to businesses who must meet these regulatory requirements.
The solution enables businesses to connect multiple phone lines, accommodating growing teams. With its mobile app, users have the flexibility to take calls on the go, ensuring uninterrupted connectivity and customer support.
Why are Businesses Looking For Dialpad Contact Center Competitors?
One major drawback of Dialpad Contact Center is its pricing structure, which can be considered expensive for small to medium-sized teams. With a cost of $80 per seat and a requirement of at least 3 seats, it may pose a financial challenge for organizations with limited budgets. The contact center services are also only offered in United States and Canada.
A heavy reliance on AI can sometimes lead to problems where things may not make sense. Customer feedback has highlighted instances where positive calls were wrongly classified as negative, indicating less than optimal sentiment analysis. Additionally, there have been complaints about the speech-to-text feature misspelling words or completely incorrect transcription, which makes reviewing the call a bit tedious.
Many customers experience glitches in its voice calling feature, resulting in frequent dropped calls or issues with the call answer button not functioning properly. Inconsistent call quality is also a concern which can result in situations where the caller or the agent cannot hear each other or voice is delayed. There have been also instances where calls fail to transfer to phones successfully. These issues can lead to negative customer experiences, causing frustration and inconvenience.
Some customers report that the app struggles to handle high volumes of calls or when they have larger teams, resulting in performance challenges. Another common complaint is the delayed interface updates, where multiple agents can be on the same call without immediate notification, leading to confusion and potential overlapping interactions.
9 Best Dialpad Contact Center Alternatives To Try
Let's take a look at some Dialpad Contact Center alternatives to help you decide which is the best fit for your team. Here are our top 9 picks for Dialpad Contact Center competitors.
1. Enchant Contact Center
Enchant has been designed from the ground up with ease of use in mind. It's a battle tested contact center solution and offers a wide range of features to help you serve customers effectively across all channels including voice, text messaging, social media, live chat and email. Enchant is a great Dialpad Contact Center Alternative if you want something more reliable and affordable.
Enchant offers a user-friendly and intuitive interface that is both familiar and easy to learn. Whether you are a team of 3 or 300, there's plenty of room for growth and scalability. What makes Enchant an worthy Dialpad Contact Center competitor is its emphasis on collaboration, whether it is shared drafts for responses, clear ownership of a conversation or real-time coaching during an ongoing call, it is the ultimate tool for team work.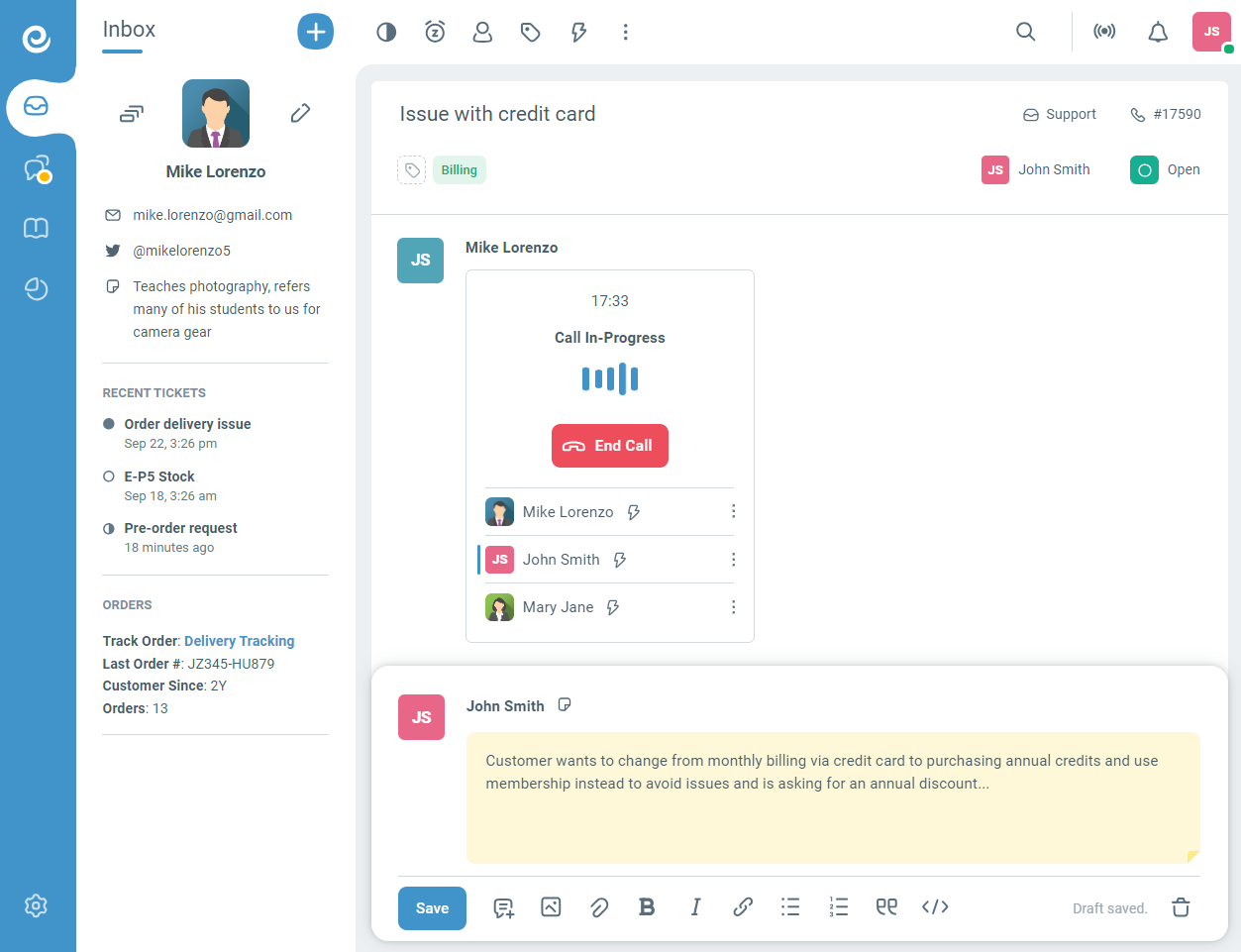 Enchant has been around for over a decade now. Of course, we may be a little biased, but we stand by the quality of our product and our commitment to our customers' success. Enchant does not offer hardware tools such as VoIP phone system which allows us to focus better on delivering high quality software and top notch support to our customers.
With built-in automation and AI tools your team can keep their focus on delivering excellent customer service. The flexible features include a robust set of workflow customizations, to fit the needs of teams from a variety of different industries. Many of our customers migrated from Dialpad Contact Center and have successfully grown their businesses with Enchant, and you can too!
What Enchant offers:
Inbound & outbound calling with voicemail and speech-to-text transcription.
Advanced softphone features like warm transfers, call monitoring and whispering to collaborate on ongoing calls.
Robust helpdesk shared inboxes with customizable folders, automations, and collaboration tools.
Omnichannel support - receive and respond to customers via voice calls, SMS, WhatsApp, Facebook Messenger and Instagram channels.
Built-in live chat and knowledge base for quick answers. Great for customers who want to resolve their issues without speaking to an agent.
Customer Satisfaction Ratings (CSAT) so it's easy to find out how happy your customers are.
In-depth analysis and reports that give you insights on trends, team performance, and customer satisfaction.
Easy integration with popular apps such as Shopify, Slack and many more.
Simple, affordable pricing: $15 per user, per month. No annual contracts or nasty surprises.
Pros:
Voice, SMS and WhatsApp work using your own Twilio account - No extra charges per message or per call minutes.
Ability to take calls on the browser or on an external device.
Per inbox customization call queue sizes, hold times, and audio for greetings for incoming calls.
No ticket numbers or log-ins means Enchant is invisible to customers. They only see the stellar customer service they receive!
Easy and intuitive interface. Quick setup with no need for additional training.
Multiple inboxes with their own permissions and settings. Handle requests individually, or in a single unified queue.
Manage all your brands and departments separately, but through one single account.
Supports over 20 languages.
Cons:
No customer forums or customer dashboard.
Video conference is not supported.
2. Freshdesk Contact Center
Freshdesk Contact Center (formerly Freshcaller) is a popular tool for managing customer calls at scale. With enterprise features like multi-level IVR, automatic call distribution, and voicebots, businesses can handle their communication processes efficiently. Real-time call dashboards, call routing, post-call transcripts, and reports offer additional benefits such as tracking call metrics, directing calls to the appropriate department, and analyzing call performance for continuous improvement.
Freshdesk Contact Center helps provide personalized support with its integrations with popular CRM platforms like Salesforce, HubSpot, and InfusionSoft. The product also offers the flexibility to use the tool on both desktop and mobile devices, with dedicated mobile apps available for both iOS and Android phones. This makes it easy for teams to efficiently manage customer interactions on the go improving their responsiveness.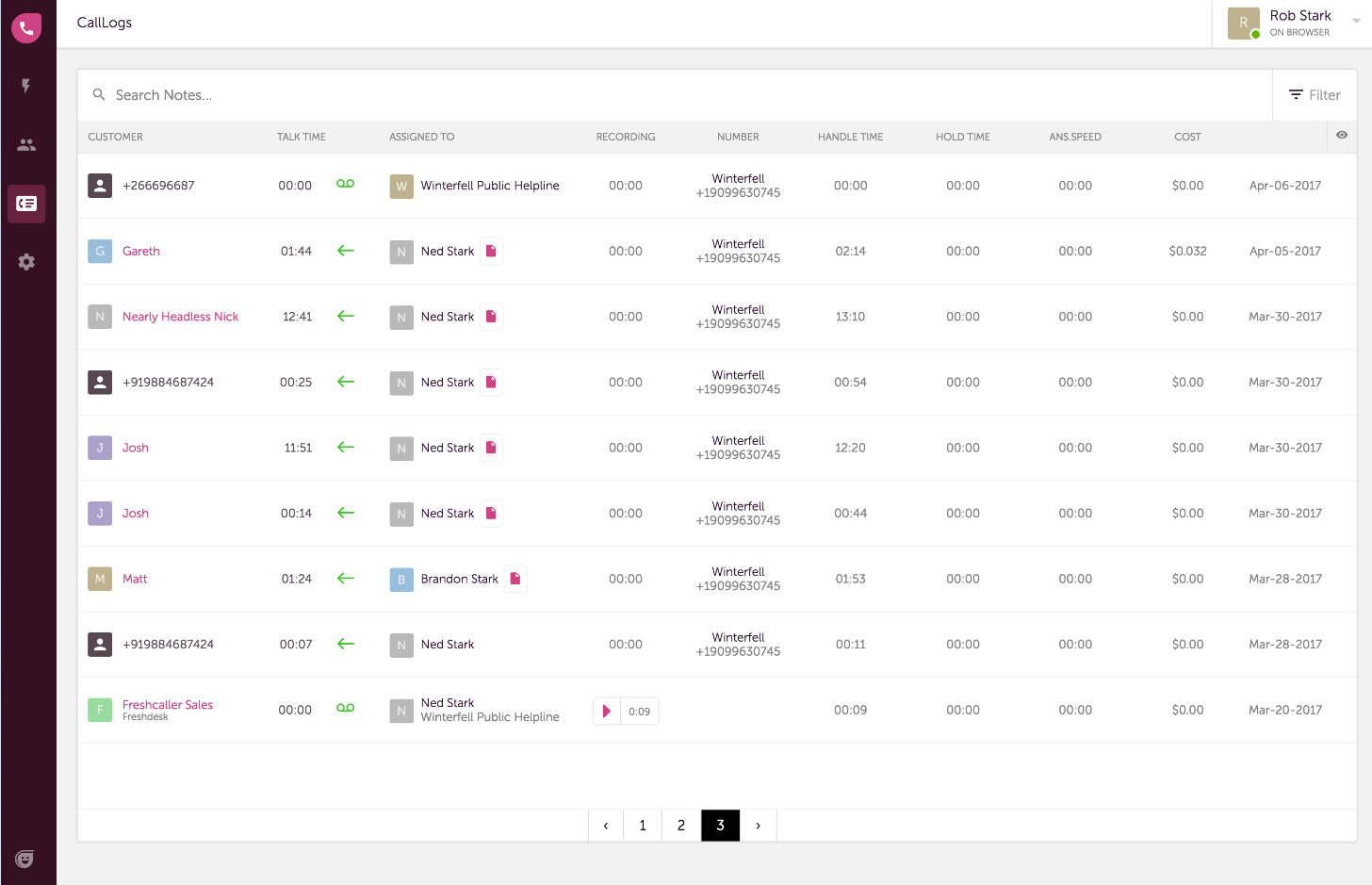 Freshdesk is part of a bigger suite of products called Freshworks. If you're looking for a tool that offers marketing and sales features, it's a good idea to check out the rest of the Freshworks suite. Using Freshworks alongside Freshdesk Contact Center lets you connect various tools that handle specific tasks. However, it doesn't quite feel like an all-in-one integration solution.
If you're just getting started and want a product with a free plan, Freshdesk Contact Center could be the right Dialpad Contact Center competitor for you. However, it is important to note that the free plan doesn't come with free call minutes and plan is quite limited in what it offers. Even the lower paid plan lacks features such as warm transfer or basic call queues, pushing most small-medium business with growing teams to higher tiers.
Another thing to watch out with Freshdesk Contact Center is the missing support for WhatsApp or Facebook Messenger channels. For these channels, you'll need to use their Freshdesk solution which comes with it's own separate interface and pricing structure. If you want a solution that has native support for channels like SMS or Instagram, Freshdesk might not be the right fit.
What Freshdesk Contact Center offers:
Call queue management and routing.
Automatic call distribution and voicebots.
Real-time dashboards for voice calls and call metrics.
Local and international VoIP phone numbers from 50 countries.
Integration with other Freshworks products like Freshdesk & FreshSales.
Pros:
Integrations with popular CRM tools (Salesforce, Hubspot etc).
Mobile apps for iOS and Android devices for on the go support.
Callback queue for virtual hold.
Custom reports and speech enabled IVR at higher plans.
Limited free plan for new startups.
Cons:
Missing SMS and Instagram channels.
Clunky integration with Freshdesk - contacts are not shared between the apps and agent has to go back and forth between the interfaces to complete the after call work like entering the call ticket details manually.
It's not affordable for small - medium business with growing teams. Many features like IVR or call monitoring cost at least $47 per seat or more.
Enterprise level features mean more complexity and a steeper learning curve.
3. RingCentral Contact Center
RingCentral is a cloud communications company that offers services such as VoIP phone systems, voice calls, and team messaging solutions to businesses. In addition to omnichannel features such as voice, messaging and chat, the RingCentral Contact Center stands out by offering integrations with popular CRM tools like Salesforce, HubSpot, and Zoho.
If your teams needs a tool with video conferencing functionality RingCentral Contact Center can be a great DialPad alternative for you. RingCentral Contact Center also supports data security compliance measures such as HIPAA and PCI, useful to businesses who must meet these regulatory requirements.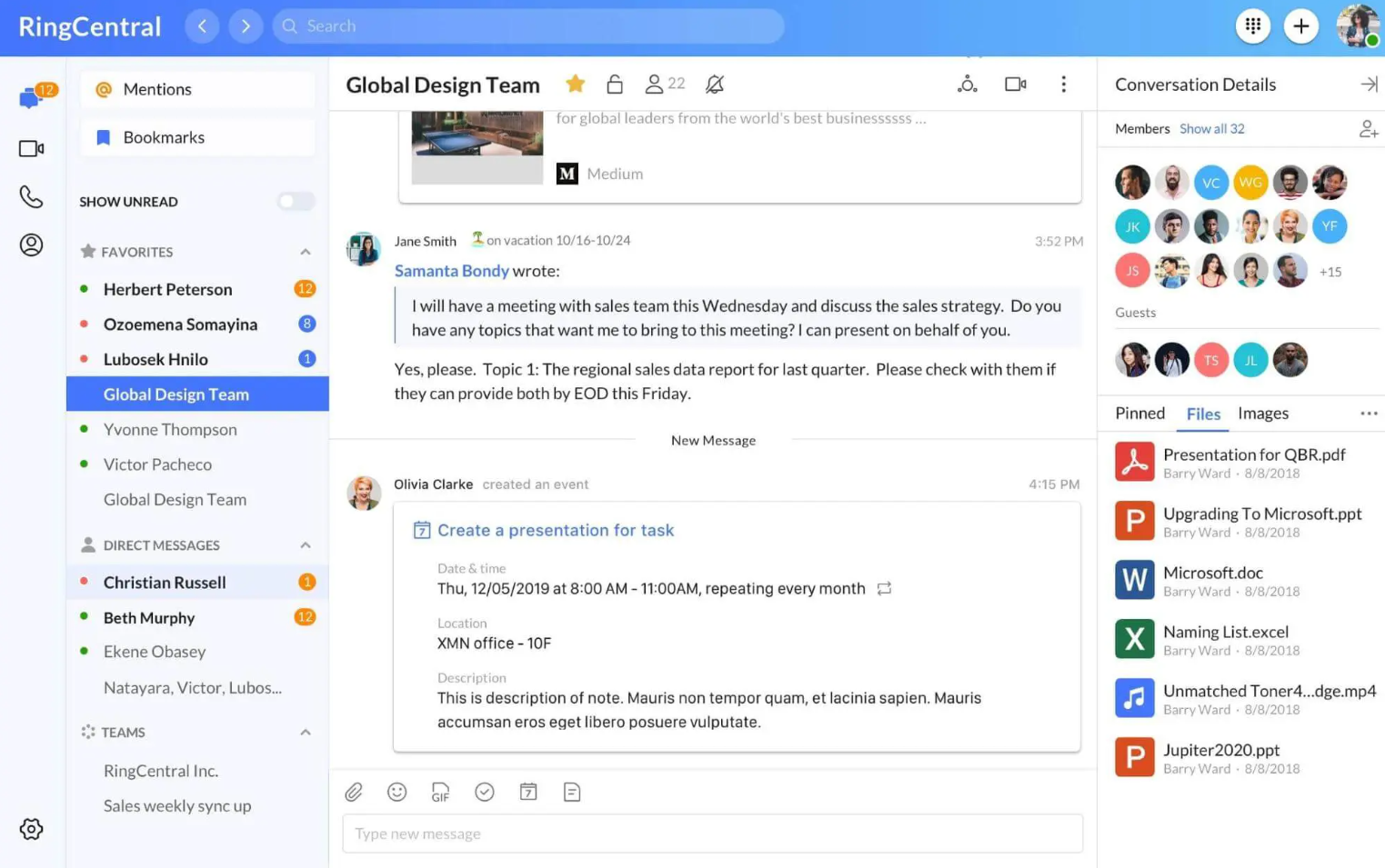 For a small-medium business with growing teams, their contact us pricing approach may not be very practical - especially if you're not using all of the features. Their Contact Center is actually a different product by NICE InContact that is sold under a partnership with RingCentral - something to be aware of if you're expecting a true all-in-one solution.
When it comes to receiving and answering phone calls, RingCentral Contact Center customers have experienced dropped calls or connection issues causing service disruption. Some features such as text messaging has been known to stop working without any warning. Such issues might cause frustration for your team, if you're looking for a more reliable solution.
Another thing to watch out with RingCentral Contact Center is the quality of customer service. According to customer reviews, they are notoriously difficult when it comes to cancelling a subscription or migrating off their platform. Many customers have also expressed frustration with the lack of timely resolution to bugs & issues.
What RingCentral Contact Center offers:
Omnichannel support including voice, SMS, and email.
Video and Audio Conferencing.
Real-time dashboards and historical reports.
AI self-service and chatbots.
Skill-based call distribution and automated routing.
Pros:
Integration with RingCentral MVP solution.
Mobile apps for on the go support.
Advanced call recordings & sentiment analysis at higher plans.
Built-in integrations with popular CRM tools like Salesforce.
Meets HIPPA & PCI compliance.
Cons:
Need to contact sales for a price, customer reviews claim it to be expensive.
Contact Center product is actually a different product resold under their brand name.
Poor voice experience with dropping calls and connection problems.
Users find that the interface is outdated and not so user-friendly.
Customer support is slow and lacks timely resolution of issues.
Performance issues with mobile app, getting hanged during calls.
4. Air Call
AirCall operates as a cloud-based call center system, primarily known for its focus on voice calling features. The product's design simplifies the process of obtaining toll-free and international numbers, it enables companies to serve customers globally without the need for a physical presence.
It supports integration with popular CRM tools such as Hubspot and Salesforce. This popular feature speeds teams up by automatically pulling up the customer's contact information for additonal context when receiving a call. The product takes a step further by integrating with helpdesk solutions like Zendesk, offering teams the option to add voice to their customer communication channels.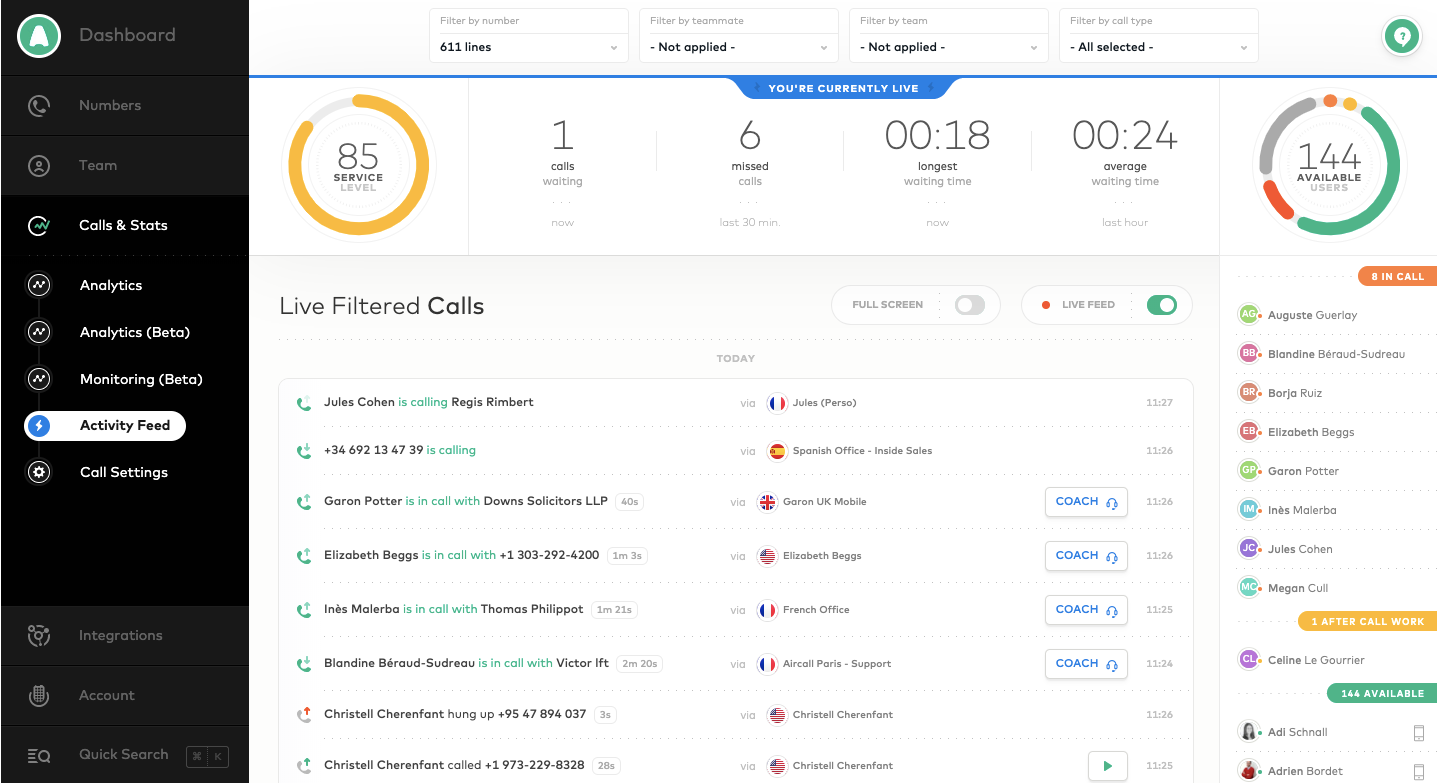 If you're primarily looking for basic voice call features that your team can use on-the-go via mobile apps, AirCall can be a good DialPad Contact Center alternative for you. But if you are looking to use a centralized contact center with true omnichannel capabilities, the lack of built-in support for messaging channels like WhatsApp or social media, will be a problem with this solution.
A common sentiment in customer reviews is that AirCalls's pricing structure is offers limited functionality for the cost. With a maximum limit of 3 teams and missing collaboration features like call monitoring at the lowest price point, it may not be an less than ideal choice for growing teams.
Some customers expressed dissatisfaction over poor onboarding and lack for responsiveness when it comes to resolving bugs. The platform is also known to experience frequent service interruptions according to serveral reviews, making the product less reliable for some teams.
What AirCall offers:
Phone system with international and toll free numbers.
Call routing & forwarding to external devices.
Call transcription and call recordings.
SMS support for an extra cost.
Analytics & Reporting - Live feed at higher plans.
Pros:
Mobile apps for iOS and android for on-the-go teams.
Collaborative features like Call monitoring and warm transfers.
Simple and easy to use interface.
Integrations with popular tools like Salesforce, Zendesk and Slack.
Cons:
Minimum 3 seat for starter plan means a commitment of at least $90 per month.
Only voice and SMS channels - no Email, Facebook Messenger or WhatsApp.
Complicated onboarding & customer service not responsive enough to issues.
Must upgrade to higher tier for monitoring, whispering, and custom reports.
Frequent service interruptions and outages.
5. Zendesk Talk
Zendesk Talk is a phone call management tool that converts call into tickets allowing support teams to manage phone calls the same way as they do for email or chat tickets. It is sold as a as part of Zendesk Support Suites, a multi-channel help desk solution. It helps teams streamline their calls by automatically adding call recordings to the ticket at the end of each conversation, making the follow-up and review process more convenient.
The product also provides in-call collaboration through integrated features like call transfer and internal notes, facilitating effective communication between team members. It allows agents to send follow-up emails or text messages on the same thread right after the call, adding a higher level of flexibility to a team's workflow.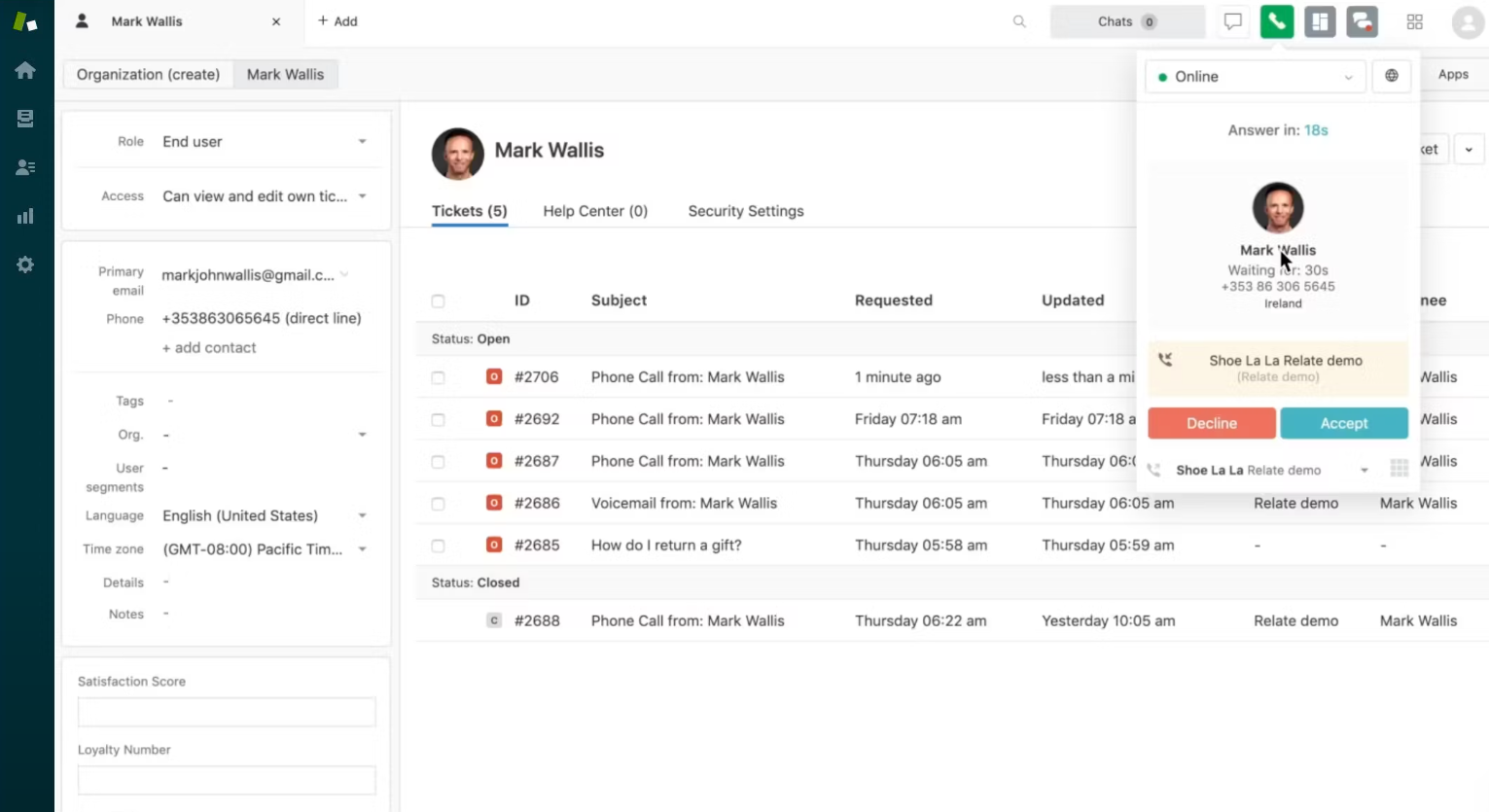 The product also comes with ready-to-go integrations with over 1000 apps, available through Zendesk marketplace, saving time for many teams. If your team is seeking enterprise-level features such as call wrap-up time limits, IVR and conference calling capabilities, Zendesk Talk could be the right DialPad Contact Center alternative for you.
Zendesk talk offers six months free usage of the platform to new startups that have received funding and have teams smaller than 50 agents. However, once this incentive ends, even their lowest plan with limited features will still cost ($69 /agent/month), which is quite expensive compared to other products in the market. If you're a small-medium business looking for an affordable solution, you might struggle to justify the ROI with Zendesk Talk.
Although it's loaded with features and customizations, the lack of adequate onboarding and sheer complexity of the software often causes teams to face a learning curve so high that it requires external consultants to get everything up and running. Many customers reviews express frustration with the quality of customer support, with people being often sent to FAQ articles when there's a problem, rather than getting hands-on help.
What Zendesk Talk offers:
Automatic call ticket generation and call recordings.
Voicemail and Interactive Voice Response (IVR).
Omnichannel help desk with SMS add-on.
Knowledge base & Community forums.
Call Metrics & Reporting.
Pros:
Integration with over 1000 apps using Zendesk marketplace.
Collaborative features like Call monitoring and barging.
Available in multiple languages.
Call recording and transcription.
Enterprise level features like call blocking, conference calls and callback queue at higher plans.
Cons:
Too expensive for Small-Medium businesses with lowest plan costing $69 per agent/month.
Difficult to setup and customize desired workflow due to complexity of the software and lack of onboarding support.
Collaboration features like call monitoring and barge-in only offered at Pro plans.
Poor quality of customer support that guides them to help articles when they need more hands-on help.
No standalone mobile app to receive calls on-the-go.
6. JustCall
JustCall is a VoIP phone solution, designed to facilitate voice calls, SMS, and WhatsApp services for customer-facing teams. The service can be accessed on multiple platforms including desktop or mobile devices (both Android and iOS) and even has a Chrome extension, making it a go-to choice for smooth, uninterrupted communication.
Businesses appreciate JustCall for its simplicity and quick setup. Its basic interface is similar to standard phone apps, ensuring a user-friendly experience without complexity. The app offers integration with popular software platforms like Salesforce, Hubspot, and more. It also has the option to seamlessly synchronize all contacts and business events between the CRM system and JustCall, facilitating easy access and efficient management.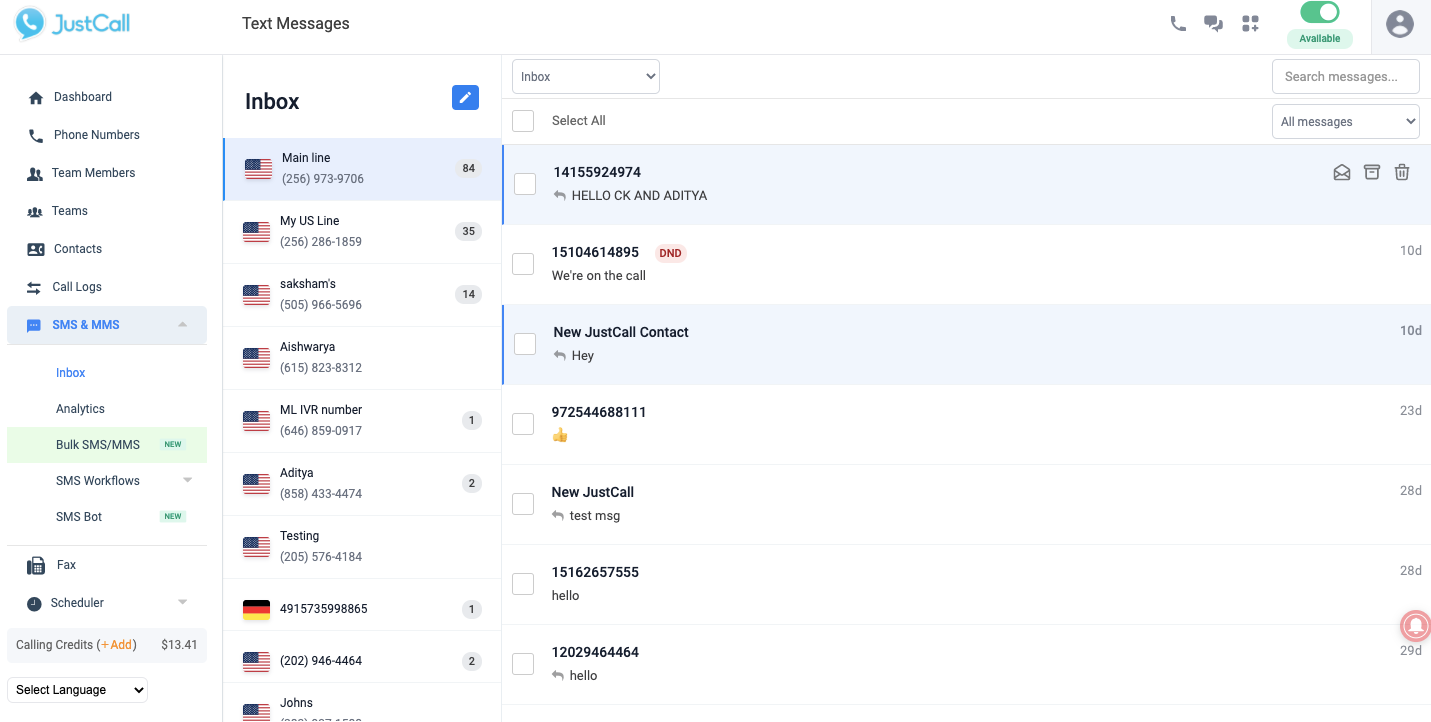 JustCall offers some advanced features such as IVR, voicemail drop, and call scheduling at higher plans, which can be useful for sales teams. JustCall also supports a bulk SMS messaging feature that can be used to automate SMS campaigns, which makes it stand out from other DialPad Contact Center alternatives.
The product's lack of other support channels like email, chat, or social media, is where it falls short when compared to other omnichannel competitors. For teams that just need phone and SMS, base plan's price appears economical but is quite limited, offering no CRM or helpdesk integration, and lacking core features like Whatsapp messaging or IVR. To access features like call monitoring or integrations, users are required to opt for the Pro plan which costs $69 per month per agent with minimum requirement of two agents which can get expensive.
Customer often report technical issues with JustCall often impacting call quality, with situation where the software becomes slow to load and connect. Many have experienced glitches during calls where SMS won't send or the system fails to dial out. Customers also find that many level one support agents are unfamiliar with the software, leading to ineffective assistance. The inconsistent performance combined with poor quality of customer support can be a deal-breaker for some teams.
What JustCall offers:
VoIP phone system with local and toll free numbers.
Multi-level IVR, voicemail drop & call scheduling.
Call forwarding, transfer, and call tracking.
Bulk SMS support for automated SMS campaigns.
Call and SMS Analytics.
Pros:
Call monitoring like listen, barge and monitoring.
Mobile apps for iOS, Android and Chrome extention for flexible work.
Quick setup and familiar user interface.
Integrations with popular tools like Salesforce, Hubspot and Pipedrive.
AI-powered call summary and sales dialer available at higher pricing.
Cons:
Minimum 2 seat for most plans forcing a commitment of at least $78 per month.
Only voice and SMS channels - no email, Facebook Messenger or live chat.
Ineffective customer support & poor onboarding.
Many features like IVR, monitoring, whispering available only at higher plans.
Inconsistent call quality & need to reinstall apps frequently to get it working.
7. Taskdesk
Talkdesk is a popular DialPad Contact Center alternative due to its multi-channel capabilities, incorporating voice, email, chat, and social media channels into a unified platform. The ability to truly centralize all communications, along with the flexibility of its mobile apps on Android & iOS, makes it a great choice for businesses striving for omnipresence & remote work.
The product's user interface is known for its ease of setup and navigation, enabling agents who are less tech-savy to smoothly transition between channels. The product includes features such as the ability to download recordings, filters to sort recordings by specific categories, and real-time analysis during audits.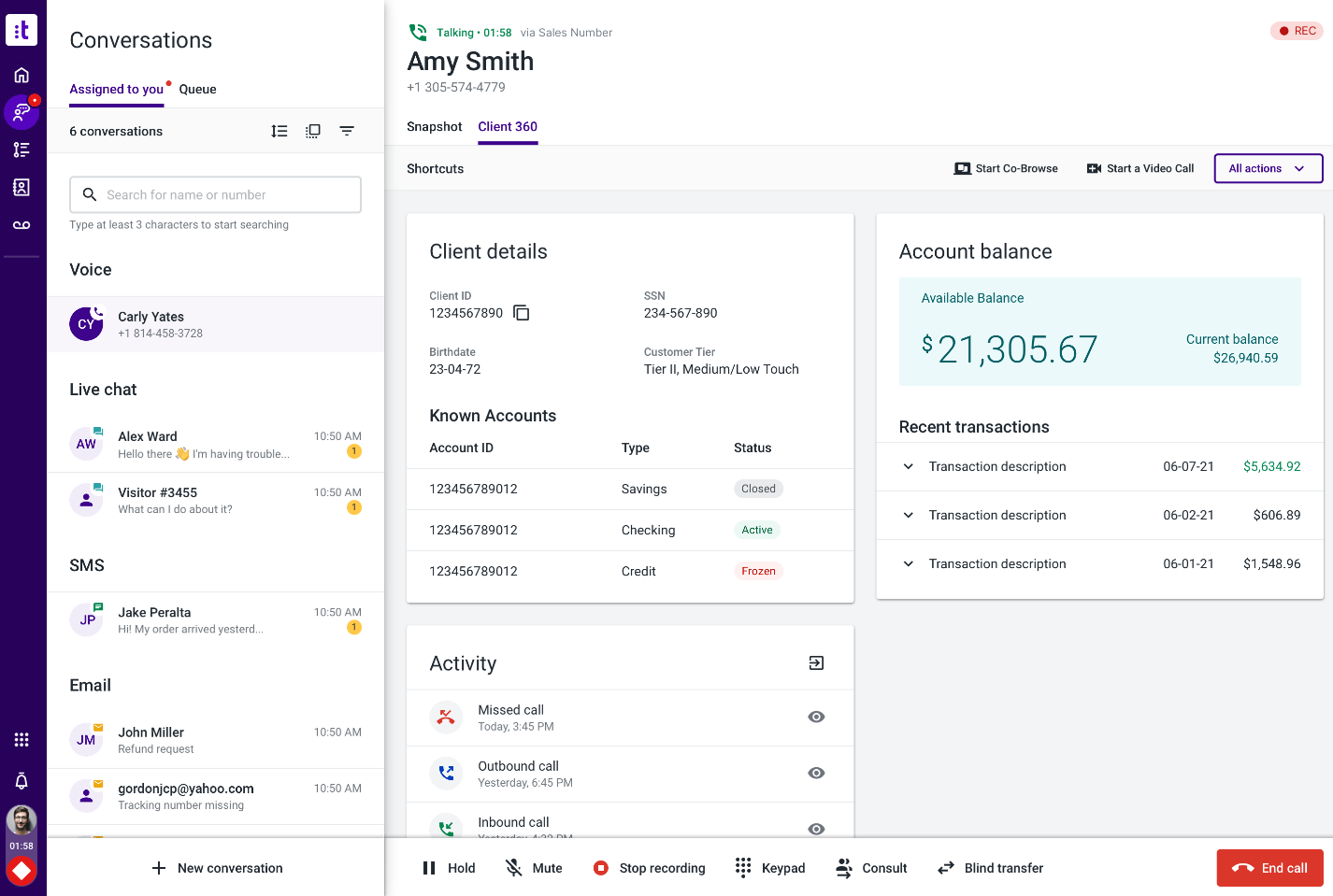 The software supports a high level of customizability letting businesses tailor the software to meet their unique workflows, including implementing custom call flows, IVR menus, and agent scripts. It also has the ability to integrate with a variety of third-party applications such as Salesforce, Zendesk, Slack, MS Teams, and ServiceNow enabling teams to sync data across various platforms.
Talkdesk has effective tracking and monitoring capacities allowing managers to have bird's eye view over all the agents. But if you're a small-medium business running on tighter budget, it may feel like a very expensive DialPad Contact Center alternative, especially if you're don't use much of the advanced functionality.
Despite its high price tag, it lacks advanced tools like speech analytics, AI-powered chatbots or better customization of chat widget that many other DialPad Contact Center competitors offer. Other limitations include its include missing features such as conference calling, automatic ticket generation for calls, and no automatic recording of outbound calls.
What Talkdesk offers:
Omni-channel ticketing system with email, SMS and social media support.
Call routing based on call data, business hours and agent skills.
IVR Menus & call recordings with unlimited storage.
Workspace designer to customize interface based on role.
Real-time dashboard for live view of key metrics.
Pros:
Simple and easy to use interface.
Screen recording of agents' desktop during calls.
Collaborative features like call monitoring and barging.
Integrations with popular tools like Salesforce, ServiceNow and MS Teams.
Cons:
Expensive pricing model with lowest plan starting at $75 per agent per month.
All plans come with a minimum 3 year commitment - unlike most other options on the market.
Missing features such as conference calls, speech analytics or AI-powered chatbots.
No automatic ticket creation for call tickets or automatic call recording for outbound calls.
Glitchy during high call volumes with slow customer service.
8. Genesys Cloud
Genesys Cloud CX functions as a unified platform that combines various customer communication channels - calls, messages, emails, and social media. The product offers a wide range of features that are typically expected in a call center software including automatic call distribution, voicemail system and intelligent routing capabilities.
The platform also provides IVR, virtual hold callback solution and outbound dialer campaigns that are useful to teams with larger volumes of customer interactions. Some of the more advanced features such as natural language based voicebots, screen sharing, co-browsing, customer journeys, and real-time agent assistance are incorporated into larger packages, making it a preferred choice for such use cases.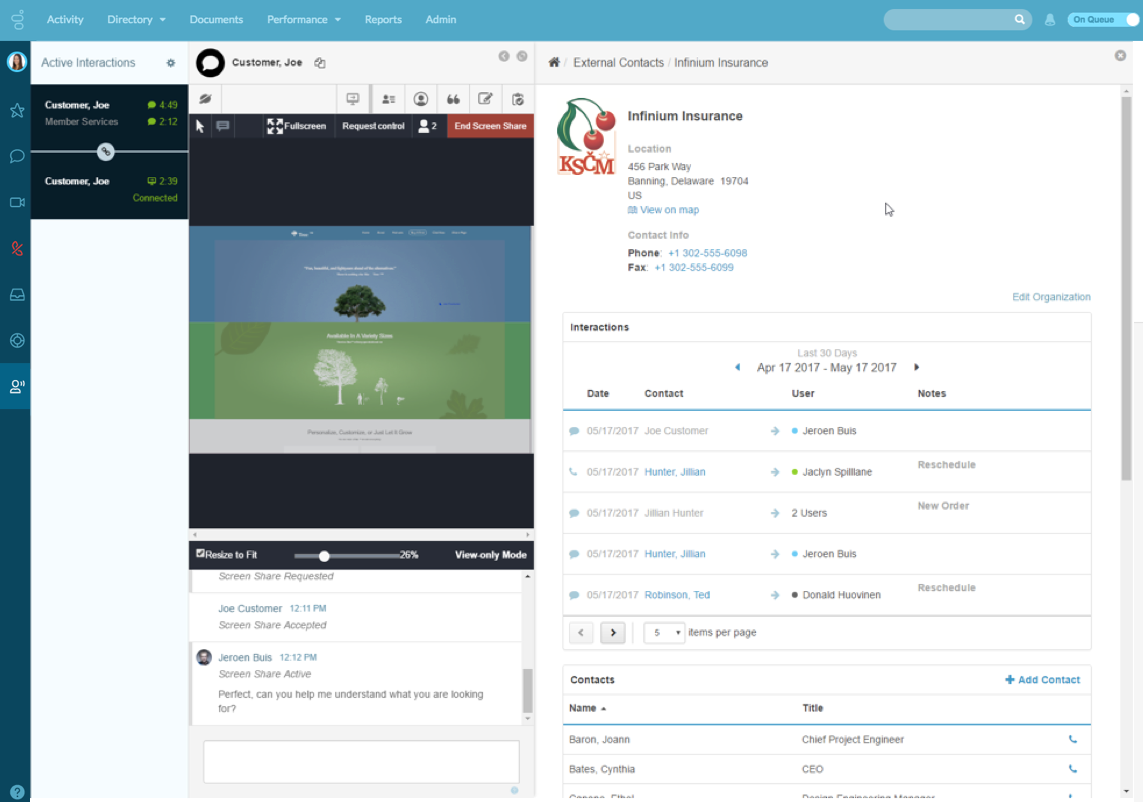 Benefiting from a collection of over 350 ecosystem apps, Genesys Cloud CX allows for easy integrations with third-party applications such as CRM and workforce management tools such Salesforce, Microsoft, and Zoom. The platform is also appreciated for its inherent flexibility and scalability, making it suitable for different operations of varying sizes and requirements.
Due to the sheer complexity, Genesys Cloud CX often requires significant customizations to make it work for specific business needs, proving both time-consuming and costly. The software has many features like smart routing and AI-powered functions but they need special training and can take more time for teams to use them effectively.
For a small-medium business, Genesys Cloud CX's basic plan, that starts at $75 per month, can be too expensive. When you note that this base plan only includes voice features with no messaging channels or chatbot support, it's hard to justify the high cost with so many DialPad Contact Center alternatives to choose from.
What Genesys Cloud offers:
Unified communication platform with voice calling & digital channels.
Automatic call distribution and smart routing.
AI voicebots and chatbots.
Screen recordings & co-browsing capabilities.
Analytics & Reporting - real-time and historical dashboards.
Pros:
Mobile apps for iOS and android for remote teams.
Callback queues, AI powered IVR and self-service bots.
Detailed documentation & community forum for knowledge sharing.
Outbound campaigns for digital and voice channels.
Separate pay-per-hour pricing for part-time agents.
Cons:
Price too high for small-medium business with $115/per agent/per month for a full omnichannel solution.
Required significant customization to make it fit desired workflows.
Complicated features makes onboarding difficult & takes more training to make effective use of the product.
Limited customizability of the reports creates manual work.
Customer service not responsive enough to trickier techincal issues.
9. Five9
Five9 cloud contact center's market appeal is rooted in its comprehensive pre-built integrations. The software smoothly integrates with leading CRM solutions like Salesforce, ServiceNow, Microsoft, and Oracle, and also connects efficiently with other helpdesk platforms such as Kustomer, Freshdesk, and Zendesk.
The product comes with a variety of useful features. These range from callback reminders and whisper mode to monitoring capabilities and note-taking options. The software also includes an intuitive IVR path mapping tool, where users can create customized IVR journeys through a simple drag and drop functionality. With Five9, setting up campaigns, user profiles, skills, and dispositions is straightforward.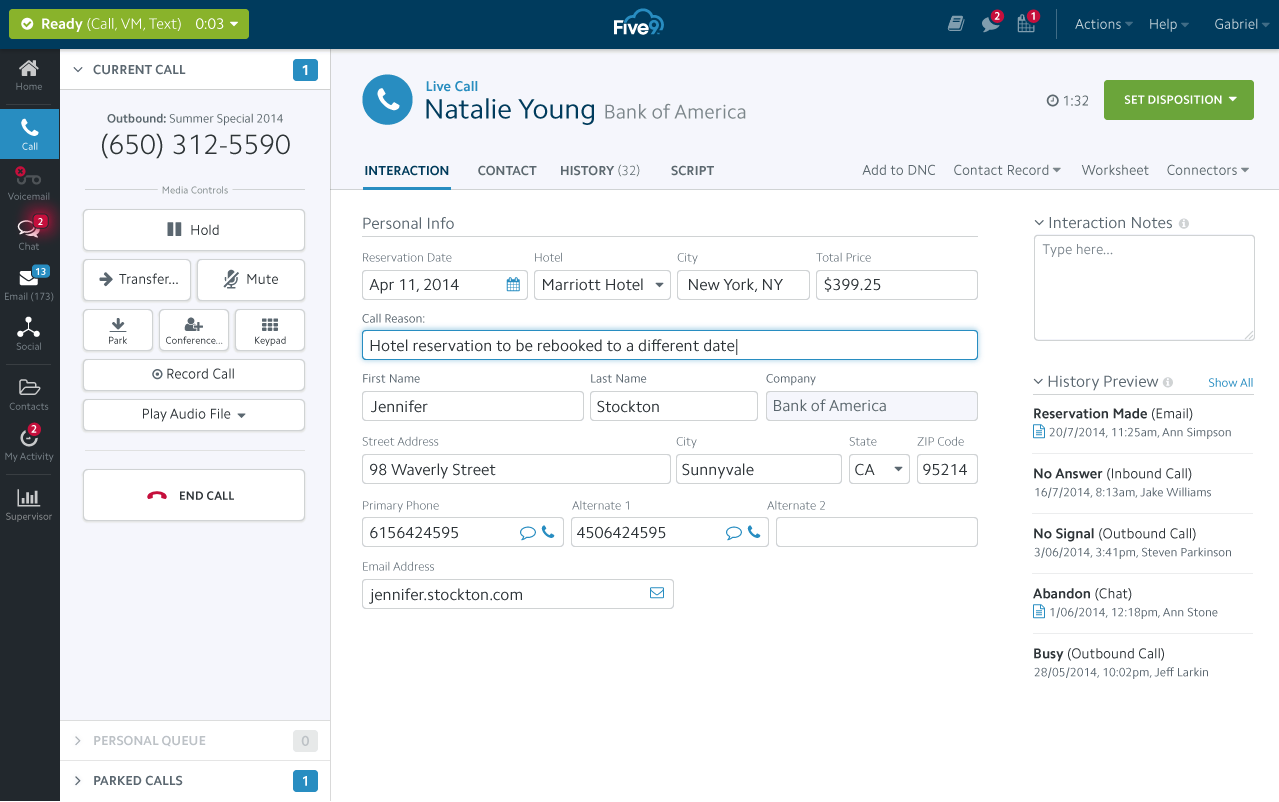 Five9 showcases a simple user interface combined with logically structured tabs, allowing users quick access to essential information such as call time, among other vital data. The software provides highly customizable reports giving managers to get a broad look into vast amounts of data, from handle time, after-call work, hold time, idle time and more.
The products pricing structure is quite high compared to what it offers. The base plans start at an expensive $149 per user per month, with voice and non-voice channels separated in two isolated packages. If you're looking for a centralized omnichannel solution that is affordable, Five9 might not be the right DialPad Contact Center alternative for you.
Many customers have found that Five9 experts often don't provide enough guidance to them during onboarding stage. With frequent outages, customers are left feeling as though the software is in a constant state of being down and not functioning, leaving a lot be desired when it comes to reliability.
What Five9 offers:
Phone system with toll free numbers & integration with existing PBS.
Agent call scripting and geo redundancy.
Real-time call transcription and call recording history.
Speech recognition based IVR with intuitive mapping tool.
Customizable reports - with contact center data and live analytics.
Pros:
Skill based call routing and automatic call distribution.
Virtual agents and workflow automation.
Simple and easy to use interface.
Integrations with popular tools like Salesforce, ServiceNow, Microsoft, Zendesk.
Cons:
No free trial.
Expensive pricing with base plans starting at $149 per agent per month.
Voice and digital channels feel like two disjoint solutions.
Complicated onboarding & customer service not helping with setup.
Frequent service interruptions and outages.
Which Contact Center is Right For You
With so many choices, choosing the right Dialpad Contact Center alternative for your business can be daunting task. It is important to consider various factors beyond just price or features. Take time to compare the features & functionality and short list a couple of options that align most closely with your business needs.
The key is finding the best fit at an affordable price from a reliable provider that backs their product with helpful customer support. If you're leaning towards our product, Enchant, it offers an affordable price point and comes with a 30-day free trial, allowing you to experience its capabilities and our service level before making a commitment.
At Enchant, we believe in delivering value to our customers without binding them into contracts. We are constantly evolving Enchant by adding new features to meet the changing needs of our customers, check it out with your team today!